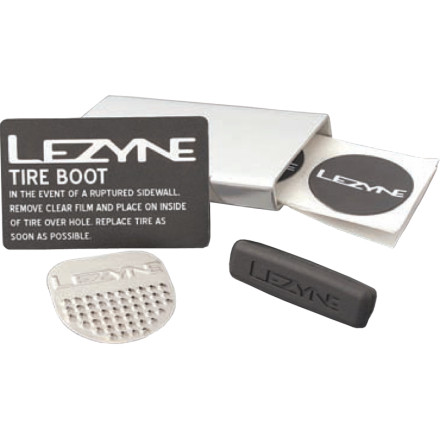 Patch kits are great to have as backup. In theory, you can get a patch kit, throw it in your pack, and forget about it until you need it. That's the theory. The reality is, by the time you need it, it comes out of its little pouch looking like a battalion of rats decided to run nibble-durability tests on it and it failed. On top of that, the little tube of rubber cement magically dried out even though it was sealed. The folks at Lezyne are as tired of this phenomenon as you are. Thus, the Lezyne Alloy Patch Kit. Of course, the first thing you notice when you see the Alloy Patch Kit is the fancy aluminum box. It's more than just clever packaging, though.
The Alloy Patch Kit's forged aluminum case and rubber end cap are durable and waterproof. You can forget about rat attacks once the Alloy Patch kit is in your pack. The rubber cement issue is solved as well, due to the absolute lack of rubber cement. The synthetic rubber patches are backed with an aggressive adhesive that conforms to inflated tubes and requires no dry time. Even the patch kit instructions have a self-adhesive backing to use as an emergency tire boot in the event of a blown sidewall. You'll want to replace that tire, of course, but it's a quick fix that will get you home without having to hike.
Each Lezyne Alloy Patch Kit contains nine glueless patches, a stainless steel scuffer, and emergency tire boot/instructions. Refill kits are available.
Didn't work at all period
Familiarity:

I've used it several times
Completely useless.
I've been a big fan of glueless patch kits for a while but have been disappointed with the quality of what was available until now. The patches are a ripstop variety and are very, very sticky and are super easy to use. The boot that's included will be very useful if you need it (better than a GU wrapper). Plus, the container everything comes in could have alternate uses.
Unanswered Question
Has anyone used this product to patch an...
Has anyone used this product to patch an intertube that is pulled behind a boat?
Unanswered Question
Has anyone used this product to patch a...
Has anyone used this product to patch a towable intertube that is pulled behind a boat?
The case keeps everything from getting crushed and ruined by anything I put in my pack. So Far i have had to patch two tubes and the patches held up great. They were easy to use and have held tough.
Put one of these in every pack/bag you own for biking.

Good quick patch kit. A buddy got a flat on a tubeless in So. Utah, used the self-adhesive backing to patch the blown side wall... finished the trail (5+miles).

I've had to use the patches numerous times and have never had any issues.
I did everything the instructions called for and as soon as I got the psi to about 40 it decided to blow the patch. Seems to be just a kit that looks nice, performance is poor at best.
Nice little kit. Weighs 28g and contains all of the necessary components. The scuffer works well and the patches stick pretty well (better than some other patches from well established companies). The case certainly has a wow factor despite its simple design. The plug is a little hard to get out at time. Plus, the contents take some tapping to get dislodged. Otherwise, great little kit.
This is a great small patch kit that is easy to carry with you. There is no sticky glue to spill or have dry up on you. The self adhesive patches work really well.
Patches are great, but take a tube too
These works as well as any other I've used. The bonus sidewall patch is cool too. However, I recommend still taking a tube long for the ride, just in case.
I have used these once on the street already and they are so good, they get the job done with no mess. Great little box that you can fit anywhere on your bike pocket.
Lezyne has come up with a nifty little kit. With a hard and waterproof case your patches will be in good shape when you need them. I have yet to use a patch, but I'm sure they will do the trick. The Alloy Patch Kit isn't the lightest one around but it's a great little set.