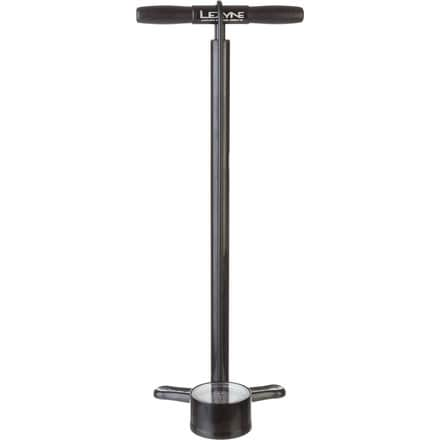 Colors

Detail Images
Description
Lezyne envy.
There's something about the feeling of wood in our hands. We like the tactile sensation, the way it warms to the touch, the way we can see and feel the grain. The wood handle is 50% of what separates Lezyne's Alloy Floor Drive Pump from their CNC model. The second difference is the steel piston. Other than that, you get the same good-looking, long-lasting, easy-to-operate floor pump.
But the durable and good-looking CNC-finished aluminum is not the only things that make this pump work so well. There's also a 2.5-inch diameter dial that reads up to 220psi. The rubber hose is 43 inches (130cm) long. At the end of the hose is a flip-thread chuck, a reversible head for both Schrader and Presta valves. It has a button for bleeding air, which Lezyne calls ABS (Air Bleed System). The pump comes with a Speed Chuck, a thread-on slip-fit Presta head with a 90-degree angle to fit the head into the valve port on disc wheels.
The Lezyne Alloy Floor Dive Pump measures 5.9 x 7.9 x 25in (15 x 20 x 63.5 cm). The handle is 9.5in. The interior diameter of the barrel is 28mm, which means the pump has been optimized for high-pressure applications. It has a claimed weight of 3.5lbs (1.6kg). The colors are anodized, high-polished Red and Silver.