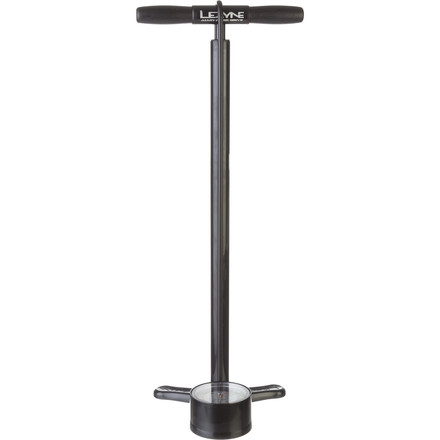 Detail Images
The Lezyne Alloy Drive Floor Pump puts lesser pumps to shame with its solid aluminum construction, brilliant anodized finished, and high-pressure output. The pump's 220psi output ensures proper inflation of both road tires and mountain bike tires, even working with disc-equipped wheels. ABS Flip-Thread Chuck allows for effortless tire inflation with both Presta and Schrader valves. The Air Bleed System (ABS) allows you to remove air on Presta valves when you're dialing in pressure to precise levels, also releasing built-up pressure when you're inflating Schrader valves. And because there's an oversized 3.5-inch pressure gauge, you'll never have to second guess air pressure levels again.
220psi max inflation with oversized 3.5-inch gauge
ABS Flip-Thread Chuck accommodates Presta and Schrader valves
CNC-machined aluminum barrel and base
Varnished wood handle with aluminum accent
Anodized high-polish finish
Functional work of art
Familiarity:

I've put it through the wringer
It's a thing of beauty and durable. Cast aluminum base with a CNC machined barrel that is SOLID! This pump is one of those items that you don't know whether to display on a mantle shelf or use it....and it effectively does what it's supposed to do. Large accurate gauge and good build quality. I bought the polished aluminum version because I prefer blonds. Absolutely no cons.
Barrel won't stay tight
Familiarity:

I've used it several times
The barrel on my 2 week old pump won't stay tight. The barrel wobbles when pumped. I try to tighten the barrel but it just spins. Some threads must be stripped. I can loosen it and remove it, but it won't get tight. In the trash it goes.

Vital part of my home shop.
Familiarity:

I've put it through the wringer
I have a few different floor pumps and this one lives in the shop (never comes on the road with me). It's stable and inflates road and other high-pressure low-volume tires quickly and easily. Even my 105# wife can inflate her tires with this pump. Takes a little longer on fatties. If your stable consists of mostly mountain bikes, get the Dirt Drive pump. Not recommended to inflate tubeless, but then very few hand pumps are.

Some have complained about the speed chuck. My experience is that it's a mixed bag. The only problems I've had with the speed chuck are when I have a very short valve stem to work with. When the valve stem is short, the screw-on chuck shines. I have gone to using the screw-on chuck exclusively. Personally, I don't mind it. It takes 10 seconds to attach instead of two. It has eliminated bent cores, and the hose depressurizing valve is a nice touch. Care should be used when using on older cheap tubes as on rare occasions unscrewing the chuck can unscrew the core, too. Replacing the core is a minor inconvenience if it happens. Not a problem with better tubes where the core is in there properly. I don't have any disc wheels, so no experience using the chuck there.

Durability seems to be very good. Have had the pump about a three years now, and it services a stable of six bikes plus any of the neighbors when they swing by. Gets used at least 3-4 times a week, more during the season.

If I had to come up with a real complaint, it's that I wish the gauge were near the top of the pump rather than the foot, and that it had a movable dial marker to indicate quickly when I hit the desired pressure. The gauge is easy enough to read, though.

All-in-all, a pretty good pump and one that is a vital part of my home shop.
I'm an avid road biker and pump up my tires at least twice a week and every I go fill my tires I get a terrible gut feeling of, "here we go again". Plastic speed chuck always disassembles when I remove the chuck form tire stem. When I don't use the chuck, twisting the pump head also twists the hose making it difficult to manage.