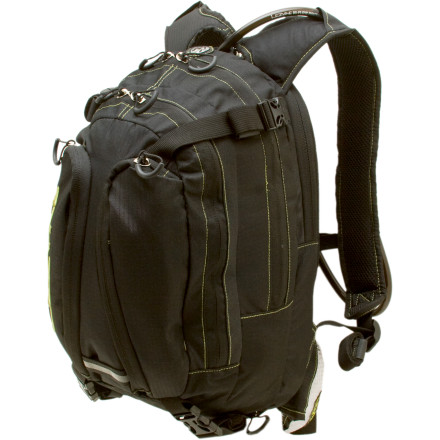 Detail Images

Community Images
It seems like most bike-specific hydration packs come in two sizes -- too large or too small. The low-profile variety has you covered for an hour or two, but you can forget about any ride longer than 20 miles, and don't even try to hit up a ride of any length in the desert. The larger packs have plenty of room, but flop around uncomfortably for the entire ride. The Lezyne Adroit Hydration Pack falls neatly into that all-day-ride slot, with plenty of room for lunch and a rain jacket, and the double-bladder option is perfect for long rides in hot, dry climates.
The most annoying aspect of wearing a pack during a ride is that they never seem to fit just right. Because of this, packs tend to shift around and ride up your back. All of Lezyne's hydration packs feature a Custom Fit Spine Plate that allows the user to shape the back panel to conform exactly to their specific back shape. The rigid PP panel keeps the load from affecting the shape of the back panel for a perfect fit every time the pack is worn.
All Lezyne hydration packs come with a bladder. That's a no-brainer, right? Unfortunately some other companies force you to buy the bladder separately. The Adroit is large enough to accept a second 3L bladder so you won't dry out during a 60 mile epic. Lezyne's bladders feature oversized hoses for rapid water flow and a +/- 90 degree swiveling valve that allows you to drink from any angle.
Another thing that we really like about Lezyne hydration packs is the attention to detail that goes into every one. Lezyne labels the pockets to help you stay organized. The Adroit also comes with a media pocket with cable routing for your headphones and a soft lining that keeps your MP3 player or phone from getting scratched up.
The Lezyne Adroit Hydration Pack has a volume of 1200 cubic inches (19L) and is available in Black with green trim.