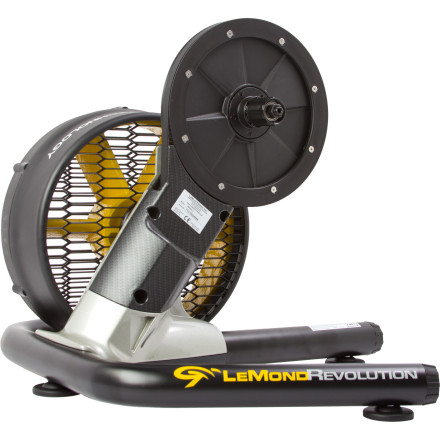 Detail Images
If you're tired of unnecessary wear and tear on your rear wheel or throwing money away on indoor trainer tires, then the Lemond Revolution Trainer is your ticket to a solid spring race season. The LeMond Direct Drive system eliminates the need for a rear wheel by attaching the bike's cassette directly to the large, weighted flywheel, effectively mimicking the inertia of a bicycle in motion and generating progressive wind resistance. Set up is simple, just remove your rear wheel, attach the rear drop outs to the spindle and away you go. The super-sturdy Revolution frame won't flex during the hardest workouts and allows the rider to get out of the saddle without fear of toppling over—because there's nothing more frustrating than crashing on your living room coffee table.
Innovative design eliminates tire slippage and wear, and doesn't require riser blocks or unstable platforms
Compatible with most mountain and road bikes
Note: This model is sold without a cassette, but does include as Shimano/SRAM freehub body
Campagnolo adapter sold separately
Maximum user weight: 250lbs
Height: 18in, Width: 24in, Length: 20in, Weight: 32lbs
Power Pilot Meter (sold separately) for those who demand the most out of their training

Updated the free hub from 10 to 11 speed. However, as soon as torque is applied to the pedals, there seems to be like a roaring kind of sound. Tried changing from a 105 5800 to an Ultegra 6800 cassette, putting the system apart and then putting it back together but that sound is still there. Everything has been tightened according to the user's manual.
Hi Marie-Claude, please contact me directly at aujensen@backcountry.com I'll get with the manufacturer regarding this issue and see what we need to do to get this taken care of.
Unanswered Question
Is it 9 speed compatible?
Is it 9 speed compatible?
Love it Revolution
Familiarity:

I've used it several times
These trainers are pricey, but the convenience and ease with which they work is worth it (especially if you buy on sale!). I've ridden rollers and Kinetic for years and never really like indoor training. That changed the first time I use the Revolution: Balanced. Smooth. Efficient. And no tire ware! Two drawbacks: 1) They are loud. But, if you have dedicated space, it's a nonissue. 2) There's no connecting to Garmin devices.
LeMond Revolution- Bike Trainer - Setup
By Lemond Fitness
Is it 11-speed sram/shimano compatible?...
Is it 11-speed sram/shimano compatible? If not, is there a conversion kit?
Yes it is 11-Speed Sram/Shimano compatible with an conversion kit. We can order you a conversion kit. Feel free to contact sales@competitivecyclist.com for more questions. Thank you.
Hello, I will buy the Lemond trainer. I...
Hello, I will buy the Lemond trainer. I would like to know if you can sellme the power pilot too.
Juan, Power pilot is gone, however the new Watt box (ANT+) will work with any head unit that is ANT+. We should have these live on our site in a few weeks. If you need one right away please contact sales@competitivecyclist.com

Thank you
Hi Laura - will the WattBox be compatible w/ the original Lemond Revolution? I have a model I bought about 2 yrs ago. I see that they are now selling the "1.1" model. Hoping the watt box will fit...
I have been using the LeMond trainer since August 2011. I have used it 5-6 days a week since mid October. It is by far the best I have used. There is a bit of fan noise but it is not a negative for me. I would rather have the best workout possible and this delivers just that.