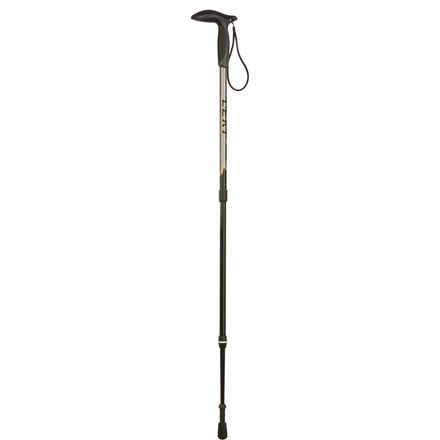 As you long for the olden days of wandering amongst winding country roads and cutting over stone walls looking for a beautiful red-headed lass, pick up the Leki Wanderfreund Antishock Trekking Pole and let your legs take you out and about.
Super Lock System is an internal locking feature that clamps tightly to securely lock the pole sections into place
Soft anti-shock system absorbs shock to prevent wrist or hand pain
Sturdy carbide tips bite into ice and rocks
I ordered two poles for my 52 year old daughter who is hiking/backpacking up to 300 miles along the north shore of Lake Superior at this time. Received a message six days into their hike that without these poles she would have lost balance many times especially when trekking up rocky hills. She had never used poles before and loves them!
The pole is OK and the anti-shock system is great !!!
But the only part that is not up to LEKI standard is the grip!!! the problem is that if the pole falls out of your grip or hand accidentally it comes apart: the top of the grip comes off and one has to put it back on...!!!
Why has LEKI abandoned its "Legendary Cork" grip?!
I have been using the "Wanderfreund" for many years (15 years at least) when I decided to try the anti-shock version which is great but the grip was disappointing...
Please go back to to the one piece cork grip but make a bit wider.Happy hiking with Leki!!!
Jacob Lahat
I purchased the Leki Wounderfreund Premium...
I purchased the Leki Wounderfreund Premium anti shock 3 piece extension with cork handle color blk/brn 7 years ago and I'm trying to match 3 more with it.

Is there any c/o inventory anywhere of same?
Thanks
Bob, the cork grip has been gone for quite some time now and I think you will have a hard time finding new stock. Your best bet is to watch www.geartrade.com or check E-Bay on a regular basis.
Bob, I think I saw 3 such poles today at Sports Authority in Overland Park, KS, cork handle with an open space in the handle.
Do you grasp the vertical part of the pole...
Do you grasp the vertical part of the pole or the top (horizontal) part like you would a cane??
Hi Vicki, both are graspable... its more of a user preference that one would order a trekking pole with the horizontal/cane part...
Has leki stopped producing this pole with...
Has leki stopped producing this pole with the cork grip?
Having used the cork grip for many years i decided to buy a new pole with the new grip. I found that the new grip is just as comfortable as the cork grip and with the addition of the anti-shock it is perfect. It is just a question of getting used to it, which is no problem as far as I can judge. In due course you will find it is even better than the cork grip.