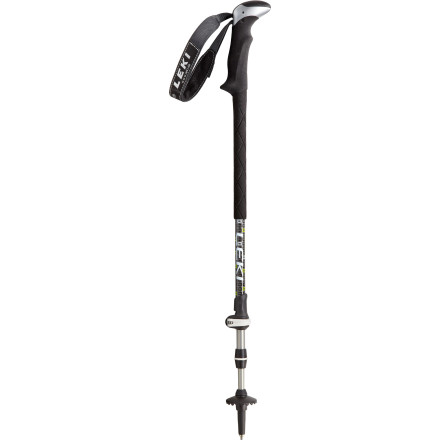 The LEKI Thermolite Aergon XL Antishock Trekking Pole smooths out sketchy traverses and provides extra balance as you travel over miles of rough backcountry terrain with a large pack. Once you've adjusted this three-section pole to the proper length, the Speed Lock and Super Lock Systems secure the shaft and won't slip under weight, and the Soft Anti-Shock System Lite in the bottom section dampens your jarring strides on downhill sections.
Three separate shaft sections (16mm, 14mm, and 12mm) feature a high-density aluminum that yields strong and lightweight performance for backcountry trekking
Shaft adjusts between 69-135cm (27-53in) to accommodate different hikers and terrain
Collapsed pole length makes it easy to strap this pole onto your pack
Upper Speed Lock (TUV-certified) features a glove-friendly clamp that allows custom adjustment while holding up to 70kb (154lb) of force for confidence on the trail
Lower Super Lock System (TUV-certified) uses a screw-lock mechanism that holds up to 150kb (331lb) of force for even more security
Soft Anti-Shock System in the lower shaft features a spring that absorbs impact with each pole plant
Versatile Aergon Thermo Long grip features a large ergonomic knob on top, a lightweight contoured foam grip, and an extend foam grip on the upper shaft for ultimate security in any type of terrain or trail difficulty
Neoprene strap wraps around your wrist and prevents costly pole drops on goat paths or river crossings
Carbide tip withstands lots of abuse and bites into dirt, snow, and ice for a secure hold
Scratch-resistant finish on the middle and lower sections reduces wear and fights corrosion, and a finish over the top section protects the graphics
Mini basket works in glacier snow but is best suited for summer trails
Threaded tip lets you screw on and off baskets without needing tools
What do you think about this product?
Have questions about this product?
Would you mind clarifying and expanding on your question, please? I don't quite understand exactly what your inquiry is referring to.