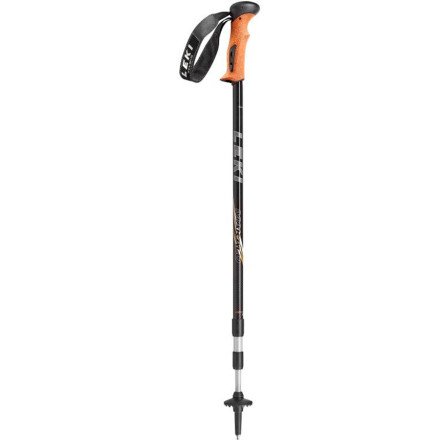 Before heading out on your next above-the-treeline adventure, be sure to grab your Leki Summit Antishock Trekking Poles. Complete with Cor-Tec Cork grips that go easy on your hands, the Summit Antishock poles boast carbide flextips to absorb shock and increase longevity. Rest assured that Leki's proprietary Super Lock System keeps these hardy aluminum poles from giving out when you need support on the final summit push.
Hello, Which one is that this model is...
Hello,



Which one is that this model is "LEKI 6312032" or "LEKI6312031"?



Have shock features "Soft Antishock Lite"?



This is to buy a pair or one pole?



Thank you.
It is model 6312032 and it is a set of poles.
LEKI Summit Antishock Trekking Poles
Is the handle orange as shown in the photo...
Is the handle orange as shown in the photo on the right for one color?



The pair my husband received is black with cork on handle. I want orange or a different color to distinguish. Is that possible?
Best Answer
The current version is going to be the cork and black. http://shop.leki.com/en/product.php?product_id=50717



Maybe a women's specific model, some colored tape, or, besides side-by-side comparison of shorter or longer heights of the same poles, some other way to quickly distinguish yours from his.
is this for one pole or a pair?
is this for one pole or a pair?
Best Answer
This particular model is sold in pairs.
LEKI - Funny Appalachian Trail
LEKI triple spring Anti Shock system
As an avid backpacker who has had a number of sports-related knee injures, these poles have paid for themselves in comfort time and time again. As mentioned below, they aren't the lightest pole on the market, but I believe that the extra bit of weight is entirely worth it. The cork handles are comfortable and won't tear your hands up over longer trips like some rubber options will. The anti-shock system is great for trips with lots of elevation gain and loss where you can really pound your knees on some extended downhill stretches. I haven't had any issues with the collapsing mechanisms locking or losing their grip,
Great pole if the weight is OK
These aren't the lightest pole (not for ultra runners or even the most weight conscious fastpackers), but they are very comfortable in the hand and the antishock feature provides a cushy ride when you need four wheel drive on your hikes. I started using these when I started carrying my kiddo around on my back and I particularly like the Leki cork grips - they are, in my opinion, more durable than the BD cork grips and way more comfortable than any of the rubber gripped poles. The twist lock is an extra few seconds versus a flicklock system, but mine never seem to slip and overall I really like the poles.
What model Leki pole do you see most Ultra...
What model Leki pole do you see most Ultra runners using? Consdering weight and "stowability' on hydration packs? Looks like the Leki Summit dont not have those little claps that might get in the way...Have the Wasatch 100 in September that perparing for....Thanks
Black Diamond Z-Pole Carbon is what you'll want. Lighter than anything else, and stows really easily. If you're stuck on Leki, just don't get anything with antishock. It'll bother your arms over time, like say, on an ultra.