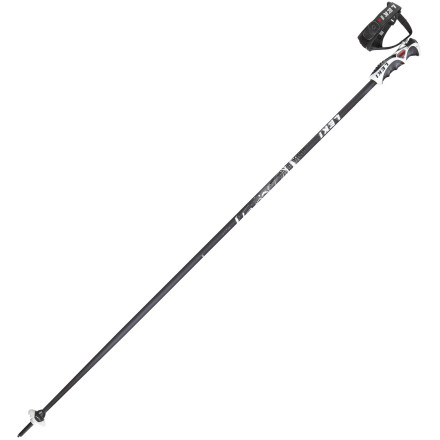 You crack an eyelid, pull on your gear, and head out to plunder the park, pipe, and tree lines with reckless abandon. Consider yourself the ideal candidate for the Trigger S system built into the Leki Project 19 S Ski Pole. These tougher-than-a-ten-penny-nail poles have a lightweight aluminum shaft and a safety binding built into the grip. Drop the hammer and the Project 19 will be there to help you push with power and keep your wrists safe from whatever the mountain dishes out.
Trigger S system uses a dynamic release system to allow the strap to break away from the grip in the event of a fall or a twisting pull from your pole
Adjustable Trigger S wrist strap wraps around the hand and thumb for superior control and one-size-fits-all sizing
Handle has a four-finger, pistol-grip design to give you a secure hold poling through deep stashes or across hardpack
What do you think about this product?
Have questions about this product?
but kinda scary. I was just waiting for the lift and I went to take my poles out of the awesome grips with the trigger.... but it was stuck, so I rode the lift up with it attached, which can be pretty tricky, while I had to fiddle with my pole to hopefully detach it before I got off the lift... awesome idea and great when it works, unfortunately it doesn't always. these are super light poles though
Like the black/silver/white artwork. But main reason for purchasing this pole was the Trigger S grip, with the "dynamic release system." No doubt it's convenient to be able to snap your poles on/off your glove when needed, i.e. in the lift line.

But way too bad it didn't release for me on falls when it should have. I was skiing aggressively in Montana for a week last week, and took three spills. Two were entertaining enough that the poles should have released. But because they didn't, in one case my arm was twisted behind my back to the point I was immobilized. A week later, my shoulder still hurts from that incident. Pretty certain I injured my shoulder.

Does not work as advertised. Resulted in shoulder injury.