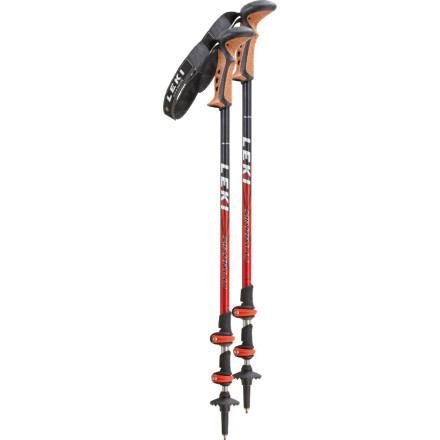 Community Images
Make your fast-packing setup even lighter (and faster) with the LEKI Corklite Aergon Speed Lock Trekking Poles. This pair weighs just over a pound and has Cortec Aergon grips that are shaped and tilted just right for twenty-two mile assaults on the AT. The Speed Lock system adjusts on the move and the carbide Flextip absorbs impact by bending up to 30 degrees with each pole plant. The stock performance baskets can be switched with powder baskets (sold separately) for winter touring in the alpine.
Leki Corklite Aergon Speed Lock Trekking Poles
These poles are great for trail hiking or for approaches on bigger mountains. Super lightweight and very collapsible. They're very durable as well. I was hiking one day and lost my footing. Stepped on the lower skinnier part of the pole and literally watched it bend under my weight and then pop back. I thought I had ruined the pole and it would have snapped or at least had a bad bend but it didn't.

I love the knob on the top and find myself collapsing these down shorter and using them as walking canes more than up high. Very versatile.

Worth the money for sure.
I was skeptical on the use of trekking poles until I gave them a try and realized how much they help my knees. I have had these about a year now and have not had any issues with them. Fairly lightweight yet they take a beating and have not failed me yet. Work really well on uneven terrain and snow.
LEKI Corklite Aergon Speed Lock Trekking Poles
At first swipe I was unsure whether I liked the new speed lock more or less than the twist lock that Leki has used for the past few years. The speed lock wins for me in the end due to much greater ease of use. I find myself actually collapsing my poles at times to store on my pack, whereas I found it a bit of a hassle with the old twist lock mechanism. I believe the twist lock is a bit stronger but ease of use wins out in this case and I prefer these. Love the cork grip and positive angle in the hand - these became a must-have when we started hiking with a baby and now I doubt I'll go back to not using poles.
This is the first set of trekking poles I've owned, and I really like them. The locking mechanism works well, and can easily be adjusted on the trail. I think I prefer the ones with no shock absorber, but I've never tried the ones with it.

Trekking poles in general are great. I can go faster up and down hills. My posture is more upright. Side hills are so much less sketchy. Spring hiking in Montana means you will run into snow, and these have been absolutely awesome to have this spring. I had to lend one pole to a buddy, because he kept sliding back down an icy section of the trail.

Highly recommended.