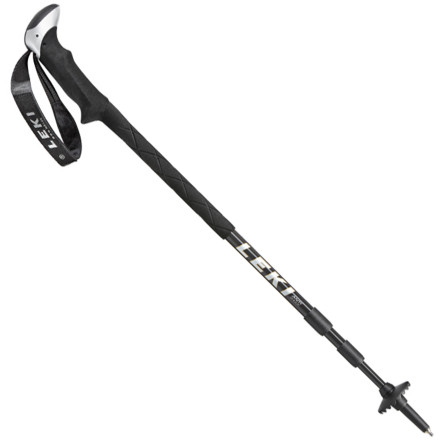 When your travels from Georgia to Maine on the Appalachian Trail have taken you over miles of trail, you'll be glad to have the Leki Carbonlite Aergon Antishock Trekking Poles in your hands.
Superlite carbon fiber pole material for optimal swing weight
Lightweight rubberized Aergon grips maximize comfort and decreased hand fatigue
Super Lock System clamps tightly to securely lock the pole sections into place
Soft antishock system absorbs shock to prevent wrist or hand pain
Sturdy carbide tips bite into ice and rocks
What do you think about this product?
Have questions about this product?
I think that when these poles work, they are adequate, possibly even great, but, the parts involved in allowing for the anti-shock, the process of loosening and tightening, a 10cent plastic part strips easily, creating a situation in which the pole is utterly useless. Mine crapped out on me while hiking with a buddy using some dimestore specials, suffice it to say that is embarassaing. The upside is that the replacement poles, simple Black Diamond Trail Treking Poles simply feel superior in every possible weigh, except for weight and the 3 gentlemen that handled the various processes of returning and exchanging were easy to work with. I forgot to mention, I had them for only 2 months.
So i have like 10 pairs of ski, and walking poles over the years. From aluminum to cabon fiber. These poles are my favorite when I do backcounty. I have 3 different pairs of carbon poles. I have only used them in winter (have not used them in summer yet as they are new).

Length adjusts well for uphill and down, and good bucket for some mild soft snow, plus nice shock, absorption. Comfortable grips too.


All in all best I have had yet.