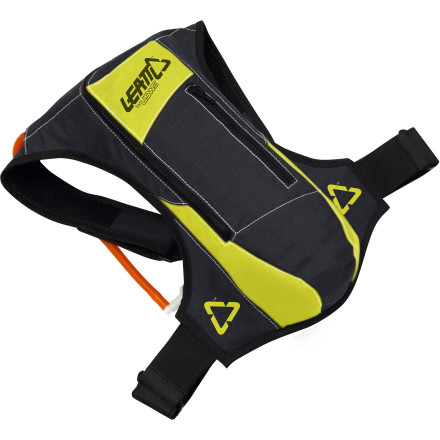 Detail Images
Hydration for enduro and freeriding is just as important as it is for cross-country. However, the protection needs of the former places distinct requirements on a pack design. With industry leading neck braces and armor already under its belt, it only makes sense that Leatt'd offer progressive hydration solutions, like the H2 Hydration Harness Pack, which works in conjunction with armor.
First and foremost, the H2 Harness is designed to be compatible with or without Leatt braces. This ensures a seamless integration with its neck protection -- no bunching, strap interference, or irritation from incompatibility -- but, also allows you to use it on rides when the brace can stay home.
A defining feature of Leatt's H2 is its four-way adjust harness system. Unlike traditional packs, the lower straps are not waist belts. Instead, they wrap around the torso to join the top straps at the bottom of the sternum. this securely holds the pack in place to prevent any bouncing or shifting, while allowing unrestricted body movement for added English on aggressive lines.
The four wide straps are all adjustable via hook-and-loop closures for a secure, slip-free fit. The uppers have guides for a drink tube, and the tube can be routed either left or right depending on your preference. Another nice feature is an available-separately, hands-free kit that mounts to your helmet -- this keeps hands controlling dropper posts, shock settings, and gear selection ... lets not forget steering and breaking, too.

The drink tube uses quick-release connections for hassle free cleaning, and the recycled-plastic bladder is disposable. If you use sports drinks, you know that cleaning a bladder doesn't always get the funk out. The replaceable Leatt bladders are made by USWE of Sweden and are intended to be replaced for enhanced hygiene. If H2O is your thing, they can be cleaned and dried out for extended use.
The Leatt H2 Hydration Harness Pack's strap system will comfortable fit Small through XX-large torsos. A large rear pock has been provided to store a phone, snacks, or keys. The H2 also holds 2.5 liters -- enough to keep hydration levels up during two to four hours of intense riding.