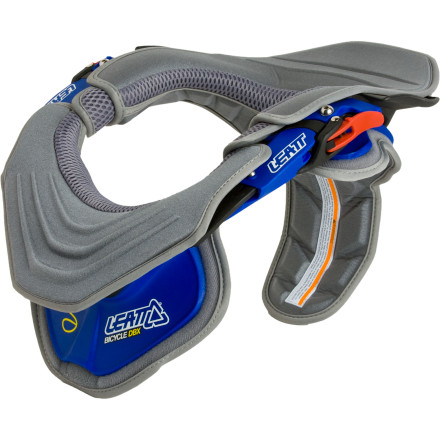 Detail Images
The next time you find yourself lawn darting toward planet Earth, make sure you're wearing a Leatt DBX Comp Brace. Alternative Load Path Technology disperses impact energy away from the vulnerable neck structure into the upper torso, so you have a fighting chance of walking away, or better yet, riding away. Lightweight carbon fiber and customizable fit/position set the Comp above its entry-level siblings.
Adjustable to suit most individual rider needs.

Low profile shape compared to moto variants, for freedom-of-movement on the bike

Materials are optimized for strength and shaped to reduce risk of sharp edges/protrusions during impact

Engineered thoracic member keeps the brace in position, and gives during impact, protecting the spine

Rear-upper support gives way under severe loads, acting as a crumple zone

Bio-foam lining absorbs shock and is replaceable and washable

I think that the Leatt brace is a necessary piece of equipment for all downhill and freeride mountain bikers. I was on the fence about buying one since I am a student and it would constitute a pretty massive purchase for me, but after a substantial amount of research I realized that I would either have to stop mountain biking the way that I was, or buy a neck brace. So I bought a neck brace. In hindsight I think this was a great decision. The brace is easily customizable to fit just about anyone, super comfortable to ride in, and much like purchasing your first full face lid, it gives you a huge boost in confidence. I have taken a few gnarly spills while wearing this brace and I am not going to come out and say something like IT SAVED MY LIFE, but I would bet that were I not wearing a Leatt,some of my crashes could have ended up being much worse.
What is best helmet with this?
What is best helmet with this?
Firstly (and most important) the leatt brace only functions as designed when used with a full face helmet. That may seem obvious but some people dont know. That said, i think it just comes down to preference. I am fairly sure it will work as intended with any helmet so long as its a full face. I wear my DBX comp with a Giro Remedy and I think its really comfortable.
I love this brace, I honestly feel like it has saved me from serious neck injuries. I think in the next few years it will just be a standard piece of equipment people wear when they go riding just like kneepads are now. It is really comfortable and customizable so you can fit it to your body, and only takes one ride to get used to it. After that you don't even think twice about having it on, and you actually start to feel vulnerable to neck injury without it. The price isn't even a factor either when you compare it to the thought of a serious neck injury or paralysis, for me it's no question. If I need a full face helmet to hit something, then I also need a Leatt brace.
Leatt talking fit for their braces.