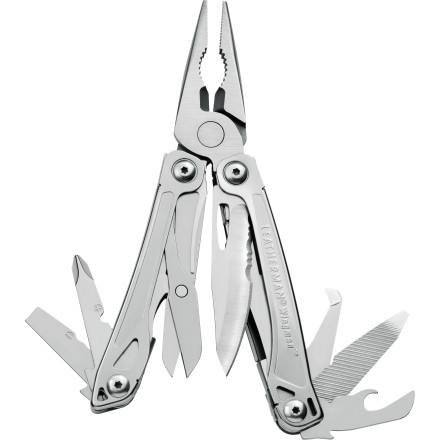 Videos

Community Images
Real heroes are the guys who are prepared for anything. Someone in the office can't open an important letter? Cut your way through his confusion with your handy blade. A lady is desperately trying to hot-wire a car because, apparently, she lost her keys? Whip out your wire strippers and get her on her way home. The Leatherman Wingman Multi-Tool turns you into a superhero, ready to save mankind, no matter the predicament.
Blades and body use 420HC stainless steel for durable, long-lasting, super-sharp edges
Spring-action needle nose pliers are easy to use and won't jam up in a pinch
Scissors come in handy for cutting fabric, string, and funky fingernails
Wire stripper comes in handy when you need to get the electricity flowing
Built-in can opener and bottle opener access hard-to-get-to foods
Super tool
Familiarity:

I've put it through the wringer
I really like this tool! Scissors were tricky but once I figured them out, I loved it.
Works great
Familiarity:

I've put it through the wringer
I am a landscape foreman and needed a hand knife that has some weight to it so I always know its in my pocket. So far this has proven to be a great multi-tool. Not to many features but I don't need all of them for the jobs I carry this knife with me on.
Does the trick
Familiarity:

I've used it several times
My wife uses this at work on a daily basis. It is as strong as a small multi tool could be and is perfect for what she does. Shes not fixing cars or building houses with it but for quick small jobs it is perfect. Great price for the quality as well. If you don't need anything to fancy and just want a good multi tool this is the one for you.
Awesome Tool
Familiarity:

I've used it several times
This is the first leatherman I have ever owned. In the past I always thought it would be a pointless tool for myself to carry around because I felt I would never really put it to use. Oh how I was wrong. The day after it arrived I threw it in my ski pack under the impression it would sit there for ages. On the tour my bindings forward pressure was way off. Considering we were an hour away from the car and no where near a tool box, I thought to myself I am screwed might as well turn around and start walking back to the car. But wait I had my leatherman. I pulled out the leatherman and used the phillips head screwdriver to adjust my forward pressure. This tool is awesome. It is a bit heavier then I expected. My only complaint is the scissors have no spring. The blade is super sharp. The price is right for a really versatile tool.
Why not
Familiarity:

I've put it through the wringer
This pocket multi-tool is a little heavy to be an everyday pocket resident, but that's not what I got it for. Great for its size, price, and durability, and there are so many times I can remember being very glad I gave it a permanent home in the glove box. Fits well in my very average-sized hands, and opens/operates as well as it did when I bought it (2 years ago).
I have had an older version of the Leatherman in the glove box of my car for years and found many uses for it. When my wife bought a new truck I put this one in the glove box for her.
Leatherman Wingman Multi-Tool
I literally use this thing every day. It's great. Fits nicely in hand or pocket, has everything on it that you could ever encounter in a normal life situation. Pocket clip is great for keeping it handy at all times. Well made. Kinda heavy but that was not really a concern of mine upon purchasing. Don't know what I would do without it.


Bought two as gifts for my parents, new scout leaders. They like its ease of use and versatility.
I think this tool has all what I need, for the price you will not find anything similar outhere. The scissor and the knife work really well. The materials used are excellent. For all my life I have been using victorinox but I think Wingmans is superior in all aspects, I think in hard work this one performs better.
Really great tool, amazing price.
Gender:

Male

Familiarity:

I've used it several times
Yes! I've been carrying around the Wingman for a few months now, and I like it. I've had a few other multitools, including one old Leatherman (I have no clue what the model name was) that I carried with me for at least eight years. I carried a fancy (and expensive) Leatherman Skeletool CX for a short time before it fell out of my pocket and was lost. In addition to those, I've had a couple of really cheap models that were only really good for leaving in the car in case of emergencies. I'm pretty sure that I like this model best of all. Here's why:



The cost. $35? That's a great price. I even hesitated to purchase this tool because the price was almost too low. I thought to myself "this is going to be a cheap piece of crap with a dull blade and poor functionality." I couldn't have been more wrong. The blade comes INCREDIBLY sharp. The first thing I did when I pulled the tool out of the package was accidentally cut myself (due to my own stupidity).



The spring-action pliers are so excellent. I've never had a multi-tool with that simple but oh-so-nice feature. It makes using the pliers a pleasure rather than a pain.



Various other little things are rad. The package opener tool is surprisingly useful. The scissors are solid and worth using, unlike most multi-tool scissors. The file is an interesting addition and considering how solid it is, I'll probably actually use it. It has a pocket clip, which is absolutely essential in my book. At first I was dismayed by the weight, but I really don't even notice it in my pocket and in my hand it just feels really solid. I wouldn't be surprised if you could use the tool to hammer something in a pinch, without damaging the tool.



It's a solid piece of work and I'll be carrying it until I lose it or pass it on to a worthy friend (as I did with the original multi-tool that I carried for so long). Definitely recommend.
BEST Multitool!
Familiarity:

I've put it through the wringer
Considering the great price, this is something you can abuse and really use it well. This version has scissors instead of a saw on the Sidekick so I find this version more useful day-to-day. The wingman also has a "package opener" tool, which just sound ridiculous but it actually works surprisingly well. The package opener is probably one of my favorite features on it. Yes, you can use your knife but the package opener cuts those thick/stiff plastic packaging smoother without the fear of damaging the product inside like how a life would.



I highly recommend this product!!