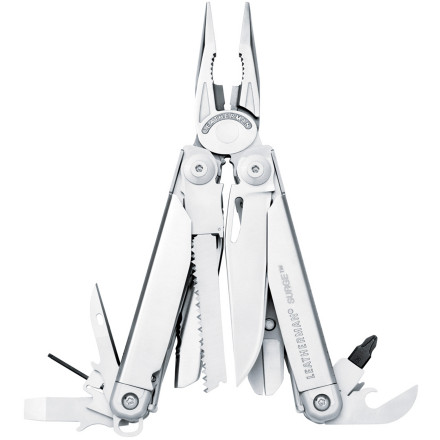 Videos
Description
Your toolbox, now in a pocket-friendly size.
With 18 different tools for just about any imaginable task, the Leatherman Surge Multi-Tool might just render your workbench useless. Whether you're working around the house, or three days down the trail, the Surge has the tools you need to fix the problem. This all-in-one pocket tool features everything from screwdrivers and files to two kinds of pliers and two different blades. A handy blade exchanger lets you swap out different tools, and the included sheath lets you holster the Surge on your belt or pack straps.
Share your thoughts
What do you think of the
Leatherman
Surge Multi-Tool
? Share a...
versatile
Familiarity:

I've put it through the wringer
All around good multi-tool for camp or just as good at home. Has the tools for just about every small/medium task you need, except cleaning big game. Have used to clean fish and birds and its worked, though that's not really the intent of this product. Serated knife is great for rope, needlenose pliers are indestructible. This piece served priceless on a 4guy/8day fishing trip in the backwoods.

minus 1 star for no corkscrew.
Solid Option
Familiarity:

I've put it through the wringer
So this was perhaps an unnecessary upgrade on my part. I had for sometime owned the Leatherman Wave, around Christmas I decided to make the move to the Surge. All I really gained was 4 ounces in weight, this comes off as criticism, however it's stout build does leave you with added confidence in its ability.12.5 ounces is hefty for a piece of trail kit. I store it in a Maxpedition single mag pouch that attaches to the Molle webbing of my Mystery Ranch Glacier hip belt. This defers the weight fairly well, but I wouldn't keep it in ones pocket. The full function scissors are pretty fantastic for monofilament fishing line and the like. A paracord lanyard can be easily added to the hidden lanyard loop, I used firecord for some added functionality but don't really endorse firecord itself. The interchangeable saw blade and file are well designed but I don't see myself taking spare pieces out on the trail. If this is something you're using in the workplace it may be ideally suited for your needs. It's a wonderful tool, also a substantial piece of steel which may affect its field application depending on personal preferences.
Is this the new or old version? looks like...
Is this the new or old version? looks like the old one...
I ordered mine in March and it was the new head style with the replaceable wire cutters. Their stock photo does need updating..
Leatherman Surge Multi-Tool
this is the best multitool ive come across. its large so its easy to handle and actually work with. the saw is truly impressive. it actually works! the knives come sharp. so sharp i had an accident and had to get some stitches. my one complaint is that my surge rusted after a couple months of use. that should just not happen with a stainless steel multitool of this supposed quality.
big, heavy, sturdy, and essential. i have three leathermen... i carry the surge, while i have my two boys carry my older, smaller, lighter leathermen. of course i really only need the surge, but the boys think they are big time. not for ultralighters, but this is a staple when i am packing for a week backpacking trip with the boys.
I freakin' love this tool!
The Surge is a big tool, and I mean big, smaller hands beware. The size makes it feel sturdy, indestructible even. But with that comes the weight. Weight is such a major issue to people that they may never consider this as something to take backpacking or even to carry for work. Come on, it's just over 10 ounces (listed weight must include sheath, etc), which in my mind, is nothing for the versatility, and the ability the Surge has to replace a bunch of larger bulkier items many campers still carry. The long reach of the handles and pliers can easily replace a pot grabber, cut wires and nails and repair all kinds of different gear. The screwdriver on this thing has a small reach, but being able to swap in a PosiDrive 3 bit sold in the Leatherman Bit Kit, means it becomes my repair kit for backcountry skiing as well. The saw will literally last longer than any other without dulling, and not because of some diamond blade, but because the t-shank adaptor that holds the saw on this tool will hold any t-shank blade, as in any jig saw blade sold at your local hardware store. And then there is the knife, the big burly outside opening knife, making it able to replace your other camp blades. It has a long reach, sharp factory edge, and strong lockup.
This multi took out a lot of little items in my pack (pot grabber, fixed blade knife, folding pocket saw, repair kit tools), and even if you carry none of these, you will still regret not adding it to your pack.
Bought this when I lost my last Leatherman.

I use this tool not only in the backcountry, but also at work.

Surprisingly; the screwdriver heads and scissors, as well as the pliers, are used most frequently!

Built very sturdy. The stainless steel makes it easy to keep clean.