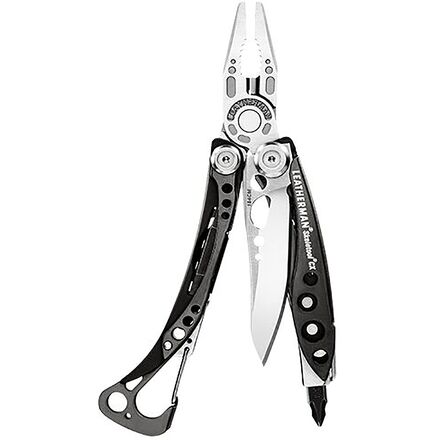 Community Images
Description
Everything you need, nothing you don't.
The lightweight and compact Leatherman Skeletool CX Multi-Tool strips off the unnecessary extras and gives you nothing but a tough, durable package of essential tools. With a rugged, stainless steel frame backed up by carbon-fiber reinforcements, this streamlined tool gets the job done without weighing you down. The carabiner clip and removable pocket clip make it easy to attach to your pack or pants, and all tools and blades lock securely in place for added safety.
Everyday Tool
Familiarity:

I've put it through the wringer
I've had mine for about three years. I don't leave without it (almost got me in trouble at the WTC monumnet in NYC). It is fantastic. I use it for just about anything. I've done little repairs on my car and it's handy because it gives me another set of pliers and a screw-driver. It's pretty light weight but, it's still made of stainless steel predominately, so it's heavier than most things you have on person.

The best part for me though is the pocket clip. I hang mine on the inside of my pants or shorts, right under the belt. It doesn't shift and it doesn't feel uncomfortable. But, that makes it easy to carry around. I was able to help a guy fix his bike her on campus one time because i had it with me. So, it's totally worth the buy. It's become so useful that i would immediately buy a new one, or one similar if I lost it.
Lightweight and functional
Familiarity:

I've used it several times
I received this for Christmas, and couldn't be happier with it. The size and weight are great, and the needless tools are omitted. The carbon fiber is both eye catching, and lightweight.



I've had to use it already on many different mini projects, and it's got a great balance and feel to it.



I agree that the bit holder leaves me a little wary, but I'll just have to be careful.



Thanks, Santa!
My Initial Impressions on the Skeletool
Here's my take on it!
Having purchased both the original Skeletool and the CX (this) version, I'm going to say that shelling out the extra $40 or so is worth it. I absolutely love all of my Leatherman products, but the CX is by far my favorite. This is my do-all, always-on-me, never-leave-home-without-it, might-feel-a-bit-naked-if-I-forget-it-in-the-morning, tool and I will shout its praises from a mountaintop. Like I said in my review of the original Skeletool, if you think that the "bare-bones" of the tool options isn't enough, you most likely need an actual workshop and regular sized tools for what you're trying to do.



This tool is super durable, (generally) lightweight, fits in my pocket easily and unobtrusively, and you shouldn't have any excuse for not buying one. The blades on Leatherman products come sharp as a razor and hold an edge quite well. If you care for it, this product should last a lifetime.
from cheese to derailluers
Gender:

Male

Familiarity:

I've put it through the wringer
glad this is in my pocket every minute of every day. get the carbon fiber one.
Loosing bits is a pain
Gender:

Male

Familiarity:

I've put it through the wringer
I've had this tool for about 3 years of so. I carry it with me every day. I use the pliers and knife all the time. I use the driver some here and there, but it's not really cut out for serious jobs and you can't get a ton of downward pressure on it. At any rate, it's nice to have around...when you actually have a bit. The bits fall out of the back holder very easily ( I ended up bending the holder in to really pinch the bit, and that helped a lot). Also the locking bit holder is not spring loaded or anything, and has to be pressed shut every time. Needless to say, you will loose bits with this tool all the time. It's a serious pain in ass when you actually need a driver too.
The blade came razor sharp out of the box. The Skeletool has come in handy on many a project. I just wish they had some way to better implement the bit driver. It would be really nice if you didn't have to keep the tool open when using the bit driver.
Great Everyday Multitool
Gender:

Male

Familiarity:

I've put it through the wringer
This is a great tool to have on you. The knife blade is readily accessible unlike most tools which require the user to open the pliers. It's like carrying a knife with the added benefits of a multitool. The footprint is comparable to a traditional pocket knife.

It's lightweight, compact and has only the most necessary features. The bottle opener/carabiner is great. It also allows for easy use of lanyards and dumby cords for retention. And the wiregate conveniently grabs the cap for you when you open a beer.

It is built well and has survived years of use and abuse. With a little maintenance it will remain reliable even in and around water.
According to this description, the Skeletool...
According to this description, the Skeletool CX had the serrated blade, but according to Leatherman's webesite, the regular (non-CX) Skeletool is the one with the serrated blade (http://www.leatherman.com/product/Skeletool). Which is which?
SKELETOOL and SKELETOOL CX notice:
We have made a running change to the knife blades on the Skeletool and Skeletool CX multi-purpose tools. If you turn one of these tools in for warranty you may receive the new configuration for repair/replacement. The blade material has not been changed on either model, but the cutting edge has been changed to the following:

Skeletool:
(ORIG) straight-edge blade (NEW) combo straight/serrated edge
Skeletool CX:
(ORIG) combo straight/serrated edge (NEW) straight-edge blade
Does anyone have any recommendations on...
Does anyone have any recommendations on sharpening the serrated part of the blade? I'm told they have stones which are meant for these kinds of blades, but i'm not sure where to look for such things. Any suggestions would be appreciated.
You can't use a stone, you need a sharpener that looks a bit like a rat-tail file, but with a surface like a typical sharpening stone. It can be done, but takes a little more time than a strait blade.
Get yourself a Spyderco Triangle Sharpmaker sharpening kit (LLBean has them). You can do all of your knives including serrated blades. It's so easy to use a caveman could do it! There's a great video included in the package showing just how easy it is. And yes I use it and own three of them should one break or they discontinue it!
Most other reviews cover the woods basis and they are correct. Light, very useful and holds up well. My review pertains to those of use that aren't professional outdoorsman and only make it off the beaten path once a month or so.

I have a skeletool CX and it is awesome. I keep it in my car during day-to-day life and on my pack when in the woods or on the water. I use this tool probably once every other week and it's always a life savior in a pinch. Great for loosening battery terminals, cutting just about anything, stripping wires and opening a great many beers. It has not failed in doing a task I've asked of it yet. The only complaint I have, and it was one from the outset, is that on the inside of the blade channel (where it closes) there is rust. This was present from day one. It is only minor pitting and it hasn't gotten worse over the years. I use this in a marine environment from time to time and with a fresh water rinse and dry, it has held up pretty well. I probably should have sent it back when I got it but they were so far back logged when they first came out, I had to wait three or more months for delivry. Once it showed up, I was reluctant to send it back out! Anyways, I've dinged the blade through frequent use but it's still incredibly sharp (enough so that you can cut a cigar cap pretty cleanly). I have yet to sharpen it b/c I don't really need to though it is a bit duller these days. In summary, I like it a lot. I recommend it and I would buy it again.
This is a great minimalist all-around tool except for one thing... no can opener! While it is not always a necessity, can openers always seem to be one of the basic functions that all multi-tools have. It does mean I have to bring along my swiss or my friend with my old swiss to open all my cans. Other than that, the pliers, locking knife, 4 bit screwdriver and of course the bottle opener all are wondeful tools that have uses in everyday life. I dig the pocket clip as well!
Everything you need except...
I love the skeletool, and have had mine for a number of years. Super light weight, super tough, what's not to like? The only thing that I found missing is a can opener. Maybe it's just me, but whenever I go backpacking I always have at least a can or two that need to be opened, and the skeletool is no help there. Luckily I found an easy fix. I bought a small light weight can opener and have attached it via string to the skeletool's carabiner. The whole package easily fits into the sheath (sold separately). If you need a light weight multitool that does (almost) everything, look no further.
Great, easy to carry multitool.
I got the normal, not CX, version of this knife two years ago, and it's been a great EDC and backpacking knife. It's light, and I can easily carry it with the pocket clip or the carabiner. The knife locks when deployed, which is nice. I really like how light, and yet sturdy it is, and the fact that it's so bare-bones has been great for backpacking, since I don't need an awl on a regular basis. I bought the additional bit kit, which has been nice to use with my backpacking stove. And the pliers are beefy enough to lift off the lid of my pot, and they're narrow enough that I was able to pull a tick out of my friend's back before with them. The carabiner is also a bottle opener, and while it's not AMAZING, it does the job well enough.

However, the unless you're madly in love with carbon fiber and semi-serrated blades, don't get the CX version. There's literally no difference in weight between the two, and I don't think the carbon fiber does that much to reinforce it. Plus, the regular model is quite a bit cheaper too, so there's that.
weight conscious backpacker's dream!
great lightweight multitool. does not have as many fucntions as the full leatherman but it saves crazy weight by only having the essentials. i carry it with me everywhere. the knife was sharp straight out of the box. i have never had any of the screwdriver attachments slip. pliers work well enough. i have stripped wires and cut wires cords with the wire cutter. no real complaints, but the pocket clip bent when it caught on my seat belt and i stood up. it wont bend back to its original place. the carabiner type clip is spring loaded, well made and hooks to the shoulder strap of my pack like it was meant for my pack. finally, and most importantly, the bottle opener works flawlessly! great tool in a light-weight package! i received it as a gift, but i would buy it tomorrow!