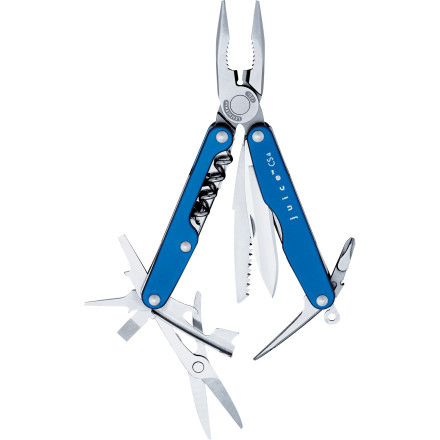 Detail Images

Videos
Leatherman packed the Juice CS4 Multi-Tool full of useful tools and protected them with boldly colored anodized aluminum handles. The CS4 comes with pliers, wire cutters, and four screwdrivers, as well as a convenient saw and awl. Super handy serrated scissors are easily to access, along with a corkscrew, perfect for those emergency picnics on the slopes. A lanyard attachment ensures that your Juice is always nearby and at the ready.
stiff and barely usable
Familiarity:

I've put it through the wringer
this thing comes with a few tools but they are not accessible without using another utility knife to pry the tools loose. what a piece of crappola! you need a plethora of tools just to get the available tools to open! i wouldn't use this thing as a paperweight.
Leatherman Juice CS4 Multi-Tool
Nice, but not my favourite
Familiarity:

I've used it several times
This thing is a good, basic, small, and light multi-tool. It has what you need and nothing else. I prefer my Wave though, which is beefier and solves a lot more problems for me than this. Since they are the same price, my vote is for the Wave, but this isn't a bad second choice. The biggest differences are that the blade is internal on this and it won't take the interchangeable bits. In the end though, it's a Leatherman so it will last forever.
I havent had any problems with rusting or with build quality, and I have put it through it's paces. As most people said, it's a good all around for a weekend or overnighter. If you're going to be out in the bush for a week or more, and can pack more gear, you might want a more substantial piece of equipment

Only problem I had is with the can opener: it's not so good, but with a few alterations (grinder and pliers) it works as good as the victronix ones. Overall,I'd buy this again.
Don't trust your life to it....
This thing seems like the ticket. Small size, good features, and Leatherman normally makes a really nice product.

Mine however basically rusted itself shut. Its not like I left it outside in the rain for a winter. It was in a slightly damp backpack pocket for a day or two. The pliers was nearly welded immobile, and now the small tools won't open unless I break a fingernail off prying at them, or use another tool. Weak sauce.

Tools like this are essential! So nice to have when they work. But maybe try one that is more corrosion resistant, and if you do get this on be sure to be dilligent with keeping it dry and lubricated.
This comes with the leather sheath and a...
This comes with the leather sheath and a lanyard attachment? The materials indicate it does.
Best Answer
Tim, Yes, you are correct. A leather sheath and lanyard attachment are both included with the purchase of this mulit-tool.
I have owned this tool for almost a year, and now it is in the garbage. The locking/spring mechanism that holds the knife and other components in place has broke. This happened while it was in my pocket. When I went in the pocket for the tool, I sliced my hand. Anyway I thought for the money this would be a multi-tool I would own for a life time. It did work great while it was together.
Great for ski mountaineering
Works well for any and all things ski mountaineering related.
everything i need and none of the extras
It's nice to find one that has what you need without the extra weight. Let's face it -when do you ever use all the crap on a multi tool. They is just too much. This has the essentials (cork screw included).