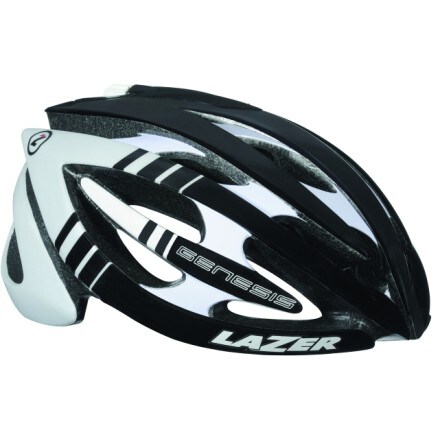 Detail Images
The Genesis comes in two sizes, which Lazer refers to as Medium and Large, and this wouldn't be possible without the patented Rollsys retention system. Unlike other designs that press a retention system onto the back of your head, the Lazer Rollsys uses a smooth thumb wheel at the top of the helmet that connects to a progressive sizing system.
Rollsys loosens/tightens the retention system around the entire circumference of your head. Design-wise, the Rollsys is remarkably clean, and it adds no appreciable weight to the helmet. Those who've worn them are astonished by the same thing — the comfort of having retention pressure increased/decreased evenly throughout the entirety of the helmet. The Genesis has 19 generous vents for ample ventilation, and a more minimal silhouette than other helmets, as it's not as tall and not as wide.
The Genesis also uses X-Static pads to keep you comfortable, and to prevent things from getting too stinky, they're antimicrobial. The Lazer Genesis Helmet is available in the sizes Medium and Large — the former is for head circumferences ranging from 52cm - 58cm, and the latter is for 58cm - 61cm heads. It is available in seven colors and comes with a helmet bag and spare set of X-Static pads.