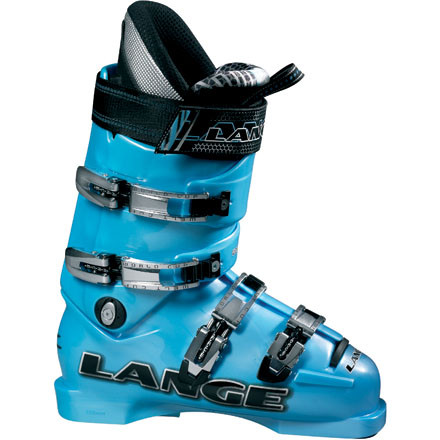 Detail Images
need to "mold" inner boot to better fit...
need to "mold" inner boot to better fit my foot...what's the easiest home remedy to heat boot? will a hairdryer suffice?
Best Answer
Sit with your foot in the boot in front of a heat register when it is going, ora fireplace if you have one. That should be enough, but you could always try a hairdryer. Don't think it is enough though.
best boots ever, i've had 3 pairs now over 7 years and they don't disappoint.
Awesome boots! Just beware of jumps...
Probably the best boots I have ever used so far! I am all about speed, I love to point it straight and haul ass down groomers, but I also enjoy carving through the trees and hitting the park from time to time. I guess you could say I'm an all mountain skiier so I would say I have had a chance to thoroughly test these boots... They were awesome in any terrain I threw at them, except for the park... These boots transition pretty much instantly, maybe a little too twitchy and will work your legs and feet out harder because of that. Then again, that's what they are supposed to do, they ARE race boots after all. Other than the ankle shatteringness when you try to stomp out a landing in the park, especially if you jump too high, these boots are perfect for the all mountain skiier or racer alike! As long as you dont plan on going through the park... You CAN, and these boots will do it, but your ankles will hate you for it... For that that reason alone, I am deducting 1 star.
I bought this boot after owning a pair of lange boots with a softer cuff. I wanted something that stiff and responsive and thats exactly what this boot is. These are by far the best boots i have ever bought and remind me of race boots i used to ski when i was a teenager. I live in the east and have skied 7 days on them so far and they feel pretty good. I haven't had them fit or ground or anything and the fit is snug without being painful. I have found that the liners fit better if you take your first run with the boots a bit loose and let your foot settle into the liner and then crank'um real tight they are awesome and fit much better. I've skied them in a lot of different conditions so far and the boots felt great in all of them, even a east coast powder day (6 inches) yesterday. I even skied a pair of prophet 100's in them yesterday and i was pumped how the lange's helped throw them around on a pretty choppy day.
Not the best fit for my foot, but an excellent, well constructed boot. I have relatively wide feet. Initially, the boots were unwearable using my own inserts. After switching to the low volume factory inserts, they are bearable (and much more precise), but I still have to loosen my buckles on the lift every few runs. Guess that's what happens when you put non-Lange feet in a Lange boot. For the price, I still think the boot is unbeatable.
There are Lange skiers and then there is everybody else. Actually, that is a little harsh because you do have to have a Lange foot to really love these. They are a little better for the low volume foot, and if that is you then consider these. The transfer from foot to ski is instantaneous - skiability is just not an issue, this is real skier's boot. Surprisingly, these fit well right out of the box - no guarantee there, but if that is the case for you, this is a nice plus.
Hi, i?d like to order this item, but i...
Hi, i´d like to order this item, but i cant find Czech Republic in your shipping menu, so can you ship to CR ?
well i don't know but talk to a "gear head." click on the top right where it says chat now and ask them. they work for backcountry
i'm skiing in 120 comp low vol fit wondering...
i'm skiing in 120 comp low vol fit wondering if these wc120 have the same last
what do you mean last? How long the boot will last? I will say the low vol fit is much different than the regular wc120.