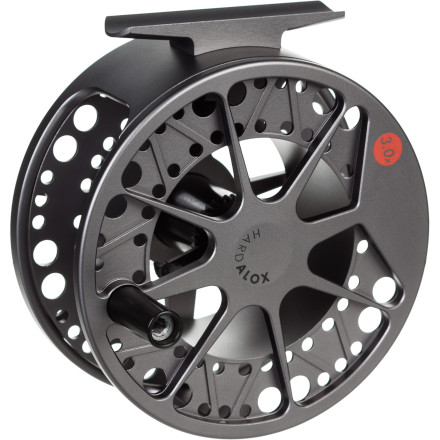 Community Images
Whether you're picking through slick boulders or getting banged around in a drift boat, you need a reel that can take a beating and still reliably perform at a high level. The Lamson Velocity Fly Reel features a unique three-plane pocket milling design and truss structure for increased strength and low weight. The maintenance-free conical drag system is completely sealed against moisture and grit and works with the large arbor design to provide smooth, constant drag torque during even the longest runs.
Patented conical drag system utilizes a pair of matched conical elements rather than the disk system commonly used in reels, the result is a super-smooth drag that is completely sealed from sand, grit, and moisture
Three-plane pocket milling on the spool and and truss wall structures improve strength and stiffness while keeping the weight to just 4.1oz (for the Velocity 2)
Torrington zero-lash roller clutch provides instant torque transmission without shocking the line and leader like a standard pawl clutch system
Large arbor design increases the width and circumference of the spool to eliminate line recoil memory, increase the rate of retrieval, and provide constant drag torque during even the longest runs
Choose the reel with the Hard Alox Finish for an improved anodization finish that reduces porosity and increases coating thickness for unrivaled abrasion and corrosion resistance
Choose the reel with the Nickel 2 finish for tough corrosion resistance and a bright, clean look
If you're buying a reel or spool and fly line, we'll be happy to rig it up for you, please give us a call at (855)-712-0513 for details
This real is one of the most durable, longest lasting reels I've ever fished. If I could recommend one reel to someone who is starting out and wants a reel that will last for years - it'd be this reel. It's more durable then the Lamson Litespeed and has very similar lightweight feel. I'm a fan.
Hate to see it go.
Familiarity:

I've put it through the wringer
These reels are great. best reel I have found durable, nice looking and priced right. I have 6 of them. They have been discontinued so grab a few before they are gone. Lifetime warranty.
Is this reel rated for saltwater use? ...
Is this reel rated for saltwater use? Thanks!
Best Answer
Same as the Lamson Litespeed Hard Alox II, being an aluminum real with enclosed mechanisms this reel should work fine in salt water.
I'm in love
Familiarity:

I've put it through the wringer
I have a size 2 on a 9 ft 5 wt Sage VXP. Great combination. I've always fished w/ Lamson reels and this is my favorite. The larger arbor is perfect for the trout fishing I mostly do (12-20 inch). As w/ most Lamsons, this is a very durable reel - great for backpacking, floating, etc.