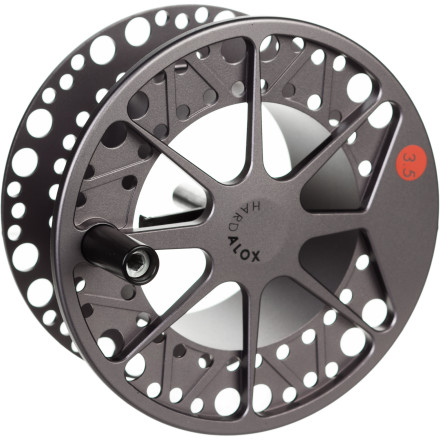 Before you walk out that door, stash the Lamson Velocity Fly Reel Spool in your vest pocket, and make sure you have lunch packed, because three hours often turns into a full day of fly fishing on the river.
Hard Alox Spool works with the Velocity Hard Alox Fly Reel (sold separately)
Nickel Spool corresponds with the Velocity Nickel Fly Reel (sold separately)
Large arbor design increases the width and circumference of the spool to eliminate line recoil memory, increase the rate of retrieval, and provide constant drag torque during even the longest runs
Three-plane pocket milling on the spool and truss wall structures improve strength and stiffness
Choose the spool with the Hard Alox Finish for an improved anodized finish that reduces porosity and increases coating thickness for unrivaled abrasion- and corrosion-resistance
Choose the spool with the Nickel finish for tough corrosion resistance and a bright, clean look
If you're buying a reel or spool and fly line, we'll be happy to rig it up for you, please give us a call at (855)-712-0513 for details
What do you think about this product?
Have questions about this product?
Great extra spool!
Familiarity:

I've used it several times
Had the Velocity fly reel 2.0 and needed two lines one for swinging streamers and another for indicator fishing.....Bought the nickel version and it fit perfectly. Price point great for those of us with ladies that use coupons and kick our tails for not shopping around...Fast ship and in the water the following weekend.
will the nickel version work with the hard...
will the nickel version work with the hard alox version? Can you mix and match between the two?
Best Answer
Hey Kevin,



You're in luck, the spools are compatible. The frames and spools are the same size so internchanging is no problem.



I have heard there may be issues fitting the X size nickle spools on a standard size Alox reel, but I haven't been able to confirm it myself.



Picking up a couple extra spools at this price would be a great idea. I just picked up a few myself! Tight lines!