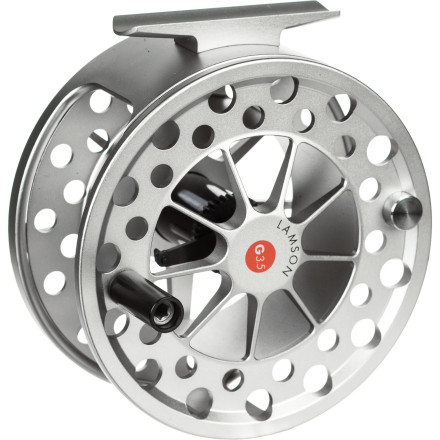 Colors

Videos

Community Images
Description
Lamson quality that won't break the bank.
Featuring the same conical drag system and large arbor ratios as the most expensive Lamson reels, the Guru Fly Reel provides high-end performance at a price that won't break the bank. The machined aluminum body and open spoke design give the Guru style, stiffness, and strength while the large arbor increases the rate of retrieval and provides constant drag torque.
Patented conical drag system utilizes a pair of matched conical elements rather than the disk system commonly used in reels, the result is a super-smooth drag that is completely sealed from sand, grit, and moisture
Pocket milling on the spool and an open spoke design improve strength and stiffness while keeping the weight to just 4.9 oz (for the Guru 2)
Torrington zero-lash roller clutch provides instant torque transmission without shocking the line and leader like a standard pawl clutch system
Large arbor design increases the width and circumference of the spool to eliminate line recoil memory, increase the rate of retrieval, and provide constant drag torque during even the longest runs
Type 2 anodized for a clean look and abrasion resistance
If you're buying a reel or spool and fly line, we'll be happy to rig it up for you, please give us a call at (855)-712-0513 for details
Unanswered Question
just looking for clarification - is this their "HD" model?
Killer Reel!
Familiarity:

I've used it once or twice and have initial impressions
I heard a lot of hype about this reel and it definitely lives up to it's reputation! I got the Guru 2 for my 5WT and absolutely love it! The drag is super smooth and dependable and the mid-large arbor picks up a more line with each rotation. Not to mention it's sleek and sexy design. Highly recommend this reel for those looking for a bomber reel at a price that won't break the bank!
I have a 5 wt rod, which size reel would be most appropriate? The 1.5 or the 2?
Depending on what you are wanting out of it you can go with the 1.5 or the 2. Both will work on a 5wt rod, Larson recommends you do a 4wt or a 6wt line on this with this reel and a 5wt rod. Although you could use 5wt line on the 1.5 or the 2.



If you have any other question for me you can call in and speak with me, my ext. is 4665
Is there a physical size difference between the 1.5 and 2? (Don't want it to look super small on my future 5wt rod...I know it's stupid).
GOAT IS GOOD
Familiarity:

I've used it several times
I have now accumulated every size of these as well as a few in the limited edition black finish that BC carried a couple years ago. Sealed conical drag identical to that offered in Waterworks/Lamson's more expensive reels. Not so much metal machined away that they won't take a bit of a beating and still function (banging around in float planes, in drift boats or just falling on the river bank). On the smaller models, drag is probably overkill UNTIL you hook into that monster that you want to land with your 7x tippet and 3wt. I lean towards longer rods and these have a little heft to them and help balance them out better than some of the uber-light weight reels. They've done their job on trout, steelhead and salmon as well as dollies, grayling, pike, musky, bass, panfish and even light saltwater (sea trout, ladyfish, cobia). I have some reels that cost 4x as much—they are NOT 4x better. You would be hard pressed to find a better functioning reel at any price
The Reel deal
Gender:

Male

Familiarity:

I've used it several times
My reel collection runs from Korean Orvis made CFO(s) ($200), even Japanese made vintage Daiwas ($15) for glass rods all the way up to Hatch 7+ ($600), Abel custom reels ($750) and Saracione ($850) -- that's a wide range indeed and there are differences in finish and performance for sure. In a lot of cases you get what you pay for. That said, the Lamson reels are a real steal. For the price and weight this was the reel to pair with my beulah 8/9 for pike/musky. It's early for esox right now, but I was heading to a mountain lake and figured the water temps might be cold enough. Didn't see one fin or toothy grin but what a day on the water. Other reels in this class tend to have larger diameters, which I don't care for. The Guru seems to get around it by having a thicker spool. Mine is spooled up with a 350gr Orvis depth charge. No complaints about this reel and spool and look forward to getting a new spool for a floating line. I also have their Speedster paired up with a superlight Orvis H2 8wt...now that's a match made in heaven! Get ya some! Made in USA to boot too!
bang for the buck, can't beat it
Familiarity:

I've put it through the wringer
I have two of these, one on a 4wt where I throw dries and nymphs, and the other on a 7wt which I use specifically for throwing big bugs. Both perform extremely well, especially with sizable fish on the other end of the line. The drag is very simple to adjust, the reel is the most sound that I've gotten my hands on (period), and looks sexy as well. In the end, this thing is bombproof and I've talked many anglers into purchasing this reel. Absolutely has my seal of approval.
I'm just getting into fly fishing but paired this reel with the TFO BVK, (http://www.backcountry.com/tfo-bvk-fly-rod-4-piece?_requestid=208733#review-atg359440). I havent had a chance to take it out yet but it seems to be very balanced.
Smooth and strong
Familiarity:

I've put it through the wringer
Recently, with the growing popularity of flyfishing, time and time again ive heard of people spending good money on a fly rod and completely skimping on the reel. "how much could a good reel help, i strip a lot of the fish in anyways" INVEST IN A GOOD REEL! Specifically this reel. When you lose that 25'' fish that smacked a hopper along the bank, you'll know why. This reel has an unbelievably smooth drag that rivals that on reels much more expensive. It is fully machined aluminum, so don't worry about dropping it either, the reel can handle abuse. The arbor is fairly wide allowing it to pick up a good amount of line with each turn of the handle. The whole thing looks great, the replacement spools are fairly cheap ($90), and Lamson Waterworks is a US company out of Idaho. Support the local(ish) brands and get this reel. You will not be disappointed.
video includes Vanquish, ULA Force, Litespeed, and Guru
Sage VXP combo with Guru 2
Awesome all around budget combo
Performance for pennies on the dollar
Familiarity:

I've put it through the wringer
I have this reel in a 1.5 and 2 diameter. I only have good things to say about this reel. It feels like a more expensive reel and the quality is spot on. The drag is super smooth. So far I have not had one problem with the reels. If you are in the market for a new reel but don't want to spend the big bucks on a more expensive model look no further. It is quite amazing the quality offered in this reel for such a low cost considering this is made in Idaho!
Great Reel
Familiarity:

I've used it several times
Just got back from a Steelhead trip in Central NY. This reel performed flawlessly. The drag is silky smooth and handled large fish in freezing cold weather very well. The size 3 is perfect for a 10ft 6 or 7wt. Best reel in its price range for sure. Will get another one soon!
Just to echo what everyone else has said on here, you really cant beat the Guru for the price they are offered at. I have a size 3 and a size 4 for a 6wt and an 11wt in the limited run of black anodizing. The finish is awesome and the black is even cooler then the normal silver, which my buddy has a 1.5 in. We have never had a single issue with any of these reels within the years we've owned them. You will not be disappointed in this reel.
Cant beat it for the money
You cant beat this real for the money. I have 2 of the size 4 for my Spey Reels and the anniversary edition of the 3.5 for my switch rod. For a company based right in my backyard (ID) and made in the good ole USA, you cant beat it. Ive used both reels for 3+ season and not a single problem. Sure, you could get something lighter, but weight doesnt matter for me on big two handed rods. I doubt it would on smaller sizes either. Unless you have shoulder problems, etc. Get it, you'll love it. And if not, send it back for a full refund whenever you want!
I have the 1.5 and 3.0 sizes and love them. They look great and work well and it's hard to beat made in USA for fly gear. I haven't really needed to use the drag on them yet, but it seems pretty smooth from my hand tests.
This reel lightweight, excellent performance, made in USA and a reel steal at Backcountry.com; i couldn't resist the quality and prices at Backcountry; so i bought 2 reels. i wish they had size 4 for sale.
are these reels left hand retrieve?
are these reels left hand retrieve?
Best Answer
I don't know which direction they come out of the box, but you can switch the retrieve direction very easily. See the link below on how to do it.

http://waterworks-lamson.com/wp-content/uploads/care.pdf