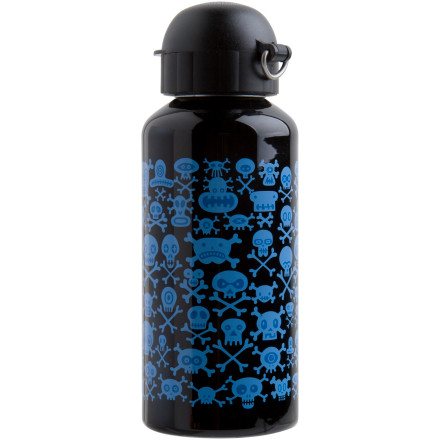 Detail Images
I can't tell if the turtle is humping the hamburger or just eating it. Maybe I should have thought of that before I gave it to my school teacher friend to have to explain to her class.
love the laken bottle. no bpa, and you can fit ice cubes in it unlike some other bottles....
So this is the fourth LAKEN bottle I own. I absolutely love the bottle and fun designs. The top can leak if you've unscrewed the mouthpiece too far, but you tend to figure that out within the first day of owning it. I highly recommend this size for a workout, short hike, or school/office use.
Unanswered Question
Does anybody know how to clean the screw...
Does anybody know how to clean the screw top cap? My kids have unscrewed them and they don't seem to catch back in? There must be a way... you'd have to clean them sometime right?
This is a great bottle to take to school everyday. The design receives a lot of compliments, it washes well and leaves no funky metallic taste thanks to the epoxy liner. The sport top passes my personal spill-all-down-my-shirt test and has yet to leak either in my backpack or on my face as I drink. A+!
where can I get a replacement lid?
where can I get a replacement lid?
Best Answer
I'd try the place where you purchased it or backcountry.com first. If your efforts were in vain, send an email to:laken@laken.es
Great Bottle, Good Size, Fun Design
Great water bottle for daily walks, and the designs are clever so you will never worry about confusing your water bottle with someone else. Excellent for a quick walk or a water bottle for refills at work. No BPA!