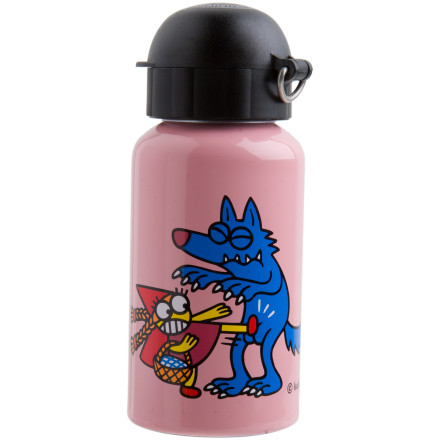 Detail Images
Nice bottle but lids are hard to keep clean and maintain
We have two junior bottles, which pack easily into kids lunch bags or hiking gear. While the bottle itself is very durable the lids are not.

The flip cap initially seemed like a great choice for kids but it fell apart with daily use and requires removal of small rubber pieces for through cleaning. Therefore we only carry water in the bottles. Scrub as I might the rubber pieces have darkened with evidence of mold or bacteria growth. Bottle will leak without rubber parts and wrack my nerves trying to keep the small parts from falling down drain during cleaning.

Additionally, the flip cap cover appears to be attached with a piece of hollow aluminum and has fallen off one bottle, so just one more thing to keep track of.
Pink one NOT for small children
I didn't realize that the pink one had a picture of a little girl holding up her middle finger until one of my other kids had pointed it out. I see now that it was pictured in a view other than the one I clicked on. I (incorrectly) assumes they were marketed to children given the size/colors/silly pictures. Now I'm on the search for another one for my toddler since it's not really appropriate for the playground. I got the yellow for my 5 yr old son and he loves it. Just gross enough to be hilarious to him but not too bad that we can't take it in public :-)
Who doesn't need a water bottle with a little girl kicking a wolf in the... yeah?! I know SIMPLY AWESOME! Why hasen't Nalgene produced something as light hearted as Laken? Well because they have an image to uphold. Who cares?! lets have fun people and let the world know that you don't take any of it seriously!
I nearly died when I got these home, I got the Roja and Fans. They are so funny. I got them for my little cousins but I ended up keeping them for myself.
The top of the lids aren't black, on the Roja it's pink and the Fans it's blue.
I wanted to get a smaller bottle to take on the plane with me (filled with water after passing though security, of course) and it worked great! It's the perfect size and not too heavy when filled.
This is not just for kids. It is just the right size for those time when you need just enough water and not a lot of bulk in your backpack.
If I get one of these as well as an ISO,...
If I get one of these as well as an ISO, will their caps be interchangable? I would like to use the sport cap on the ISO, if possible.Thanks