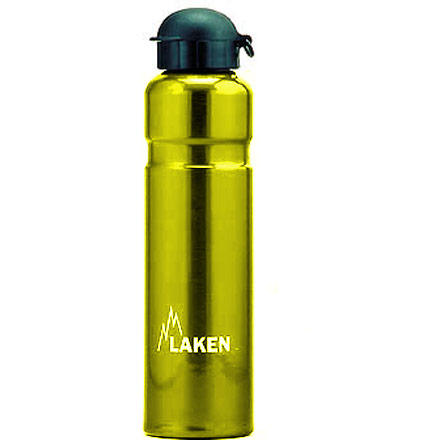 Detail Images
Share your thoughts
What do you think of the
Laken
Hit Bottle - 1L
? Share a...
This was a great purchase. It works well, and no more wasting water bottles. I started to use it so often, decided to get a bigger size.
Fulfilled my requirements
I personally like the Laken 1L hit bottle. I was looking for a large volume aluminum water bottle w/ a sports top for spin class. The Laken Hit bottle delivers. For me, the twist cap cover was a bonus (I didn't want fellow spinners to have the opportunity to touch my mouthpiece when going to or leaving their bikes).

Note: It isn't insulated. Also, I have dropped it a couple times, therefore it now has dents and dings.
Bought one for my wife for her birthday/earthday,she loves it. She fills it every morning with her favorite drink and doesn't have to help fill landfills with plastic bottles.Also the bottle rinses clean,leaving no aftertaste of the previous drink.
Recently bought an Osprey pack and the...
Recently bought an Osprey pack and the side pouches are really small. I am looking for a slimmer water bottle to replace my old 1 L Nalgene which had these dimensions...7.87 x 3.62 inches

I dotn see anywhere in the Laken specs where the actual size dimensions are listed...just the volume. Can anyone shed some light on whether this would be slimmer and fit my new pack better?
Best Answer
11.3" tall, 2.9" diameter.
So, yes.. it's slimmer.

(From Laken's Site: http://www.laken.es/index2.php?s=products&g=4)
I love this bottle - it's my second one Great size, light weight and doesn't leak. And whole ice cubes actually fit in through the mouth!
Are the caps interchangeable with other...
Are the caps interchangeable with other Laken bottles? I would like a loop for a carabiner... not sure if other models would fit the 1L "Hit" bottle...
Best Answer
yes they should fit
Accessories or interchangeable tops?
Love the bottle, got it today.

Pros: taste neutral, notched groove makes it easy to grip (it's naturally slippery) and the cap keeps the drink nozzle free of dust and grime. Outer threading is clever to prevent aging threads from depositing sediment into the bottle itself.

Cons: No carabiner or clip... so you are forced to put into a drink pocket/pouch or in the bag itself.

Question: are the Laken caps interchangeable? Could I swap out the sports cap for one with a loop to attacher a carabiner?
The only thing I don't like about the Laken Hit aluminum water bottle is the top of the cover. They seen to be poorly made because three of mine broke in a very short time. I do like the sippy type top and the light weight aluminum. The top cover that fits over the sippy part is flimsy.
Bottle is nice and light. Lid is very functional. Unf, the lid chipped when dropped from thigh high (as opposed to my blackberry that has survived tens of similar falls). Otherwise, it's done well.
nice and light. i wanted a straw style drinking top but this one is still nice. actually its nice to just pour it in and not have to worry about dumping it (like wide mouth nalgene) or needing to suck on a straw (camelbak bottles).

not sure if the plastic top is going to hold up in the long run. the hinge already seems a little loose.
I gave this as a gift to a friend, and when he called to tell me thanks, i asked him about it, and he said "i was washing it, and it tipped over, hit the edge of the sink, and dented"... we joked that he was violent and just dealing with PTSD, but remembered he was a dentist, and has a delicate touch... anyhow, i spoke with the Laken rep at O.R., she told me the inside was mailable, and won't chip off, so aside from ascetics, it was fine... so... that's two cents. (he commented that it doesn't insulate as well as the Klean Kanteen, which, to note, is that much more durable)
good bottle, but mouth piece could be better
mouth piece has a nubbins that gets in your way, but other then that a great bottle.
Fine bottle, but some issues
If you're considering this bottle, you may be comparing it with Sigg metal bottles too. I own them all in my constant search for the perfect water bottle. This one is pretty good...but not perfect yet. Pros: large capacity, easy to hold, easy to pop the top, wide mouth top that takes ice cubes, etc. Cons: very tall so that it is too big for many bottle holders, not the best water flow out of the nip at the top -- and as someone notes below, you can't squeeze it to improve water flow. (Sigg sport top a little better, I think...but not a wide mouth so no ice). The search for perfection continues.
I carry two bottles for work (a 12 hour day) the water taste great to the last drop. Easy to clean and fits well into both the truck and my car holder.
This is a very well made and EASY to drink out of water bottle. Simply turning it upside down and sucking on the nozzle gives good water flow and requires less effort than drinking a Frappuccino. Fits fine in my car cupholders. I like how the sports top is opened and closed without touching the part that you put in your mouth and is also covered if it falls to the ground. I would definitely recommend it!
How long does the drink stay cold in this...
How long does the drink stay cold in this bottle?
Best Answer
The Laken is not a thermal or Thermos type bottle but will keep drinks colder, if protected from sunlight, longer than plastic.
So, first of all, when I got the bottle, it was dented...but I figure it would become dented sooner or later anyways, so I didn't return it (and pay shipping). But mostly, when I used it, it was hard to drink from. I didn't like the sport top at all! It's got a nozzle like a bike water bottle, but you can't squeeze it because it's aluminum! So you just had to kind of pour it into your mouth, and wait for the water to come out. Now, I'm going to buy a "classic" bottle just so I can use to top on that one. Supposedly, the classic top and the hit to are interchangeable. I think it's just a poor design. The bottle itself is pretty cool. The paint was chipped a little from the denting, but that's no big deal. And it does fit in my car drink holders, and more importantly, the water bottle holders on my jogging stroller. So, if they would just make this size with a different top, I'd be a huge fan!
What's the lining made of? Plastic?
What's the lining made of? Plastic?
Best Answer
foodgrade epoxy. same material used to line canned food.Here's more information:http://www.laken.es/