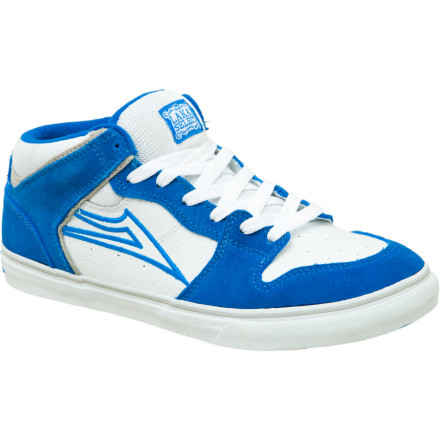 Detail Images
I am not a skater. That said, I LOVE these shoes. They are super comfortable and look SICK. The sole is the best part...crazy awesome! Even if you don't skate, these shoes are great buy!
Hey, I wear a size 11 but the only thing...
Hey, I wear a size 11 but the only thing close is a 10.5 do you think I could pull it off, or would it be too small?
There's an 11 in the Black White Suede color. Snatch that one while it's still around.
Lakai Mike Carroll Hangover Flip
Great board feel, comfy, durable sole +1
Awesome shoe. As a longboarder, I really appreciate the fantastic board feel, and longevity of the sole. Fantastic shoe, and looks AMAZING in green!
Style and function. Tons of compliments. Got black with black laces. There's not a better All black mid top anywhere.
these skate shoes are so sick! they are just the skate shoes i was looking for! if your a skater, BUY THESE SHOES!!!!
These are some of the best shoes i have skated. Good ankle support & sticky sole
These shoes have some styleeeee. I've got the brown and white leather ones, and they're really durable. They haven't torn at all yet, just some scuff marks on the leather. I can't speak for the suede shoes, however. I don't know how they compare. But these shoes have great grip, and they don't tear. Be prepared to replace the laces quite a bit though.
I ride longboards almost every day, and i have to say that these shoes are some of the most comfortable rides i've ever had. They are also very durable and will not get battle scars very easily. All in all, an awesome pair of shoes.
bought them July 11, 2009, one week later already starting to come apart. Three weeks later sole worn through.
just bought these bad boys. there soooo comfy and look sick. cant wait to rock em round town
So sticky i almost got stuck to my board
alright so these shoes are awsome, really awsome, ridiculously amazingly super awsome, skate in these and its just, yes, the grip is nuts, and by the way, i almost did get stuck to my board, its a long story
should i size down .5 than my regular...
should i size down .5 than my regular size?
Hey Jonah, every pair of Lakais I've bought have been true to size. If I were you I would purchase your normal size, or you'll have your toes crunched in there.
they fit true but they do seem to be a narrower shoe
Jonah- For most Lakai vulcanized shoes I do size down 1/2 a size. I like my shoes snug, but not tight. Hope that helps.