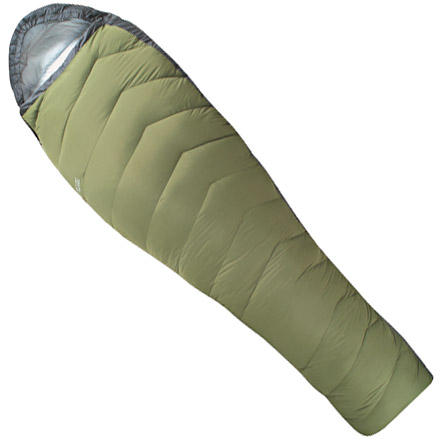 Share your thoughts
What do you think of the
Lafuma
Warm 'n Light 600 Sleeping Bag: 40 Degree Down
? Share a...
This sleeping bag is incredibly comfortable. It has a nice soft liner, and has the most room of any of my other mummy bags. However, the 40 degree rating is pushing it. I was looking for a summer bag for the BWCA in northern Minnesota and the Apostle Islands in nothern Wisconsin. Although it is still early in the summer I've tested out the bag on some of my trips and have been chilled a few times. Last time the temperature was only in the mid 40's at night, and I needed to get out all my long underwear and a fleece. However, it is so light and small that the extra room allows you to carry the extra clothes you will need when the temps drop at night.
great lightweight lafuma bag.
attractive new design is a real plus.
like to travel light? get this!
Great Bag but thin and for warm weather....
The construction and quality of it are awesome. But just be sure you know what you are getting, a 40 degree bag, which means summer time only in places that get cold. Even at 50-55 you start to get a little chilly in it. Perfect for the tropics or places that are generally warm (I'd say 60 or higher) on average. It packs very very small, about the size of a football, which is great. Thickness wise, in general the bag is quite thin.
The rating is the coldest temperature you would want to see in this bag unless you go to sleep fully dressed. Perfect for light weight summer packin'
Rookie to down bags-like the Lafuma
Okay, here in SE USA always for backpacking or car campouts in humid SE used synthetic bags. With a week backpacking trip in Western North Carolina next month and the Lafuma priced right at BC.com( 15 % discount/free ship)bought the 40 degree bag about month ago. 5.3 oz of down, light( 21 ounces). Decided to do one night on Chehah wildeness in NC Ala. last week on way to Atlanta. Close to record temps, snowed nite before, 18 degrees at 2000 elevation that nite just off ridgetop w/slight wind. OR Silshelter,ground pad, cheap bivy bag, wool socks, Patagonia puff vest, wool cap, johns, and the 40 degree Lafuma bag I was comfortable. Slight chill to my feet. Think this can do it next month. Comfortable, warm lightweifgt down for a backpacker on a budget. May check out the 30 degree version, but the Lafuma 40 degree bagged held up w/the indicated help at 18 dry degrees.