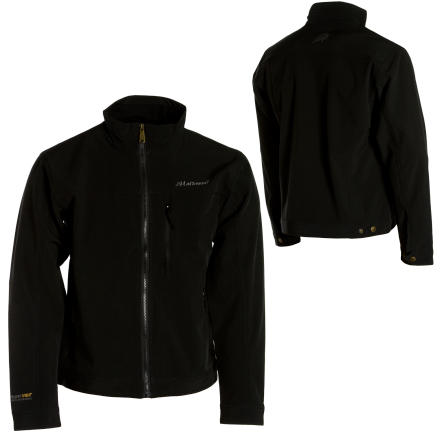 Detail Images
Share your thoughts
What do you think of the
LaCrosse
Tempest Softshell Jacket - Men's
? Share a...
I've been wearing this jacket for over a year now, and I can say very few bad things about it. It's warm without being too warm, and is suitable for weather from just above freezing to about 70F. I use it in Portland on my bike, and its warmth and water resistance have yet to fail me. If you're in a downpour, I imagine water would eventually start to soak through in the shoulders, but not for a good 15-20 minutes, and it would need to be some pretty serious rain.
At least on my 200-pound frame, it's far too warm to jog in. Also, I'd like one or two more buttons on all the adjustable areas. The ones that are there are not quite enough, and an intermediate step would be really nice.
On top of that, I damaged one of the buttons on mine and Lacrosse customer service is awesome enough that - even a year and a half after buying it - they're taking care of that for me, free of charge. I don't know if that's their policy or I just got lucky, but they're certainly won me over.
Great Jacket for casual use
this is a really comfortable, durable jacket. great for running around town like ianmccanless said. i also agree with his assessment of the front zipper, cuff snaps, and side snaps. one other note.; when i recieved mine the corner of the breast pocket was sewn into the seam of the zipper, and the tag at the tag at the inside back was only sewn on one side, the other side simply hanging there. i could returned it citing the defects, but i didn't because (i believe) the large size was sold out and i was otherwise pleased with it. i am glad i kept it. despite the stitching and other issues, i am very satisfied with this jacket.
Love it. My 14 yr. old son had the North Face - Apex last year and likes the LaCrosse just as well or better.
For the price you can't go wrong
This is a fantastic jacket for commuting around town, but probably won't replace your Gore-Tex Windstopper or Polartec Power Shield softshell for the more exciting adventures. This jacket does look nicer than the more technical offerings from Arc'teryx, Marmot or Mountain hardwear, which makes it a better choice for everyday use. There are a couple of short comings, first the front zipper is not particularly wind tight, second the adjustments at the cuffs are not great, and lastly the adjustments at the bottom are not very good. Despite these minor quibbles this is a good jacket and I highly recommend it for day to day use in cool to warm conditions.
Great Jacket, Great Value!
Okay, seriously, this is an awesome looking jacket. I bought it for my brother with the North Face Apex in mind, but was looking for a better price tag. This jacket is perfect for 50 degree weather. It looks great, feels great and no one could believe it when I told them how much it was. If you're looking for a mild winter jacket, you can't go wrong with this!
Works great for skiing and around town, looks and feels great once you get used to the stiffness in the arms. Very light for how warm light it is. I have to wear an outer shell for night or cold weather (below 0 but I'm used to the cold now) skiing but they keeps me warm.
I bought this for my brother and it looks awesome on him. On snowy really cold days he wears it with a hoody and it does just great. It loos sharp on him too.
i got this for my son, and it looks, feels and performs like a similar soft shell jacket from a large snowboard manufacturer that i wear in all types of weather. it's functional in temps from the mid 50's down to the 20's if you layer it properly. it's not totally waterproof, but sheds rain and snow easily and does a great job of blocking the wind.
I live in North Dakota with 20 mph winds an almost daily occurrence, so I needed a good coat for fall/late winter. This coat is an excellent buy for the money. Well-sized for me at medium (5'6", 150 lbs). The coat is very light, the fleece lining keeps me pretty warm, but not sweaty. Aesthetically, the jacket looks great, with cuff buttons available to close tight if too windy or undo if you want to roll them up. Only problem with this jacket was that I only wore this on a cool night (50-60deg), so I'm not sure how it handles in the fall when the wind chill becomes a factor. Nevertheless, I would still buy this jacket for it's look and it's warm (not sweltering) lining.