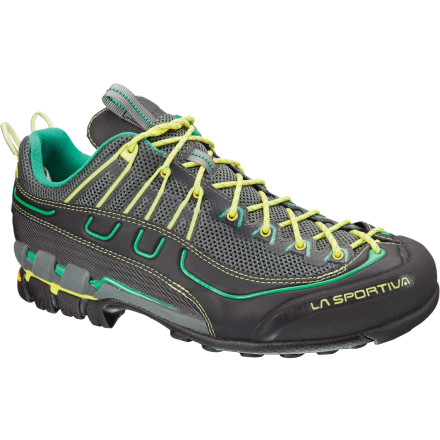 Detail Images

Videos

Community Images
Description
Expand your horizons.
When it comes to rocks, you are an omnivorous explorer that doesn't like to limit himself to merely one location or activity; fortunately, the La Sportive Men's Xplorer Shoe can take them all on. This rugged approach shoe is ready for anything from high-altitude approaches, speed climbing, or slab paddling to desert canyoneering.
Toe box Overwrap rand construction controls foot creep when edging and smearing
Dual-density EVA midsole is soft under the heel for all-day comfort
Highly compressed EVA RockGuard in the forefoot adds protection from rough terrain
Vibram Idro-Grip rubber sole sticks to rock like glue
Impact Brake outsole design features lugs slanted in opposing directions, increasing braking power by an average of 20% and decreasing impact forces by an average of 20%
Share your thoughts
What do you think of the
La Sportiva
Xplorer Approach Shoe - Men's
? Share a...
Bomber approach shoe
Familiarity:

I've put it through the wringer

Fit:

True to size
I wore these as a hiking and approach shoe on a three week-long bouldering trip to South Africa, after purchasing them during a Backcountry sale. I was hesitant about bringing them as my only shoe for the trip, but I am extremely happy that I decided to.

These shoes excelled in every application, from boulder scrambling and easy climbing to longer hikes and even street use on rest days. I have previously worn the 5.10 guide tennies as my primary approach shoe, and I believe these are far more functional, comfortable, and durable. And although the climbing rubber on the toe may not be as good as the 5.10 stealth rubber, the shape and rigidity of the shoe make these a better climbing shoe as well.
Great canyoneering shoe
Familiarity:

I've used it several times

Fit:

Runs small

Size Purchased:

43 / 10 us
It would seem that the 5.10 Canyoneers are "THE" shoe for canyoneering. However, they don't fit everyone's feet ...especially mine. I have narrow feet and 5.10 Canyoneers are a little wide. I kept sizing down until my toes were crunched like a pair of climbing shoes and I still had side to side wiggle. I have tried on current and past and SAR versions of the shoe.

The La Sportiva Xplorer shoe has a narrower last; but, could still fit people with a wider foot do to lacing running all the way to the toe. This also helps to be able to customize the fit all the way through. The design makes this shoe definitely more versatile for more foot shapes.

The shoe is synthetic with plenty of mesh to allow for drainage and do away with leather rot.

One great thing about the 5.10's is the grip of course. That being said, the sole of the Xplorer is Vibram. It is very sticky, has great traction with braking design, a climbing zone in the front (less knobs/more flat) and has a nice toe rand as well.

The sole is stiff enough to offer good support while the shoe itself is much softer and forgiving than the 5.10's.

While many have said this shoe fits true to size, I join the one other review that it runs small. This may be due to the fact that I am covering more miles or spending more time in them as a canyoneering shoe than just an approach shoe. If you want it to fit tight like a climbing shoe, then it fits true to size like climbing shoes in my experience. I usually wear 9-9.5 and some times 8.5. I went with the 43 which should be a 10 according to it's specs. My toes touched the end in the 42.5 when standing flat foot. I was afraid of the toenail issues it may cause when spending 12-15 hours in a canyon or descending long exits.

I've only had the shoes for a short time; but, have already done several canyons. I'll be doing several more canyons over the next month including the all day IMLAY Canyon. I will post more after some more miles.
Killer Approach Shoe
Familiarity:

I've put it through the wringer

Fit:

True to size
These shoes are awesome! They are exceptionally comfortable, and have excellent breathability. They provide ample support and traction for pretty much any approach situation, but also make a great every-day around-town shoe. I have been using these as an approach/hiking/every-day shoe for months now, and have yet to find a situation in which I'm thinking about my feet - definitely a good thing, in my book. As a bonus, you can leave them pretty loosely laced, making for easy on-and-off (great for hoping from rock to rock in a boulder-field), without losing much stability.
Just bought a pair of 9 and 9.5 online and am trying to decide on sizing. I plan on using these for climbing easy 5th class for part of the day but mostly for hiking during the approach. The 9 has a great, snug fit which I would appreciate for scrambling. The 9.5 has a bit more room and would be nice for when my feet swell up during a long day in the alpine. Will these shoes break in quite a bit? Thanks!
I've had these for a day, I bought the nine (my street shoe size), and then promptly went and solo'ed a few routes on Wind Tower and bouldered at the top of Whale tale in Eldo. After going up and down a few routes I realized that maybe I should've sized down a half size for a more precise fit in the toe box while climbing. It felt snug until I started climbing around and then I realized that the fabric upper stretches a bit and made the toe box a little sloppy. I'll play around with the lacing to see if I can get a better response, But be aware that there is a little room for stretch. The toe box is shaped perfectly to allow your toes to splay and not get crunched while hiking down hill. With the wider toe box there is more room for you foot to slide to the front of the shoe, leaving room in the heel.
Great grip!
Familiarity:

I've used it once or twice and have initial impressions

Fit:

True to size
Love these shoes. Felt super secure scrambling over slippery rock.
My feet got soaked but even wet these shoes felt safe. A little narrow but I have wide feet so probably not an issue for others.
Terrible constuction fell apart first month of hicking. Very comfortable, poor construction.
Rocks
Familiarity:

I've put it through the wringer

Fit:

True to size
I'm a self admitted La Sportiva freak, but these shoes are objectively great! Decently lightweight, grippy, and sturdy enough to hike with a loaded pack. I've been up Garnet Canyon in GTNP and to the top of Capitol Peak in the Maroon Bells Wilderness with these shoes and my feet were no worse for wear when done! Highly recommended.
Exums? ...please come back
Gender:

Male

Familiarity:

I've put it through the wringer

Fit:

True to size
Good shoe, cool look'n too, great friction. Give it some break in time and its comfy. Not as good, nor ever could it compete or be a replacement for the Exums, but if you find them on sale it's worth considering. If money is tight and you can only get one shoe to do it all,and are needing a replacement for the Exums b/c the resole store refuses to keep putting tread on your old Exums - I'd recommend the Salewa wildfire or the mountain Trainer until La Sportiva can come up with something better.
What size would any of you recommend for someone who normally wears 10.5 street shoes? A lot of 10.0 street shoes fit me pretty well although somewhat snug, so I am probably a 10.25 street shoe size. I would like to be able to do long approaches as well as some decent-mild climbing. Thanks for any advice.
Best Answer
Johan,

I've been in La Sportiva boots and approach shoes for a few years and wear a 10.5 street shoe, I would suggest the size 44. For approaches wearing a SmartWool Trekking or Medium Hiking socks will provide more padding and comfort. A suggestion is to get a 44 and a 44.5 try them on with your approach socks and keep the pair that feel the best and send the other pair back with free return shipping. Call a Backcountry.com Gearhead and they'll help you out with this and I'm sure you'll be happy with the outcome.

Meanwhile get out and enjoy the Backcountry!

Scooter
Hey Johan, So I'm in that same weird size range to. I wear a 10 - 11 depending on the manufacturer but I've found I wear a pretty strict 43.5 in the La sportivas. 44 they consider to be 10.5+ while 43.5 is about that 10+ size. I've not tried the xplorer, The boulder x, Scarpa Crux and Five Tennie guides are nice shoes but I wouldn't want to hike more than 10 miles in them. Five ten's preformed better (almost a trailer runner) but the sportiva's climbed better. Crux is a good all rounder.
The best all round approach\climbing shoe I've used yet is the Salewa Trainer, just the most expensive. The Sportiva Xplorer looks like it would be comparable. The quality is top notch. Like Scooter said, see if you can get a few sizes shipped of which ever you do choose.
Climb on!
Good shoe
Familiarity:

I've put it through the wringer

Fit:

True to size
The more I think about it, the more I can't really find anything to fault with these shoes. They're comfortable, and stable approach shoes, even when carrying a 40lb pack. They're also durable. I've had these for a while now and aside from scuff marks on the rubber, there aren't any significant signs of wear/damage. As much as I like them, I just like the Boulder X's more. Don't get me wrong, if you're looking for a great shoe you can find them here. I just prefer the Boulder X's to these.
Really Nice and Secure approach Shoe
Familiarity:

I've used it several times

Fit:

True to size
I already have Gandas, and Ganda Guides. I wanted something for hot conditions, mesh/ breathable but still with nice climbing rubber sole. I love the way the full lace system in La Sportiva Gandas work, nice snug fit tht is highly adjustable. The Xplorer's lace system is very similar, and provides a very adjustable fit. They are as light a anything out there, and very comfy right out of box if you like the way typical La Sportiva fits. The sole is more of a hybrid...more aggressive hiking pattern with a climbing toe forward. Its not the dots like the Ganda, so is likely not quite as good a climber, but should be a better all around approach shoe. I wear 44 Gandas, and the 43 1/2 Xplorer fits with just a touch more room. I think 1/2 size down is about right.
I think this will be a great shoe for hot and humid, as well as desert approaches, and is still nice and light for hanging off your harness for the hike off. Its a nice looking shoe on your feet too. Definitely worth a look at under $120!
Good, but not a hiker
Familiarity:

I've used it several times

Fit:

True to size
Basically repeating what others have said. This is not an all day, heavy pack, death slog kind of shoe. I made the mistake of not breaking these in before taking them out for a couple long days in some slot canyons for a work shoot. Foot fatigue for sure, along with some blisters. They did however perform amazingly well in the actual technical slot canyons, and they have been perfect for all the approaches for recent sport climbing trips. Had them for a month or so, and been abusing the hell out of them, and they are holding up well. Definitely approve.
Nice compromise
Familiarity:

I've used it several times

Fit:

True to size
To say that these don't hike well, I think, is missing the point. With that being said however, of all the approach shoes I've tried over the years (guide tennie, some nike thing, la sport boulders - which are all dedicated approach shoes) these do hike the best. They are, after all, an approach shoe which in general lean more to the climbing side of things. La sport on their website makes no such claim as does Backcountry here that they provide all day comfort but they will provide added security on high altitude rock work and long days of establishing routes etc. They've been a good shoe for me that succeeds in a good compromise of some comfort by use of the eva heel midsole and technical ability in the toe design, lacing, and heel brake. Its a good shoe for what its made for (which is not hiking for miles in. Excuse me if I get a little impatient with reviewers who don't understand this). A well thought out product.
These shoes will take you places
Descending a rap in Kolob Creek. I love using these in southern Utah's canyons. The rubber grips really well. They are rugged and handle everything I throw at them.
so good I'm on my second pair
Familiarity:

I've put it through the wringer

Fit:

Runs small
I'm now on my second pair and loving these shoes. I was disappointed when La Sportiva got rid of the exum series. The Xplorers is a worthy replacement. I use these shoes for hikes, sandstone scrambling, and long approaches canyoneering. The athletic upper and stiff bottom is great for comfort on long approaches. If getting into terrain tough on the side of the shoes consider reinforcing the seams. If really tough & skiny off width stuff consider a different shoe designed for that type of terrain. I wear a size 11 (44.5) in a lot of brands but I like size 45 in La Sportiva.
Great approach shoe!!!!!!
Familiarity:

I've put it through the wringer

Fit:

True to size
This shoe is the essence of an approach shoe. It is definitely closer to a hiking boot than the boulder x or most other approach shoes but i love it for its ruggedness. The thing is light and breathes well. It have stinkin vibram rubber so you dont slide anywhere and the la sportiva breaking system works well too. I feel super comfortable climbing all over talus fields and making long approaches to the crag. This thing is a beast. I have even climbed a 5.9 approach pitch and a couple jump starts in these things.So not bad at all!!!!!
La Sportiva Xplorer Shoe - Men's
Great for short approaches
I bought these a half-size smaller than my street shoe. That amount of tightness makes these shoes perfect for short approaches, scrambling, and easier rock routes. I've led up to 5.9 with confidence in these shoes. I also really love how lightweight and breathable they are.
Snagged these hoping they'd be the ideal shoes for wet canyoneering. They have a synthetic upper that drains water fairly well. Biggest concern was the durability of the lacing system in tight slots. From the image above, it looks like the top eyelets are not reinforced, but they actually are. So the laces hold up pretty well, even when jammed with sand.

The soles are pretty stiff to start, definitely worth breaking them in. Also, the fit is pretty narrow, so if you are used to wider shoes like 5.10's, it might take some time to adjust. The fit can be tight when worn with neo socks.

Compared to the old exums, it seems the rubber is a bit stickier, and overall an improvement. If you like the narrow fit of Sportiva's, you'll dig this shoe.