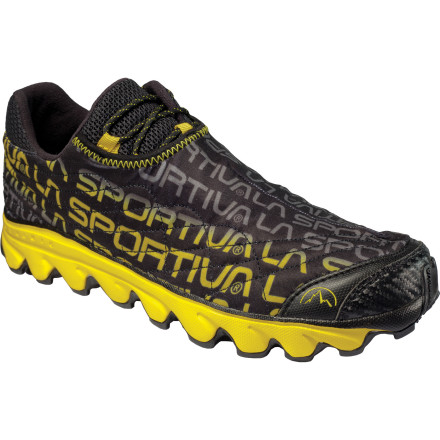 Videos

Community Images
Description
Break free of gravity.
Give your feet wings, and sprint up the trail in the La Sportiva Men's Vertical K Trail Running Shoes. This shoe owes its incredibly light weight (7 ounces per shoe) to a minimalist one-piece upper and the soft, lightweight foam in the MorphoDynamic midsole that absorbs the punishment from rough terrain without bogging you down with more shoe than you need.

Stretchy nylon upper wraps around your foot in one piece to provide a comfortable, supportive fit
Wave shape in the MorphoDynamic midsole increases surface contact area to absorb trail variations from below and impact from above for a smooth, cushioned ride
Minimalist 4mm heel/forefoot drop encourages a more natural stride
Sticky FriXion XF rubber outsole offers traction and grip
Reinforced heel loop aids with on and off as well as gives you an easy means of clipping the shoe onto your pack or harness
Optimal for medium-wide feet
Light and grippy
Gender:

Male

Familiarity:

I've put it through the wringer

Fit:

Runs small
I've got close to 400 miles on my verts, and I'm still impressed with the amount of grip they have. The cushioning of the midsole has really deteriorated at this point (to be expected), but the grip is still great. The rubber compound and outsole design are what I wish every trail shoe had.
The rock/pointy things protection on these aren't what you'd get from a beefier trail shoe, but they're adequate, especially considering these things are featherweights. The midsole foam will give you much better protection for the first 200 miles than it will as they age. A great race day shoe (I've raced a trail 50k in them).
The toebox is nice and wide, but the rounding of the last can cause some fit issues in length if you've got Morton's toe like I do. If you have Morton's toe, I'd recommend erring on the side of a larger size.
Best lightweight shoe
Familiarity:

I've put it through the wringer

Fit:

Runs small
This and the La Sportiva Helios are tied for first for my favorite light weight shoes. They're pretty minimalist but still have a little bit of foam. The cushioning is on the hard side, so it provides a bit of protection but doesn't really pack out. The sole has really pronounced bars that grip on rock really well.

I can't wear these for more than a few hours but for anything but the longest runs they are great, especially in steep rocky terrain.
A NEW DAY IN RUNNING
Familiarity:

I've used it once or twice and have initial impressions

Fit:

Runs small
It?s a new day in running for me. 1) I began doing mountain runs almost exclusively (I live in the Canadian Rockies). 2) Due to a chronic inflamed metatarsus, I got fitted for orthotics. 3) Immediately after getting the orthotics I purchase a pair of Vertical K?s



Both at the orthotic shop (for the Orthotics) and at the running store (for the Vertical K?s), they said to work into higher mileage gradually. So, not taking their advice I went for a 5 hour mountain run the next day. Here?s my take on the Verts:



Unbelievably light shoe. It felt like there was nothing on my feet except for cushioning underfoot. The Lycra uppers hug my foot like a slipper. Not even a hint of hotspot or blister on my inaugural 5 hour jaunt. I?ve never worn such a comfortable shoe. It?s unreal. On the down side, despite what the official word is and the take from other reviewers, there?s not enough padding for mountain running. Granted, I live in the Rockies, and those trails are rocky indeed... also considering that my previous 2 pairs of runners were Hoka?s, There's still not enough padding. UNLESS, one wears a pair of orthotics. The additional stiffness provided the protection that I needed, plus probably made up for some of the extreme flexiness of the non-supportive uppers (I?ve always felt that ?motion control? is unnecessary-if one has proper running form-and is mostly marketing hype).



I?ve got a couple 50k trail races coming up. I can?t wait to toe the line with these babies.
La Sportiva Vertical K Trail Running
Fills a niche
Familiarity:

I've put it through the wringer
I really loved this shoe when I first got it. Fits like a glove and you feel in intimate contact with the trail. But also feel the rocks a bit more and wears out after about 200 miles on rocky terrain. While overall I still like this, for more "minimalist" running I like something more in the New Balance Minimus series. And if I want just a little more protection, but still a fairly light shoe I really love the La Sportia Helios. ALthough the comfort is amazing, it is kind of an "in-betweener" for me that doesn't get as much use.
So stylish.
Gender:

Male

Familiarity:

I've put it through the wringer
Well maybe not but I love the look. You'll definitely have a bunch of people "asking" what brand they are.



Switched to the Vertical K from the Quantum and I couldn't be happier. Lower to the ground, lighter and sticky. Oh so sticky. I do a lot of rock hopping and am blown away by how well these stick to everything.



Only two problems.



The built in lace cover/gaiter makes getting to the laces a hassle. Got a knot in one and I decided to just leave it.



The smell. If you sweat a lot or ever wear them barefoot be prepared to leave them outside for awhile. Definitely couldn't sleep with them in the tent. They just don't breath well enough to allow them to dry out easily.
Light but cushioning
Familiarity:

I've put it through the wringer
I came to these after being disappointed with the New Balance MT10 trail shoes (not enough cushioning for long runs and poor durability). So far I am stoked, they seem to be everything the New Balances were not.



Features I value in them: super lightweight, great traction, enough cushion to prevent bruising your feet, relatively little heel to toe drop.



Time will tell more on the durability front I suppose.
I echo many comments from other reviewers. I absolutely love these shoes. Super light and comfortable. Unlike some others, I haven't had any durability issues with the upper and the bottom don't seem to have worn much after about 150 miles. The one complaint I have is that despite what seems like a snug fit, my foot slips forward on steep grade downhills, which for a longer runs, I have had a blister develop on the tip of my big toe. However, for less technical grades on any terrain, I love them!
Impossibly light. Travel buddy.
Let me preface this with the fact that I live in the southwest where bullet proof soil and dry conditions mean deep tread does nothing to enhance grip ... if I lived in a muddy place I might worry about grip.



Anyways these shoes are very comfortable and insanely light.



I ordered a half size up and that was perfect. Slightly warmer than expected due to the fact that the top doesn't have any mesh.



The shoes collapse down to just the soles so they're very compact. These shoes are great for squeezing into carry-ons ... but they're happiest pretending their not on your feet ... every once and a while I have to check to make sure they're still there. Plenty of support for this category.
I thought these might be too high tech for me, but I am pleasantly surprised. They are incredibly lightweight and fit like a glove. Perfect for quick post work trail runs. I like them fitted on the small side with a thin running sock. My only suggestion would be to tone down the colors in the future.
I just wore these for the Pikes Peak Ascent and they were perfect. I have tried many racing flats for this race and none was as perfect as the Vert K. Plenty of protection while being as light as any other shoe, I have been able to find.

I wore these in prep for the race for my feet to get use to the minimal feel. The funny thing was is that I found myself training in them all of the time. They are much more protective than any other minimalist shoe I have tried while still having all of the benefits of a minimalist shoe. In most minimalist shoes I still get bone bruises from rocks - not with these. Now I am wondering if I can use these for an upcoming 50K.
I loved these shoes as soon as i opened them out of the box. They are SO comfortable, VERY light, UNBELIEVABLY grippy and run so nicely. I mean it, when i took these on a trail run they gripped the messy trail so well, my foot barely moved. They didn't chafe my foot and they are easily more comfortable than any slipper I've ever worn. These are the most comfortable shoes I've ever worn, in fact. The pair weighs NOTHING. They also cushion fantastically. The MorphoDynamic sole is to blame for this, it really is a home run on Sportiva's part. "But wait." You might say,"You only gave it a three out of five?" Thats right, I did give it a three. These are the least durable shoes I have ever worn, I might as well be wearing a pair of Tom's. The grippy sole on these things really showed wear after the first trail run, you could see that rubber had worn away. The fabric on the outside of the shoe is one piece, very light and comfortable, but a thorn can rip it! They just cannot stand up. They would be perfect for racing, and only racing, no training. I really liked these shoes but if they can't stand up to me, thats bad. I am not a sloppy runner nor do I ever drag my feet, I walk like a ballerina for god's sake. Yet they still fell apart. I am sorry la sportiva, i wanted to love these but I couldn't.
La Sportiva Vertical K Trail Running Shoe
Sam tells you all about the La Sportiva Vertical K Trail Running Shoe.
La Sportiva Vertical K Trail Running Shoe
Do you offer the Vertical K in a size 39.5...
Do you offer the Vertical K in a size 39.5 or 40?
It doesn't look like they do. I suggest initiating a chat with a BC rep using the link at the top of the page. They should be able to tell you if/when they will stock them. Best of luck!
Great for speed work and long runs!
Love the Vert K's!

The problem with running in them is that you soon find yourself not wanting to wear anything else. With being super light, having a soft slipper-like fit and surprisingly good cushioning for such a light shoe, they are about as close as I've come to the perfect trail shoe.

Traditionally I like going with a relatively light, but not minimalist shoe. However, this is the first time in 30 years of running that I can honestly say that I've worn the same shoe for a long run as well as for speedwork with the Vertical K's.

The one thing that I would caution though is if you're a runner moving from a more supportive/protective shoe to the Vertical K's, to ease into it gradually. The good cushioning of this shoe, might have you thinking you're ok to run longer in them initially than you should. It's worth reminding people that they are still a 4mm drop shoe and need to be eased into gradually if you're used to normally wearing more of a traditional trail shoe.

The soft upper has had me doing most of my runs barefoot in them, with no blisters or hot spots even though I've done up to 4 hours in them without socks.

The durability has also surprised me somewhat as I wasn't expecting them to hold up to higher volume as well as they have. Currently, I have about 500km of running in my first pair and actually showing very little sign of wear.

I'm feeling very comfortable with trying them in a 50km, and 50 mile, and even hopeful that I might use them in a 100 miler as well eventually.

Derrick Spafford
La Sportiva Running Team
Minimal Weight, Yet Maximum Performance
I've never used any sort of minimalist footwear previously, but these are such a revelation! I was doubtful at first, planning to use them only for ski mountaineering dry approaches that are too long to hike in ski boots, but short enough that any trail runners will be carried for long stretches after that. So I brought these along on a hut trip thinking they'd mainly be on my pack ... but instead all the skiable couloirs were separated by long unskiable/unskinnable hikes. So I spent most of the trip hiking with all my ski gear and overnight gear on my back. Amazingly, despite all that weight, stability was excellent. Traction was excellent on dry rock (including a marked trail that has surprisingly difficult bouldering, requiring wedging your feet into various tight spots), wet rock, and soft snow. Traction was still pretty good on some lower-angle icy sections. Drawbacks? When scrambling on really sharp rocks, occasionally one will poke into the sole between the lugs – bearable, but not comfy (as other reviewers have noted). And traction seemed poor on super-slippery slimy logs, although then again, maybe almost any should would have been too? Obviously not waterproof , or even close, but they also dry out almost immediately. Re sizing, I went my usual size (i.e., same as on the Crosslite 2.0). After ditching the removable insoles (another 1.1 ounces of saved weight, per pair), the tight was still very snug, but since the uppers are almost more like socks (which also probably eliminates the chance of blisters), I think that's the best kind of fit for these shoes.
I mostly got these as a super light approach shoe for multi-pitch descents. They clip to your harness very easily and are barely noticeable. They fit true to size to all of my other shoes. My only complaint is that if you aren't wearing socks they are a real pain to put on and take off. They are great on approaches as well as long as you are mostly covering ground that doesn't have a ton of jagged rocks or roots. Decent in talus.
No. If ya want a waterproof one, get a shoe with GORE-TEX.