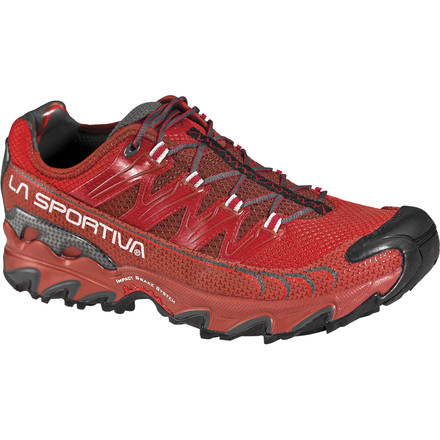 Description
Sticks like glue when you're faced with steep, technical trails.
Ultra sticky rubber gives the sole of the La Sportiva Men's Ultra Raptor Trail Running Shoe grip where other trail runners slip. Race along roads, pick through rock gardens, and pound down steep descents without worry. Dynamic midsole cushioning reduces the impact of every foot strike, a rigid toecap guards your toes against rocks, and the unique Impact Brake System uses angled sole-lugs to reduce stress on your joints when you're running up or down a steep slope. Go the distance with this neutral, stable trail shoe.
Temp 2 last provides a snug, performance fit that accommodates a medium-width foot
Mesh upper encourages airflow that keeps your foot cool, and the TPU overlays help the upper hold your foot in place when you're ascending or descending quickly
Heel pocket features reinforcements for durability and added cushioning for comfort
Moderate 8mm heel-to-toe drop helps the foot roll from the toe to the heel so every footstrike feels smooth on the trail
MEMlex midsole provides cushioning and shock absorption
Endurance Platform EVA insert balances load and shock forces by providing a support structure between the midsole and the outsole
Nylon shank adds rigidity to this shoe so your foot and ankle feel supported on unpredictable terrain
EVA rock guard protects your toes from rocks and debris
FriXion outsole provides rock-solid grip on hard surfaces like rock, and large sole lugs dig into looser surfaces like gravel and sand
Impact Brake System uses slanted and opposing sole lugs to decrease impact on your ankles and knees when you're traveling down a hard surface with a steep decline
5th pair and still loving them!!!!!
Familiarity:

I've used it several times

Fit:

True to size
Great support and incredible traction keeps bringing me back to this shoe. They fit like a glove.
So far so good
Gender:

Male

Familiarity:

I've used it several times

Fit:

Runs small
I'm satisfied with this purchase. I've mostly stuck to road running so this is my first foray into the Trail Running shoe domain so I don't have other trail runners to compare them too. I've had them out a handful of times for hilly trail runs of 5 to 7 miles. From my perspective they've been rugged, had good grip, and been comfortable to run in. I did size up a 1/2 size based upon other reviews and I'm happy I did. I can't imagine I would have been happy with the fit had I not. That said I still think the toe box feels a little tight but I don't really notice it on my runs, more like when I first put them on I think "hmm" feels a little small but they run fine and I don't notice it. Overall I'm happy, but I'll probably purchase another brand for my next trail runner, just so I can compare. Also, note these are not waterproof. They breath well but if you run through creeks look for something with gore-tex etc.
repeat buyer
Familiarity:

I've put it through the wringer

Fit:

Runs small
my husband and i both use this shoe. It's a bomber shoe, i never have to worry about rock bruises. a little bit stiffer midsole but nice for rocky runs. it can run a bit small, maybe half size or thinner socks
Great hiking shoe!!!
Familiarity:

I've put it through the wringer

Fit:

Runs small
I spend a lot of time hiking and backpacking. My number one rule is to take care of my feet above all else. Without them, where are you going to go? I by a couple of pairs of shoes every hiking season, looking for that combination of traits that will keep me moving. So, I've gained a considerable amount of knowledge on foot apparel. I really like my La Sportiva Ultra Raptor Trail Running shoe. This is what I've learned about them so far. They do require some breaking in. The heels have hard plastic strips on the outside that seem to cause a hot spot on my heal until they break in. It took about 20 miles to break in. The traction they provide is unmatched by any brand I've worn. I climb a lot of hard, wet, granite on the Appalachian Trail in New England. And, these are the only shoes I've worn that I feel totally confident in when running up and down the granite faces. There is plenty of room in the toe box for when your feet swell as the miles pile on. From arch to heal the shoe is narrow. So, breaking them in before a major hike is important. I wear a size 12, after reading the reviews I ordered 12.5 and they fit perfectly. I prefer the lacing system of the Salomon, but I've had no issues with these. They are the most breathable of the shoes I've used and they dry very quickly. I've found them to be soft for lateral support, so when I'm hiking across a granite face, my feet are not very supported pressing against the sides of the shoe. Causing my feet to roll out, but that's in part to the soft rubber. So, it's a trade off. I'd rather have the soft rubber and grip, than a hard rigid sole and slide off the granite face, or roll down the trail because I slid off that last boulder. I'll know more after I hit the 100 mile mark with them. That will be the durability test for the "frixtion" rubber.
great shoe but runs small!
Familiarity:

I've put it through the wringer

Fit:

Runs small
i recently got a pair of these and had to size up one full size. i typically wear a 44.5 (11 mens) and had to go to a 45.5. Once your sizing is dialed in these shoes rock! super comfy and great support.
Unanswered Question
Is the sizing the same as the wildcat? I have those in a 45 and they fit great so I'm wondering if I should get the Ultra Raptor in the same size. Thanks in advance.
Great shoe
Familiarity:

I've put it through the wringer

Fit:

True to size
Well made
Traction!
Familiarity:

I've put it through the wringer

Fit:

True to size
These things are awesome. So awesome that I'm now on my second pair. They will literally stick to anything except pure ice.

The cushioning is good, the toe cap is great and the breathability of the shoe is top notch. The only downside to this shoe is that your feet will get wet if you do not have the Gor-Tex version.

The sizing is on par with many other pairs of shoes I own. It may run a smidgen small, but not enough for me to size down a half-size. It takes a couple of uses to break them in but once you do, these things rock.
This is good as I expected
My friend got this running shoes when I tried to use it it's so comfortable to use plus I like the color and style of this shoes very great!
A lot of you reviewers said this shoe fits small...



My feet are 8. 5 US 4E (extra wide). I went ahead and ordered the Ultra Raptor GTX versions in size 42 Euro, which is directly equivalent to size 9 US, width D.



Did I make a mistake? I would've went with a bigger size but I wasn't comfortable with potentially ordering too big. And anyway, the online site I ordered from didn't have the 42.5 Euro (9.5 US) in stock.



Any comments?
I can't say for the Raptors, exactly, but while I wear an 8-8.5 in Mizuno, Brooks, Saucony, Salomon, etc, my La Sportiva Bushidos are a US size 10 (43 EU I think).
Amazing traction
Familiarity:

I've used it once or twice and have initial impressions

Fit:

Runs small
The only thing these cannot handle is straight ice. Everything else these chew through. They do run small. I'm usually a US 9.5-10 (43), with these, I found I'll need to go to 10.5 (44), as the sides of the shoes were pressing into the side of my feet.
Comfortable Slimmer Fit
Familiarity:

I gave it as a gift but have feedback to share

Fit:

True to size
I gave these to my father as a gift as he needed some new running/hiking shoes, and he's stoked! He generally runs a more narrow profile in shoes, so Sportivas offer him the right fit. He did mention that the toe box on these was a little bigger than most La Sportiva models, but for running that might actually be advantageous. The heel pocket is slim and keeps the foot in place. Other than that the length of the shoe fits true to size. He's used these out hiking and for every day use, and plans to take them out trail running, and he says they're awesome. Makes me feel like an awesome daughter
Very comfy and good for everything.
Familiarity:

I've put it through the wringer

Fit:

True to size
I climb rock, ice and mountains/sidewalks with La Sportiva shoes. They fit my foot the best out of any other shoes that I have found. I had a pair of Wildcats before I got these which are also very comfortable. I like the Raptor more for the stiffness and how they now have the waterproofing that comes a little ways up the shoe. I hike and run in these shoes and they have become my favorites. I am a 9 in these so a 42 and they fit awesome. I also really like how they have put the leather or whatever kinda of material it is in the heel area so they are easier to get on.
All-time favorite shoe
Familiarity:

I've put it through the wringer

Fit:

True to size
This is my go-to shoe for trail runs, hikes, treks, and even moderate scrambling.



Performance: the sole is very grippy, giving excellent traction on almost all surfaces. Cushioning is well balanced and support is typical of a trail running shoe. The mesh upper breathes well. If you're looking for a torsionally-stiff hiking shoe or boot the Raptor may not be your best choice.



Fit: I wear a Brooks Adrenaline 11.5 for running roads and the Raptor 45.5 is a perfect fit. The toe box on the Raptor is wide but rather thin. I have a narrow heel and a wide, flat forefoot, and the Raptor is a great fit for my foot. If you have a particularly "beefy" foot or a high arch requiring substantial support, the Raptor may not work as well for you.



Application: I've run mountain ultras, completed multi-day treks in the Alps, scrambled Class 4, hiked slot canyons, and backpacked in the Ultra Raptor - they are clearly my favorite shoe for these applications. In the Alps we encountered several days of snow, and my only regret is I wasn't wearing the Gore-Tex version. Their traction, cushioning, running shoe "feel", and fit (for my foot anyway) are a hard combination to beat!



Ultra Raptor in Zion Narrows.
Ultra Raptor Athlete Review
Best Trail and Everyday Shoe
Familiarity:

I've put it through the wringer

Fit:

True to size
Not much to say, but that this shoe is awesome. I've worn La Sportivas for many years and this tops out at the best I've worn. The soles lasted forever and they grip well on all surfaces. The fit and finish on these are also top notch.
tough, good grip, well balanced
Familiarity:

I've put it through the wringer

Fit:

True to size
Great shoe. I have wide feet and this accommodated perfectly. They went through a Tough Mudder, and endless trail runs. I also used it as a daily wear, work shoe, and for hiking. The shoe breathes really well and you dont have to worry about perspiration more than any other shoe. They finally broke on me at the loop for the lacing, cant be fixed I am guessing.
Good shoes
Familiarity:

I've used it several times

Fit:

True to size
Very good for trainnig and for trekking! A litle bit heavy for competition!
Like a magic carpet for my feet
Familiarity:

I've put it through the wringer

Fit:

True to size
This shoe has been great so far. I've definitely put it to the test, and it's passed with flying colors. I started standing at work all day, and could no longer wear my normal shoes, as my feet would hurt. I started wearing these all day, and it's completely taken care of the problem. On the trail, in their intended usage location, they are absolutely phenomenal. The traction, support, and overall comfort are top-notch.



I'm a size 12 in almost all shoes, and a 12 fits great in these.
Sticky heaven
Familiarity:

I've used it once or twice and have initial impressions

Fit:

Runs small
I have been running in Adizero XT for a while due to my addiction to the impressive Continental outsoles. After it had a radical design change becoming almost a racing flat and looking horrible, I was in the quest for a new sticky rubber sole.

I had problems buying La Sportiva shoes before due to their weird sizing and I was skeptical to try them again. I decided to go with a 45 size although I wear 10.5 on other brands. I use to live in Europe before and I was a size 42.5. Doubt my feet are still growing...

I just went on a 15 mile very technical run involving rocky, steep terrain, some really steep flat granite slabs on the downhill, wet and muddy stuff, dry packed leafs, mossy stones crossing streams.

I am really impressed with the rubber on these shoes. They can handle everything and some more.

With this kind of rubber, it would be ridiculous to discuss the durability. It's like complaining that your summer racing tires on your car don't last as long as some cheap all seasons. For this kind of performance you have to accept sacrificing cost and durability.

The shoe feels very comfortable and soft yet with good flexibility and protection against sharp rocks. The impact break system is somewhat noticeable although initially looked like the usual marketing gimmick (read bla bla 'system' or 'technology'). The lugs on the outsole are soft and have a little give on hard downhills without compromising grip or balance. May take a few runs to get used to the feeling.

I bought a second pair of Wildcat GTX and what I noticed on both is slight asymmetries and rubbing points probably due to QC issues. I got a bleeding blister on the Achilles tendon at the heel. They softened out a bit so not a big problem. Take NB for example, their shoes are perfect out of the box, I would be comfortable in doing a 50 miler on the day I bought them.



Conclusion:

Very good shoe with impressive grip on various terrain, excellent support and protection. Minor asymmetries and weird sizing.