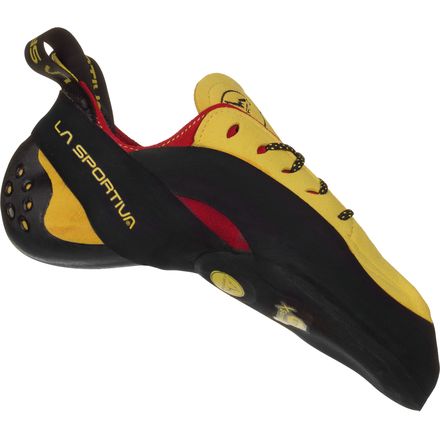 Detail Images

Videos

Community Images
Description
For overhangs and technical face climbs.
La Sportiva designed every inch of the Testarossa Vibram XS Grip2 Climbing Shoe to give you an edge on hard sport routes. The aggressive shape includes a down-turned toe to keep you glued to super steep pitches, and the full-length laces ensure a precise fit.
Aggressive shape for superior performance on the most technical routes
Dual-material upper uses a combination of Lorica (doesn't stretch) and leather (does stretch) in a specific bi-lateral stretch pattern for edging
Vibram XS Grip2 for serious edging performance, smearing performance, and durability
3D cupped hytrel midsole under the toes flows into the high-tension figure-eight rand to help with overall grab
Full-length laces ensure a precise fit
Not for the faint of heart
Gender:

Male

Familiarity:

I've put it through the wringer

Fit:

True to size
They absolutely murder my toes if I leave them on too long but it's so worth it. Very soft, extremely precise, edge like a champ; love them. They're my go-to shoe when I need a bit of extra help on a hard boulder problem. The Grip rubber gives a noticeable increase in grip compared to the Edge rubber on my Miuras. The only other shoe that might beat these for me is the new Genius.

For reference, I wear a 44 Miura Velcro (could easily go to a 43.5) and a 42.5 in the 'Rossas. I'm a 12.5-13 street shoe.
Performance fit without wanting cut...
Familiarity:

I've put it through the wringer

Fit:

True to size
One thing I love about Sportivas (I have the Testarossa and the Solution) is the fit, at least on my foot, is absolutley perfect. These shoes deliver driving performance on steep terrain without making you feel like you have just cut your toes off. The lacing system is durable, functional, and great for dialing in the perfect fit. The heel cup fits my average volume heel well although I would say that it is not as good as the heel on the Solutions. Overall, this is my go-to shoe for steep sport routes.
Chadbourne Crag - The Clam
The Testasrossa thrives on routes like this one, but I've recently climbed multi-pitches and cracks now that they're ridiculously worn-in. I'm pretty sure this is the first pair I'll purchase for a second time in the decade I've climbed. Thanks La Sportiva!
Great for steep sport climbing
Familiarity:

I've used it several times

Fit:

True to size
In echoing what many other have already said, these are ideal for steep sport climbing routes. I have traditionally used the Solution in the past for bouldering and sport climbing, but decided to try these on a recommendation from a friend. I must say, for overall versatility, I prefer the Solutions, as they are perfect for bouldering and great for sport climbing. As the Testarossas aren't quite as stiff they are more comfortable, but that comes with a price when bouldering in them. The other downside is that I have found that these wear out on the toes much more quickly than my Solutions have in the past, despite being a similar design and using the same materials.

Ultimately, the takeaway for these shoes for me is that they are great for sport climbing, can edge well on vertical faces, and are mediocre for bouldering. The lace up option is great to get a nice precise fit, but if you are looking to boulder with them as well, you are better off in the Solutions. That being said, they are extremely comfortable for a climbing shoe, especially a down turned one, and they are LaSportiva so you know they are quality!
My new favorite.
Familiarity:

I've used it once or twice and have initial impressions

Fit:

True to size
This is the most comfortable down-turned shoe I have ever worn. Others push into the top of your toes, but these give your feet the room to bend, with out putting unnecessary pressure your toes. They felt like gloves, honestly. And they edged and toed like a charm!

I like these primarily for bouldering and steeping sport climbing.
For slab, I would want something far less down-turned, like the Katana Velcro.

I wear a 38.5 in most La Sportiva shoes. My street shoe is 8.5-9.0. Techincally, I could go to a 37.5, but it's just too painful for me. The 38.5 in these was just right.

Questions? Hit me up!

Emily Jenson
Expert Gearhead
801.746.7587
ejenson@backcountry.com
Unanswered Question
So for tech face climbing, how do you compare these to Genius? I really need to try no-edge in face climbing... have you?
Favorite Sportiva shoe ever
Familiarity:

I've put it through the wringer
Of all the Sportiva shoes I've owned, this is by far my favorite. I can size them way down and still have great feel on the tiniest of holds.
I will definitely be getting another pair when these wear out.

Street shoe size 8.5

i wear 44 street shoes, and my feet is a little bit wide, and i am a new climber. which size should i order base on the La Sportive size system??? plz help!
You should go at least a full size down so 43, if not 42.5. These shoes are leather so they will stretch. If you are a new climber I would look at something that is not so aggressive, even if sized correctly they wont be that comfortable.



Feel free to hit me up at bporreca@backcountry.com or 801-736-6398.
Best climbing shoe
Familiarity:

I've put it through the wringer

Fit:

True to size
On my 2nd pair of Testarossa's and they keep giving back like no other climbing shoe I've tried. I use these for bouldering and sport climbing. I find these shoes shine the most on over hanging climbs, but I can edge on small vertical stuff as well. The heel is the only part I find lacking in this shoe. The material is more slippery than the rubber up front and can slip off really technical heel hook situations.
Love the rubber on these things.
Red n Black, your proj is in the bag!?
Familiarity:

I've put it through the wringer

Fit:

True to size
These are my favorite shoes for steep sport climbing. These shoes inspire CONFIDENCE. The red and yellow coloration grabs my attention at the crux and demands that I pay attention to my flailing footwork. She may lack a few features, but for what she's good at, she's the best at.



Vibram XS edge grips beautifully and wears rapidly. Save a fresh pair for redpoint day.



For steep sport climbing at my local crag they work BEAUTIFULLY. Pods, Pockets, pin scars, and dime edges are no match for this shoe. They also work really well on cobbles, for reasons I don't understand.



For bouldering, it depends on the route, but as a half-sole model, heel hooks will be a problem.



As far as comfort goes, I consider these about as comfortable as the Miura line. The laces are a little funky and hard to fine-tune compared to pretty much every lace-up I've ever had.



Overall, a shoe worth getting, but the Solution is superior in every way except comfort and structural integrity (that dreaded pull tab!)




The Bomb.com
Gender:

Male

Familiarity:

I've put it through the wringer

Fit:

True to size
I love this shoe i use it for bouldering and steep sport climbing. As far as i have seen i havent felt any dead space in the shoe and fits very true. The lace up lets you get the perfect fit.
Super edging shoe
Familiarity:

I've put it through the wringer

Fit:

Runs small
I have used them for bouldering and rope climbing on super steep stuff and more mellow stuff. The fit in the toes is so nice. The heel on the other hand has some dead space in it for me. I have tried using them to heel hook multiple times and it never works out. I wear a 39.5-40 in La Sportiva climbing shoes and haven't had a problem with them. This shoe however seems to me to run a bit small. Great shoe for edging though. If your project has a lot of tiny holds and is overhung or vertical these will be awesome shoes to have.
Simply the best!
Gender:

Male

Familiarity:

I've put it through the wringer

Fit:

True to size
Pros: The best technical shoe out there:

* Really asymmetric to help lazy abds (by channeling weight onto one's toe) in overhangs;

* Arguably THE best heel hook on the market;

* Stretches just slightly over time to gain comfort and flexibility (+slab friendly), but not at the expense of precision thanks to laces (a pain to adjust, but SO much more accurate than velcros).



Cons: Toe hook maybe less accurate than other "armored" shoes like the Solution or Boldrini models.



I've tried everything out there (!), but I always end up coming back to these ones (I must have killed ~15 pairs, most of them after resoling them 2-3 times).

Basically, my only problem is that they become increasingly difficult to locate in North-America (MEC discontinued them recently in Canada).

Please BackCountry keep them coming!
I recently switched shoe brands...
Familiarity:

I've put it through the wringer

Fit:

Runs large
I recently switched climbing shoe brands after years of loyal dedication to La Sportiva. The only reason for the switch was in finding a new brand of shoe and a style that fits my radically changing climbers toe/hammer toe, so I can be even more aggressive whilst climbing. (Ugliest feet in the world I assure you)



These were my go to shoe for years. I highly recommend them for anyone trying to make the step into a more aggressive down turned shoe, as these are pretty darn comfortable.



The pic was taken after Bishop, CA, at Lost Rocks California...



Project finished: Black Beards Delite, V6



10.5-11 street shoe, Testerossa 9.5 without too much trouble.
Where comfort and performance collide.
Familiarity:

I've put it through the wringer

Fit:

Runs large
I'm loving these shoes, primarily because I'm unwilling to sacrifice comfort for performance. I can stand and belay in these beauties all day, and still tackle the steepest projects on my tick list. The toe box brings all the power you need to stand on small features, soft midsole fluctuates from severely downturned to moderately downturned depending on what I'm climbing.



Expect a full size stretch.
Best cross of aggressive and comforable
Familiarity:

I've put it through the wringer

Fit:

True to size
These shoes when sized properly feel nice and tight without killing your foot, while keeping the aggressive form.



While people say that they have a bad break in period, I think the opposite that after about 3-4 times climbing that they felt super comfy.



In general these shoes are the best comfy aggressive shoe I have ever worn.
Fantastic fit and performance
Familiarity:

I've put it through the wringer

Fit:

True to size
Fits like a glove, super comfortable. For warmups I don't even tie the laces, just pop them on and they're already snug. Great performance on rock and in the gym. Every foothold feels secure in these shoes, no matter how small.