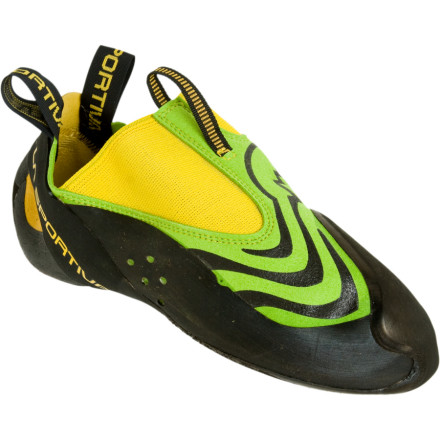 Detail Images

Community Images
Toss the La Sportiva Speedster Vibram XS Grip2 Climbing Shoe in your backseat so you can duck out for some quick bouldering during your lunch break. Whether you're out on troll-sized boulders or inside the local gym's cave, this highly curved slip-on sticks your feet to the rock so you can bag a new problem.
Permanent Power Platform (P3) midsole preserves the down-turned shape of the shoe
Figure-8 slingshot rand maintains lateral support without making this shoe too stiff
3mm Vibram XS Grip2 for serious edging performance, smearing performance, and durability
Real leather underfoot boosts comfort while the synthetic upper minimizes stretch
Thin sole allows excellent feel on minuscule features
I've primarily used these as a bouldering slipper where they excelled without fail. They are very soft so if you need the shoe to do the work for you, you may find your feet getting tired on really small holds. If you have good footwork and are able to actively pull with your toes then these shoes are amazing for steep problems. They do ok at heel hooking but I've always preferred something with a strap or laces for really intense heel hooks. Definitely a specialist piece for people with strong footwork who spend a lot of time on steep terrain. Sized these 1.5 down from street shoe which I also do with my Miura, Solution, Python, and Tesstarossa. I size +.5 in the TC Pro.
I had my cobra 36.5euro and it was perfectly...
I had my cobra 36.5euro and it was perfectly fit for me. any ideas what should i wear for speedster? im buying it online and i dont have it in my country.
should fit about the same as the cobra's
How should I size in these bad boys? I...
How should I size in these bad boys? I have only owned one pair of climbing shoes, Evolv Predator G2, and sized as a 10.5. I wear 9.5-10 (42.5-43) street size, so I assume Evolv purposely "pre-sized" their shoes, instead of you trying to guess how many sizes to go down. Anyways, I have exceptionally skinny/bony feet, so I'm thinking I should size down more than the average? Perhaps down to an 8 (40.5) or 8.5 (41)?
Best Answer
I have always worn my Sportivas (with the exception of the TC Pro) in a 39.5 and I wear a street shoe (including Sportiva trail runners) in a 42. The 39.5s end up being a good performance fit and not crazy uncomfortable. In Evolvs I always just wore my street shoe size.
I was looking for something to replace my Venoms and this has performed flawlessly for a little over a year. Can't say enough about these, but the down turned toe is great and the top of the toe is great for hooking.

Size down for sure. I wear a 13 (47) street shoe and have these in 43.5.
superb and fantastic edging and front pointing with these slippers!
i had a pair of 5.10 galileo's that eventually got so painful i couldnt wear them anymore..not to mention the stink. I knew i wanted an aggressive shoe, but didnt want to sacrafice too much comfort. These are SURPRISINGLY comfortable AFTER the break in period. it took me about 3 weeks to break them in fully, climbing 3x per week. I know that not many stores carry them for try-on sizing, but many stores do carry the solution, which i also tried on...and i would say they have a similar fit. I wear a size 46 - 46.5 sneaker and got these in a 43.5.

lots of people seem to be skeptical about the funky edges and toe on the sole, but these shoes edge incredibly well. I also am pleased by the amount that they dont pick up stink like my 5.10s did. I wear a different shoe for all day trad climbs, but for the gym and for shorter technical climbs...this was a GREAT purchase.
I used this shoes in a lot of boulders and at the begining was like weird because it don't have edges on the toe... But is a great shoe!!! realy comfy! and realy good friccion!!... If you used well. you can climb on the smallest crimps...
They are realy comfy so used as tight as you can...
I've been climbing in the Speedster for a year and a half. i wear a 10.5 street shoe, a 42 in the LS Solution and a 42.5 in the Speedster.
If your looking for one shoe to fulfill all your climbing needs this is probably not the shoe for you. It is highly specialized and requires good foot strength and precision to take full advantage of it's features.
I use this shoe for 90% of my sport climbing and about 20% of my bouldering. The shoe works great for indoor climbing, but at $130 I find it a bit expensive to wear out on plastic.
The sensitivity is amazing making subtle irregularities and smears feel secure. The Speedster excels on steeper terrain, but I find it difficult to use the inner edge on small edges and the heel can slip when engaged in heel hooking.
Overall, when used for the intended purpose the Speedster is in a class by itself.
Size as small as possible
make sure to get the smallest La Sportiva size you can wear. my first pair was a half-size to big and i got dead space in the heel. my new smaller pair is awesome tho
The Sportiva Speedster is truly a step in the right direction for climbing shoes. These shoes have a steep learning curve. The Speedsters have no edges to stand on only an inch wide band of rubber over your big toe. They will allow you to grab holds on overhanging terrain with the greatest of ease, but will spit you off of the biggest footholds on anything less. That is until you clean up your messy footwork! These shoes will change the way you approach climbing for the better. I have been thrashing theses shoes for the past year indoors and out and they are a solid performer, as long as you can keep up..
I have not found a store that carries the...
I have not found a store that carries the Speedster's, therefore I am wondering what their sizing to stretching ratio is. I wear 43 in the Cobras. Anyone got any advice for the sizing and how much they will stretch?
hey man i have had these shoes for over a year and i got a size and a half smaller then street shoes. they feel awesome for like 10 to 15 minutes then start to cramp alittle but are tolerable. i would recomend them that small for long trad or sport because of the pain. love the shoe they are very soft and sticky.
Getting better with time...
I received my speedsters about 3 weeks ago, and as of yet, have been pretty impressed. I sized them the same as my testarossas, which proved to be a good decision. The first time I climbed in them, I was super disappointed because there is this weird band of different rubber around the toe rand. My feet were popping off holds left and right, where they hadn't in my testarossas. After a few more sessions though, I am beginning to like them a lot more, and my feet have stopped randomly popping off. It will be interesting to see how long they last though, as the rubber is only 3mm thick, in comparison to the testarossas and solutions which are 3.5mm. I originally ordered the "discontinued rubber" from backcountry, but they must have ran out or something because I was upgraded to the new XS Grip2.