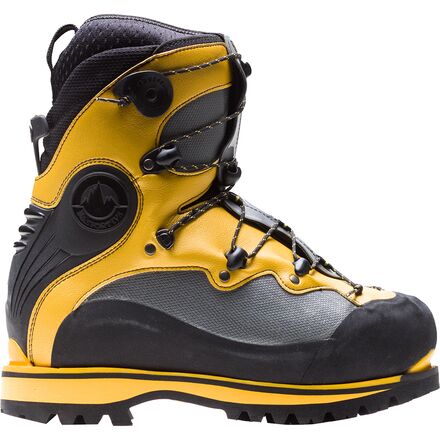 Detail Images

Videos

Community Images
Description
Pull on the La Sportiva Spantik Mountaineering Boots and climb higher and harder.
The La Sportiva Men's Spantik Mountaineering Boots give you the warmth for high-altitude and winter mountaineering and the agility to send difficult ice and mixed pitches. The synthetic outer boots increase flexibility and help reduce weight to a low 5lb 1oz per pair. Heat-moldable, removable liners give the Spantik Mountaineering Boots a precise fit to ease foot fatigue and minimize heel lift when you front point steep ice. La Sportiva knows what it feels like to lace boots while you wear gloves, so the invented the Fast Lace System, which lets you cinch down these boots with a single pull—even with gloves.
Unanswered Question
Will you sell the la sportiva g2 sm boots? If so when do you expect to see them?
Thanks
Unanswered Question
does anyone use superfeet insoles with this boot?
I wear size 9 on regular shoe. Should I go to size 10 to take into account the double socks and swelling at altitude?
these fit small for me, I wear a size 10 in street shoe and with the spantik I started with a 44, then went to a 44.5 then went to 45 and it feels like 45 is giving me the best fit with an insert, and wearing heavy sock, and with the trango a 43.5 with medium sock fits perfect, imo if I were you I would size up, as you mentioned you will have on a heavy sock and when on your feet for several hours you can have some swelling
I wear an 11 in Asics shoes and an 11 in Meindl boots. My feet run very, very cold. Would you guess size 45 or 45 1/2 for the Spantik? Thanks! Bill
I would recommend sticking with your normal shoe size at first and getting the 45 (according to the size chart the 45 is actually an 11.5). I'm assuming that your going to be wearing thick socks with these to keep your feet warm. If the size you buy does not work you can always exchange them for a better size.



I would always recommend trying on different sizes to try to get the best fit for your foot because unhappy feet = bad trip.
Which Grivel G12 binding type is needed? New-matic or Cramp-O-matic?
Hey,



For these boots the Cramp-O-Matic will be the best choice. The Spantik is compatible with fully automatic crampons. If you have any other mountaineering questions please feel free to get a hold of me.



Dan Gates

Expert Gearhead

801.746.7582

dgates@backcountry.com


Exelent
Familiarity:

I've used it several times

Fit:

Runs large
This boots is perfect for hight mountaing, especially Aconcagua in Argentina
Awesome boots but i am confused on size. i rented Nepal EVO sz 39.5 and those were quite comfortable.
Spantik i tried 40.5 and they seemed to fit but was not sure :(
La Sportiva Spantik size 40.5
La Sportiva Spantik size 40.5 fits perfectly with Grivel g12 crampons. I used Grivel's super asymmetric bars because I found that with my small size boot, the G12s with standard bars didn't quite match the curve of the boot but you can use the standard grivel bars too. I was just nit picky.
I want to decide sizing. I have try the spantik in 40,5 and 41 and still not sure which one to get. Does it get loose with the use? I have the Olympus in 41. It fit well but after years it feels a little loose and I was wondering if i should size down half size with the spantik.
The Olympus and Spantik have very similar characteristics and uses. I would stick with the size that you know is going to fit, if you wanted to you could always try on a 40.5 and see if your toes do not knock the front of the boot when you kick a step or walk down a flight of stairs.



You can call or email me directly. 801-736-6398, or bporreca@backcountry.com
Amazingly comfortable double boot
Familiarity:

I've put it through the wringer

Fit:

True to size
I knew these would be warm, but I didn't realize how comfy and usable they would be. I've never once been even the slightest bit cold, and they are easy enough to walk in that if I want to go on a 'posh' alpine trip in the lower 48, I might even bring these. It's not a huge deal to take long approaches in these, despite their weight.
will these boots work with step in bindings?
Hey Ben,



What type of bindings are you referring to?



Jared D.

Expert Gearhead

800.409.4502 ext 4055

jdowns@backcountry.com
Himalayan Worthy!
Familiarity:

I've put it through the wringer

Fit:

Runs large
I got these for a trip to some 6000m+ Himalayan peaks, never once had an issue with cold feet the entire time. Did some ice climbing while there too and had plenty of control for the technical parts, well worth the extra money over the Baruntse's.



I have a size 42 in the Nepal Evo's which fit perfect and went up half a size for the Spantiks which was the perfect fit.
I am a woman climber and wear standard US...
I am a woman climber and wear standard US women's size 8 is my running shoe. What size will be best in spantik?
I wear a US women's 8.5 in a running shoe, a 8 in a street shoe. Thought the 41s would be too large, but I just ordered them and they fit nicely w/ light liner and heavy wool sock. I tried many other double boots as I wanted to avoid the steep price tag for these Spantiks...but they are by far the most comfortable boot I've tried. Feel VERY warm too. Quite bulky and not as light as I'd hoped, but gotta go w/ best fit.
Best Answer
I wear a size 8.5 women's running shoe and found that the size 40.5 Spantik fits me well. Try a size 40 - might work for you!
great boot
Familiarity:

I've used it several times

Fit:

True to size
Got for denali and used for training hikes and ice climbing this winter. I had a pair of scarpa phantom guides i wore up rainier and they ripped holes in my heels so i was scared about how much worse a double boot was going to feel. Never have i been so wrong. These boots are so comfortable. Can do 20 miles in a day in these and have no hot spots.
I am a girl looking for a double boot for...
I am a girl looking for a double boot for mountaineering 6,000 to 8,000 meters. Looks like the Spantik is the best option but I would need size 38 and I can't find it anywhere! Does anyone know of a women's specific double boot similar to the spantik?
Best Answer
I'm in exact same situation, grrrr. La Sportiva makes this boot only to size 39: http://www.sportiva.com/products/footwear/mountain/spantik

Only brand that seems comparable is Millet and they don't seem to sell much mtneering goods in U.S.



We're stuck with heavier, less flexible double plastics from Koflach and Scarpa.
Very comfortable
Gender:

Male

Familiarity:

I've used it once or twice and have initial impressions

Fit:

True to size
These boots look to be huge on the pictures, but when you put them on with your snow pants, they are not that big at all. They are very comfortable for my feet. I wear size 45 tennis shoes, and I got size 45 for these boots and they fit great. I have not had a chance to take them hiking yet, but I wore them the whole day ice fishing with some quite long walks on the lake in deep snow and they worked great. My feet stayed dry and warm the whole time. Also, These boots are not as heavy as they look like. BTW, all other people on the lake were impressed with my boots and were asking about them :) I am planning to take these boots to the top of Mt Rainier in June. I am not afraid it's overkill. My feet stayed warm when it was about 20F and wind in the morning, and I didn't feel they are too warm when it got to 50F during the day.
What would be a perfect boot for 6,000...
What would be a perfect boot for 6,000 feet and under?


Unfortunately, there is no one "perfect" boot. The best boot for you really depends on a number of factors, such as foot size and shape, use, and budget. I highly recommend chatting with a gear guru. They are super helpful, and will help point you in the right direction.
first of all, 6000 feet or 6000 m? This is a 6000 m boot which is many times greater than 6000 feet. You can use a regular hiking boot at 6000 feet. You might not even find snow depending on location and time of year.



This is an excellent 6000 meter boot, but it's all about fit and function.

Do you have cold feet? Hot feet? Do you have a wide or narrow foot? Scarpa may be better for narrow feet whereas this boot is built on a last for normal feet.
warm boot for cold feet
Familiarity:

I've used it several times

Fit:

True to size
This boot has been the only boot to keep my chronically cold feet warm without difficulty. I froze my feet with another boot on Kilimanjaro which prompted this purchase. The price tag was hard to swallow, but it has been worth it. Since the purchase, I have climbed several winter 14ers in CO and Rainer with absolutely no warmth problem. They have required no break in time and I have not had any blisters. I did Rainer with a guide who has climbed Everest several times and he commented that the Spantik is his favorite and go-to boot for every mountain he climbs except the high camps of Everest. That's pretty high praise. 100% satisfied.
most of my "mountaineering" experience been with a splitboard on my back. However I might be going on a trip late this spring that would be purely mountaineering, I needed a cold weather boot that climbs well. My friend recommend these, and I took them on their maiden voyage up everyone's favorite backyard peak Mt. Olympus. I climbed/scrambled about 1500 vert of ice and rock with steel crampons and I have to say the boots climb great. Way overkill for the route and temps but it was nice to know that right out of the box I could spend a long day on the mountain with no pressure spots or blisters. Looking forward to getting them on some real terrain and testing them out more.
Spantik Sizing
Gender:

Male

Familiarity:

I've used it several times

Fit:

True to size
Just as an update for folks looking for sizing help. I use 44.5 in all of LS running shoes and 10.5 (44.5) in Asics runners. in Asics the 11 (45) are too big. I use a 44 in the Nepal Evo.

I started with the 43, then 43.5 and 44. I ended up going all the way up to a Spantik 45 and having them cooked and fitted by a boot fitter in Redmond's bike and ski shop (forget the name ). I used them on 3 routes on Rainier in a weeks time. They have been to Denali and Nepal. They started off great but by the end of the week they were loose and sloppy so I sold the 45 and went back down to the 44.5 in the Spantik and stayed in the 45 in the Oly Mons. I know many climbers who has gone through this and have ended up back at their "true to their LS sizing" with the Nepal. The Spantik and Oly Mons (they are the same) liner will pack out after the first week and they can also be form fit when molded. Most people buy too big as the initial feeling of this boot is snug and their trying to compare the feel to a typical hiking boot. The feel will be more like a ski boot than a hiking boot. I used one SW liner and 1 SW Mountaineering sock with molded orthotics which add 1/2-1 size. Keep in mind that the Spantic shells only come in full sizes. The liners come in half sizes so a 44.5 & 45 are the same outer boot with different liners. The 45.5 is a larger boot. This is why you see the odd fitting. I can and should have worn a 44. Use the same size as the Nepal EVO. The Spantik liner has a built in vapor barrier liner as well. Because this boot is so warm, most "in the know" are using only one thin sock as this combo is less bunk, less weight, and drys faster. The best liner for this boot is the LS Baruntse liner and it molds much better. For the Rainier folks, this is way too much boot for Rainier for all but the winter or if you have much higher ambitions. Great boot for Aconcagua or Denali. Use a Nepal EVO type boot for Rainer.