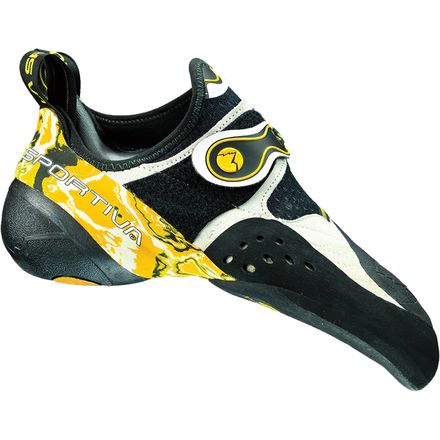 Detail Images

Community Images
Description
Solve your hardest problems.
Troubled by a tricky toe hold? Biffed a route because of a hard-to-set heel hook? La Sportiva has the Solution (Vibram XS Grip2 Climbing Shoe) to your problems. The aggressive downturned toe stays in place due to the P3 Permanent Power Platform, and a high degree of asymmetry makes it easy to sneak into tight toe hooks. While not an extreme edging specialist, this permanently downturned shoe helps your climbing shine on super steep walls, troubling boulders, and difficult bicycle moves.

Lorica, a synthetic leather, will stretch a bit from the initial fit, so keep that in mind with sizing. The P3 Permanent Power Platform helps this shoe stay on point and retain its aggressively downturned appearance. A whiff of lining in the toe box won't dramatically dampen sensitivity and serves as advanced notice that your shoes are wearing out. The one-two punch of the 3-D heel cup and lock harness system turns heel-hooking into hedonistic pleasure. Perhaps a bit thicker in back than the Muira, any of loss of sensitivity will be forgotten the minute you realize how much control you have when hooking on incuts.

The Vibram XS Grip2 sole takes rigid and sticky to those pin-sized that-can't-possibly-work foothold and makes them workable. Because your toes tackle steep sport routes and burly boulders, La Sportiva added the barely-there 1.1mm LaspoFlex midsole up front as an added touch of torsional rigidity. The Fast Lacing System gives you the capability to customize the fit and the simplicity of a single hook-and-loop closure to keep it all together.
Synthetic Lorica leather upper
Hook-and-loop Fast Lacing System
Downturned toe, P3 Permanent Power Platform
Lock Harness, 3-D heel cup
Slip-lasted, less tiff sole
Vibram XS Grip2 sole, 4mm
Lined in toe box and arch area only
Low profile
High asymmetry
1.1mm LaspoFlex midsole in toe only
Bueno!
Familiarity:

I've put it through the wringer
These have quickly become my favorite shoe for all things sport and boulder related. I'm on my third pair and still loving them!



These shoes are stiff, aggressive, and covered in rubber so they excel on steep terrain, but also handle on small edges and slab. That being said the heel is negatively sensitive, so if you're looking for a more sensitive but aggressive shoe I would check out the Testarossa (La Sportiva) or the Dragons ( Five Ten)



These shoes fit my foot like a dream - I have a fairly narrow foot with long toes and I downsized 1 shoe size from my street shoes. The toe box is not as wide as some other shoes so during the break in period (which is pretty minimal) I had some legitimate hotspots on my big toes. The heel cup is incredible and keeps your foot locked in tight - zero shoe farts or movement at all.



I've heard complaints about the single strap system not being super durable, but I love the ease of it and have not had any issues with the straps breaking. They've frayed a bit over time, but are still going strong.



In the end this is an AWESOME shoe for the boulder / sport climber looking for an all around stellar aggressive shoe.


One of the best
Familiarity:

I've put it through the wringer

Fit:

Runs small
In my opinion one of the best shoes that you can buy. I'm using my for over an year. It's very durable for climbing shoes. It runs a little bit small.
Great Soft Shoe
Familiarity:

I've used it once or twice and have initial impressions

Fit:

Runs small
I dont really use a super aggressive shoe which is what this is. For how down turned the toes are I was impressed with its overall comfort and fit. Fits like a glove, love the single strap system, easy on easy off. Of course a shoe like this tends to cause some pain but, makes climbing overhung routes really easy, especially in conglomerate rock where a lot of the holds are rounded. Probably not my everyday trad shoe but, thats not what it is made for, more of a bouldering/ route projecting shoe.



Use - For how down turned it was, again impressed with its ability to smear. On the route we got to try them on, there is a particularly tricky high step on an overhung edge, shoe worked like a dream, that's where this thing shines.



Fit - Usually a 43 in all of La Sportiva's mountaineering footwear, downsized to a 42 in this. Shoe was a demo pair I tried out so pre stretched if you will. 42 fit perfect, would imagine that if it was brand new would have to take some time to break in.
Great edges - just an overall bouldering master!
Great shoe!
Familiarity:

I've put it through the wringer

Fit:

True to size
These shoes stick to everything. Liked the first pair so much I bought a second pair.
Reposting my previous Review
Gender:

Male

Familiarity:

I've put it through the wringer

Fit:

True to size
I don't exactly remember what I said but I'll try my best to recall the main points:</br>

1. This shoe fits PERFECTLY for my foot shape. I tend to downsize only by a half size (i.e. half a cm, 38.0). This size is perfect but if temps are warm, this size is unbearably painful due to foot swelling (which is natural in warm temps). However during winter months (prime climbing season), that's not a problem and this shoe performs like no other. You're pretty much cheating by wearing this shoe.</br>

2. The only problem with this shoe is the closure system; it's literally made to expedite the shoe's obsolescence. However just wrap a piece of athletic tape around the points that come through the loop holes..this will extend the lifetime of the shoe dramatically!
Cheating?
Familiarity:

I've put it through the wringer

Fit:

True to size
Absolutely amazing shoe. I wound up downsizing quite a bit (43 Solution, 45.5 Street) and yet they are still comfortable enough for projecting (when broken in). They're incredibly sensitive, and hands down the best heel I've had on a climbing shoe. Sketchy heel hook? These eat them for breakfast. These are my go to secret weapon for hard routes, and hard bouldering. Super sticky rubber, and the amazing fit makes this shoe one of my favorite in my arsenal of climbing shoes.
great bouldering shoe
Familiarity:

I've put it through the wringer

Fit:

Runs large
I've had this shoe now for one month, climb indoors about 4 times a week, so it's gone through almost 20 hours of use. This is my second climbing shoe. It hurts way more than my Mythos as expected. I wear a street shoe size of 42 and these are 40.5. I have to take them off from pain in my toes after about 30-45 minutes. My toes are definitely curled. After 30 minutes of warmup, taking off and putting them on again makes a world of difference in comfort. They do have a wider toebox than say the madrocks and the evolvs I've tried, but wish they were a bit wider still because I have skinny heel and wide feet. They are definitely great for steep overhangs where you need to do lots of toe hooks and pocketing. I don't think I've really taken full advantage of this shoe yet since I'm a V4 boulderer that started climbing about 4 months ago. If you are careful with the velcro enclosure tab, you should not have any concern with breakage. My shoe still looks practically new after 1 month of usage
2 years strong.
Gender:

Male

Familiarity:

I've put it through the wringer

Fit:

Runs large
I originally purchased these as my only climbing shoe because I mostly boulder and PA diabase isn't known for it's great foot holds. Plus, money was tight and I wanted one shoe that would cover all the bases. As I learned, that wasn't really the case since these aren't so great for smearing. However, this shoe did work for almost every other occasion and I'm beyond happy with them, especially since they've held up for the past two years. These have kept my feet on some super sketchy heel hooks, terrible toe hooks, and teeny-tiny nubs. Sizing for me was hard (mostly because these are hard to track down in a store), but rest assured if they don't fit, Backcountry has a really great return policy and super helpful staff. I ended up going with a 39 when my standard shoe size is a US 8 or equivalent to a 40.5. I had a pair of Miuras which I think were a 40 *just for reference. The only reason I give these 4 stars is because I've seen too many with broken straps. Mine are still attached with only a little fraying, so maybe I've just taken better care of them or gotten really lucky. I'm not sure, but I still wouldn't hesitate to buy these shoes again and again. I do dread the break in period though!
great shoe, even better customer service
Familiarity:

I've used it once or twice and have initial impressions

Fit:

Runs large
great for bouldering and sport climbing. Wear a 40 in the scarpa vapor v and the 39.5 in the solution runs just a hair bigger. had to return for a 39. otherwise the shoe is fantastic and the staff and return policy at backcountry are even better.
Im looking for a pair of shoes to back up my tc pros on highly technical trad and sport routes. Will these do the job?
I've seen the solutions on trad. . but could be painful.
I've tried them for trad ... I wouldn't recommend it.


Nope, don't even think about it. TC Pros when sized aggressively edge brilliantly, and do a great job on technical climbs, and even for sport routes. The high ankle might be an overkill, though. Consider Katanas or Miuras.
Fantastic bouldering shoes!
Familiarity:

I've put it through the wringer

Fit:

True to size
The key to these (as most climbing shoes) is finding the right fit, so I had to try on a couple of pairs before I found one that was snug. On my first gym climb with these, I finished 3 of my long time projects in the first day. I can't recommend them highly enough, they're fantastic shoes.
Will stick to anything
Gender:

Male

Familiarity:

I've put it through the wringer

Fit:

True to size
Perfect shoes for steep, hard climbs. A little painful at first but the break in time is quick. Hard to believe that such a downturned shoe would be so good at smearing. Best shoe I've used for overhangs and roofs
One of the bests.
Familiarity:

I've put it through the wringer
I mainly use this shoe for bouldering in and outdoors.



It is great for any overhanging problems, but the toe isn`t the best for edging. I feel like with this down toe your toe pushes against the rock and pops you off really small holds, so for more vertical problems I always go to my FiveTen Anasazis. They seem to work better because the big toe does not push on the rock above the sole. I hope that makes sense haha.



The heel is also great. It does not hurt at all but you can`t feel anything, so if you can take the pain I would recommend the FiveTen Dragons for heel-hooks. I have also missed the mat with these shoes and the extra thickness definitely helps with absorbing the impact.



As for size, I wear a 10.5 - 11 in most street shoes and a 42 in the Solutions. They fit perfect at this size, a little tight at first but started to mold quickly so the break in period is not bad. I would not wear another size. For reference I also wear 10 in the FiveTen Anasazi VCS, and 11 in the FiveTen Dragons.



One problem is the strap breaks pretty easy. It hasn't happened to me because I don't see any need to crank it down with that much force but has to some of my friends.



Overall, these are amazing shoes. They are one of the best shoes I have ever used and work for everything. Other shoes have some specific parts that I do like better (depending on the situation), but if I could only own one pair of shoes it would be the LaSportiva Solution.
Great Shoe!
Familiarity:

I've put it through the wringer
These are a great shoe for the overhung climber. They're surprisingly comfortable for an aggressive shoe.



I wear a size 10us street shoe and wear these in a 40.5. I would order a few different pair and find the shoe you can't get your foot into and go the next .5 size up for a snug fit after break in.



I like this shoe for it's intended purpose but generally stick to the Miura VS as a great gym shoe and all around shoe.



I wear a size 41 Miura VS, 40.5 Solution
The best got a tiny bit better
Familiarity:

I've used it several times

Fit:

Runs large
This is my third pair of La Sportiva Solutions, which I got to replace my previous pair while they get resoled. I wear them on average 3 times per week bouldering at the gym. I prefer the Solutions over other aggressive shoes I've tried (Miura VS, Shaman, Blackwing) because they fit my wide-ish flat feet well, in addition to having an extremely precise toe and snug heel.



The 2014 version (marble pattern) appears to have made a few minor changes: the top of the heel rubber dropped slightly (a few mm), the straps got slightly thicker (probably to address breaking issues), and the rubber overall seems either slightly softer or thinner. The result was that when I tried them on, they immediately felt as good as my old, worn in pair.



Sizing: I wear a size 9.5-10 running shoe and wear a size 41 Solution. I could see maybe going down another 1/2 size with the 2014 model, as it seems less stiff than the 2013.
is there any difference between these new...
is there any difference between these new solutions and the old ones besides the swirl coloring? like maybe a stronger strap for the Velcro?
So I know in years passed the velcro tab was kinda flimsy and I have heard of those braking after awhile but I am pretty sure they fixed that issue by now. They didn't really make any changes to the shoe other then color. This is the shoe I have now and I love it!
I saw these in person the other day and it seems like the heel is lower profile in this model with the swirl coloring. Your mileage may vary, but the bulbous heel of the old model has long been a complaint on the Solution. If they did, indeed, slim down the heel, it'd be a welcome change.