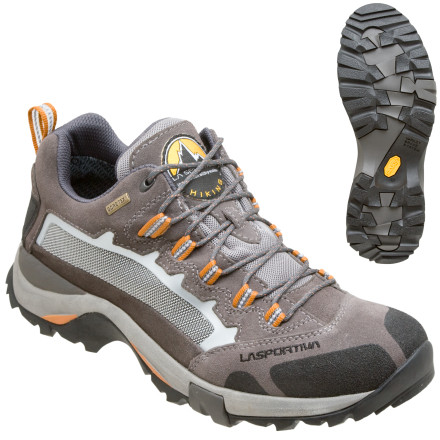 Detail Images
Seems to be an okay boot, but it is not for me.

It runs a bit narrow (which I like), but the fit was odd, especially over the arch. Plus I did not care for the thin laces.

It wanted a tough shoe, but this is instead a short boot. I would not want to run in these or wear them daily.

I am going to try the Vasque Mantra instead, or maybe the La Sportiva Raptor.
If you're looking for trail runners, just keep walking. If you want a low-cut hiking boot, with serious support and massive tread, you've arrived. I've only used them for trail hiking and rock scrambling with light loads. However, the midsole feels supportive enough to tolerate carrying a backpacking load.

The Sandstones are sturdy and seem pretty tough. Soles are grippy on rock and the deepish tread grabs well on loose surfaces. Somehow the lugs also seem to clear themselves of accumulated debris as well, a nice touch. Haven't walked anything wetter than damp undergrowth, so I have no idea whether the Gore-Tex really keeps water out. Alll I can tell you is that my feet didn't overheat, often a complaint with Gore-Tex liners for boots. The protective rubber patches on the toes caught most of the scrapes. I replaced the stock footbeds with some custom ones that support my X-long arches. I imagine Superfeet would work well for most people. The stock beds are pretty lame, but whose aren't?

These boots run narrow, so if your feet are on the wide side I don't think you'll be happy. My narrow feet got a decent fit except for a couple rub spots. I expect those will dissappear as the boots wear in. Yes, surprising for a low-cut, but these boots really need a break-in period. If you're taking these on a long trip make sure you get in some short hikes to work out the kinds.

For me these are a great choice for day hikes, approaching climbs, even some backpacking.
Spent one season in Norway and two seasons in Himalaya hard trekkings with pretty heavy backpack and long walks. Also tried snow and rocky slopes. Shoes fit very well and keep comfort all the tracking.
Things I dislike - weak sides and seams, shoes are almost dead now.
So I just got back from my first hike in these bad boys. As first impressions go, these are pretty damn good. I honestly dont know how everyone has managed to be so lucky as to not have to break them in first, though. By the end of my 2 hour adventure my feet were beginning to hurt. They'll need to be broken in for sure.

Things I like about them:
Stiff
Grippy as hell on rocks, loose pack, hard pack, whatever!
Well built
The "Impact Brake System" which really does what it says
Pretty damn water resistant

Things I don't like about them:
Toe box - They're new, so Ill let it slide but we may have some issues if the toe box doesn't wear in soon.
They run a little bit small
They get hot! (I was wearing wool socks though)

All in all Im pleased with them so far. Ill have to break them in and really test them this summer before I can give a proper review. Heres a photo for you guys.
Extremely comfy even right out of the box. I didn't feel I needed to break them in, but did feel them loosen up (I have had boots that kill my feet and ankles for weeks, not these). Only problem is I hate Gore-Tex they don't breathe what so ever my feet sweat even just sitting at work. These are great definetly recommend them I almost feel like they would make a good trail running shoe. I have narrow feet and usually wear a size 12 in most regular shoes and got an 11..5 or 45 and they are perfect. If you have wide feet these might not fit very good.
if you have narrow feet but want a beast of a low-cut hiker then these are for you; la sportiva makes a quality product and these are solidly built with supportive midsole and super grippy vibram sole; the modified toe-guard also helps their durability
Break-in only took a couple days and the little bit of stiffness was relieved after that. This is a rugged shoe. Definitely sturdier than a regular running shoe. If you're looking for a light hiker/day hiker or just sturdy around town shoe, I recommend this shoe. I own a pair of La Sportiva Backpacker boots, and these feel like the same good quality. When ordering you might order one half size smaller. Even though I added an insole cushion, I still needed to size down one half size (from 45 to 44.5).
i have really wide feet would you recommend...
i have really wide feet would you recommend these
I have been wearing these for several weeks now, I have narrow feet and I wouldn't recommend them to you with wide feet.
i NEED A 6E WIDE SHOE? i DON'T SEE ANY?
i NEED A 6E WIDE SHOE? i DON'T SEE ANY?
Dann,Very few manufactures make 6E shoes, yet alone hiking shoes. Maybe you could try the New Balance 977 in a size larger then normal in the 4E width. Also, look at some of the Dunham shoes (owned by NB) out there http://www.dunhambootmakers.com/work/Steel-Toe.20.02.htm their line fits wide feet very well.Keep in mind leather hiking boots can be manipulated quite a bit by a skilled fitter or cobbler. Mahalo, Sumo
I haven't tackled any mean terrain with these, but have used them as around town kicks in Jackson Hole. They're comfortable (in contrast to other reviews, I did not find them difficult to break in), sturdy, and seriously weatherproof.
I like them after I broke them in. At first it was a no go but they feel pretty good now. Good traction and seem well built. Mine fit large don't know if thats common or not though. I would recommend it if your willing to spend time breaking them in.
My favorite hiking boot is the La Sportiva Halite. The Sandstone looks very similar, but has a smaller toe box and isn't comfortable on my feet. I returned them to Backcountry and they emailed a confirmation of their receipt of the return, which I think is a good customer policy. I will add that the Vibram sole gives sure footing for going down the tough ridge trails in our local mountains.
I'm a little confused by the size. What...
I'm a little confused by the size. What size would I order if I usually wear a 10? The sizing chart shows 43.2 as being equivalent to 10, but the options only include 43 or 43.5...
Since you lie more or less exactly between a 43 & 43.5, it depends on how other similar shoes fit. When you say you "usually wear a 10", are you talking about other hiking shoes? If not, be aware that hiking shoes/boots fit differently than say running shoes because they're designed to be worn with slightly thicker socks. Thus, your best bet is probably to order both the 43 & 43.5 and compare the fits and see which fits better (& return the other pair).
i wear a size 10 and i just ordered a size 44 which are too bog for my feet. so i will returning them for a 43.5 hope this helps.
This is the second pair of boots I ordered online even after I said I would never do it again based on my not-so-good results after my first pair. All my hiking boots are La Sportiva because they usually fit my foot well however these did not. I have a very rigid foot with a very high arch and the way the tongue is stitched in these shoes, I could not fit my foot in there with my orthodics. I use orthodics in my Trango's and Makalu's with no problem but not so much here. I ended up selling them to a friend who had the same foot size as me and he loves them.
I mistakingly ordered an 8.5 instead of an 8 so they were too big. I decided to return rather than exchange becuase I thought they were too stiff, but mostly becuase I didn't care for the look. I wish I ordered them in my size, becuase I probably wouldn've kept them regardless of the look. Anyway, I'm not a fan of buying shoes online because I end up sending things back. This was no different.
Do they come in a narrow width (US B)?
Do they come in a narrow width (US B)?
The Sandstone is only available in a medium/D width.
The sandstone fits narrow feet like a glove. Buy them you will love them.
Not perfect, but lots of goodness...
Slight pressure point on the area where the foot and big toe meet (possibly from the stitching). I think/hope this will dissipate once the shoes are better broken in. Otherwise, they feel like a low-top boot, and I love that. Very stable, great support. The sole looks to be good quality (Vibram); hopefully, it wears long and well. Seems to run a bit big, as I needed a 1/2 size smaller. Good for a narrow foot (like mine), and it fits even better with my old Superfeet Greens stuck in there. Should be a great shoe!
i'll be honest these were a bitch to break in but they are 100% worth it! they hold your ankle incredibly well and have a roomy toe box so you aren't smashing the front on your way down hill. They have excellent traction on everything and they are totally waterproof. i've had these in the wet utah snowpack with crampons on and i just returned from escalante where they griped the sandstone like a climbing shoe and kept my feet dry when i was walking through water. The uppers are really stiff and hurt the bottoms of my ankle bones when i was breaking them in so i got a gel heel cushion to lift my ankle until the show broke in. I would reccomend doing the same thing. Now the gel is out the shoe is incredibly comfortable and i couldn't be happier with my choice i know these shoes will last me a long time.
Killer shoe after you break them in
i'll be honest these are a bitch right out of the box but once they loosen up they are so comfortable, and supportive. They have a great sole that grips super good, almost as good as a climbing shoe. i've had these in the slushy utah snow with crampons on and down in the canyons of escalante. They will keep you dry as long as water dosen't spill in from the top of course but even when it does its not a huge deal cause they wick in out so fast! If you are looking for the best light weight supportive low cut hiking shoe look no further. Its takes a good 20 hours in the shoe to get them broke in,I would recommend getting a heel cushion to lift your ankle until they break in cause they have such a stiff upper that it will hurt the bottom of your ankle bones until they soften up
well built shoes with narrow mid section
It is a pair of well-built shoes, stiffer than most of the trail-runners or light hiking shoes. I have an average to may be slightly wider feet and this shoe is too tight for me. The heel area width is fine. the toe area width is average with low volume, but the mid-section is narrow. I tried to break it in inside the house for two days but did not work. So if you have narrower feet and need a pair of stiff shoes with good support, this is a good candidate