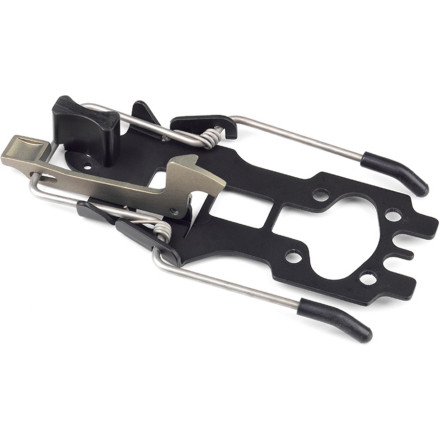 A ski wildly careening off into the void could spell disaster for you and your ski mountaneering party. Outfit your lightweight La Sportiva RT binding with the equally weight-conscious RT Ski Brake so that a little mishap doesn't turn into a giant blunder.
Lightweight, Italian-made materials and thoughtful design means that it works with your heel piece open and locked down
A quick flick of the selector switch lets you disengage the brake for easy tuning, waxing, and skin-cutting
What do you think about this product?
Have questions about this product?
Has anyone used the brake for the RT...
Has anyone used the brake for the RT binding? Any issues? It seems like a sweet setup, though it looks a little fragile...
I haven't used it, but the brake looks almost identical to dynafit versions. I'm sure it's bombproof.
It seems that the RT brake is a little different from the Dyanfit version since it attaches to the toe-piece instead of the heel piece and it can work in the tour mode as well. I think that part of the appeal of the RT is that it will come off in the event of a fall even when it is in tour mode. This appeals to me since I often bomb down short hills without locking the heel on my dynafit bindings and do worry that I might fall and destroy my knee since the binding is totally locked in. The RT seems to solve this problem.

I'm wondering if the brake makes it harder to step into the RT binding - it takes me long enough to get into my dynafit bindings without brakes.