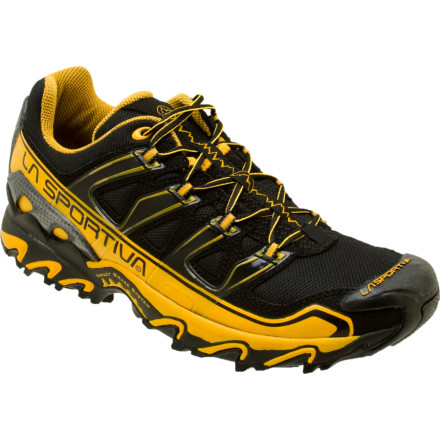 Detail Images
The Raptor Men's Trail Running Shoe is La Sportiva's latest beastly addition to its quiver of aggressive technical trail shoes, and an excellent lightweight shoe for every type of terrain.
Protective upper shields feet from trail obstacles
A TPU lacing harness provides a comfortable and secure fit
Super Sticky FriXion XF rubber outsole provides excellent traction on variable terrain
A wrap-around toe bumper prevents stubbed toes
A TPU heel stabilizer provides stability and protection
Very grippy, but weird sizing
It was really tricky for me to get my size, especially since I'm a size 12.5/13. But thankfully La Sportiva makes half sizes even for big foot. But you will need to size up a bit.Mine's a EU 47.5, roughly US 13.5. Besides that, these are versatile enough for trail hiking to backpacking and the approach of a mountaineering climb. If you've followed Andrew Skurka's stuff, he used something like this. I highly recommend it.
Tough enough for Leadville
Gender:

Male

Familiarity:

I've put it through the wringer
Best. Trail runners and hikers. Ever.

Seriously, I spend EVERY single day in the woods around Leadville with my dog while wearing these shoes, running for 2 to 4 hours daily and these shoes stand up to it ALL. July snowstorm? No problem. Uh-oh, the trail I'm running on travels over dry, shrapnel-shaped mine tailings waste ? Whatever- I'm wearing Raptors. BUY THESE SHOES. They've stood up to 2 straight summers of my adventures in the Sawatch and Mosquito Ranges, which is more than I can say for countless pairs of shoes over the years up here.
Good shoes with some possible drawbacks.
Gender:

Male

Familiarity:

I've put it through the wringer
They are light and I've used them for backpacking and running.



My big issue with them is the heel is simply too high. Also, the toe boxes around the big toe began to collapse when walking or running causing them to cut into my big toes. I'm not one to complain but it was very painful. I only had about 50 miles of use on them before this happened. You may or may not have this problem.
my husband has wide feet and I was considering...
my husband has wide feet and I was considering getting him a pair. Does anyone know if this shoe would be comfortable concerning the width?
This is NOT a wide shoe. I have wide feet too. I can wear a 9 in some brands, but usually go to 9.5 with an unfamiliar brand. The 9.5 in the Raptor is still quite snug. I'm hoping they will break in, but a 10 would have fit better.
Quick revision. These shoes run small! I decided to return the 42.5 (9.5 US) size for a 43. I didn't wear them out of the house, but I could tell they were too tight to keep.
Hot stuff
Familiarity:

I've put it through the wringer
Disclaimer *I would not consider myself even close to an avid runner or extreme trail hiker* End Disclaimer. Having said that, I bought these shoes as a dual-purpose workout shoe for both on the road and off the road running. They were great. I used these for two years, putting maybe 200+ miles on them without any problems. I finally called it quits on them after the cloth over the toe box began to rip and I did a crappy job of trying to shoe gloo them back together, but that was after approximately 2.5 years of steady use. Overall a great shoe.
Running Approach shoe
Gender:

Male

Familiarity:

I've used it several times


I love these and am buying another pair in case they stop making them.



Note that Sportiva uses a variety of different rubbers on their mountain running shoes, and they are not all the same. Though not as sticky as the RS on their true climbing shoes, the XF rubber is a durable climbing rubber that can handle 4th class and easy 5th, while still providing the comfort needed for those 5+ mile approaches.



Sure my Gandalfs climb better, but by mile 3 my pads are bruised out. These are the ticket for long Sierra traverses.



I added a superfoot orange footbed and I've had no problems with my pads, and I've been 100% blister free. I haven't had the problem with the tongue slipping to the side like others have discussed.



I've used these for 10 mile trail runs near the coast as well as a few all-day Tuolumne traverses. I've been surprised by how well they endure scree skiing and general abrasion.
Amazing trail shoe
Gender:

Male

Familiarity:

I've put it through the wringer
I love these shoes great for simply day hike with or just out and around the yard. A must buy for those who want a great day shoe and at a great cost.
Great Shoe
Gender:

Male

Familiarity:

I've used it several times
Very Stable, and warm for cool weather running. May be a little hot for the summer. Great looking show too. Not the most lightweight, but sturdy and stable.
Awsome shoe!
Gender:

Male

Familiarity:

I've put it through the wringer
Needed a light hiker for an 85 mile straight through hike (completed in 35 hours!) Could not afford something heavy or ill-fitting. These shoes totally rocked! Changed socks twice (Smartwool PhD's) and to be honest I never even had to think about how my feet were doing. I purchased 42's and I usually take between an 8.5 and 9. Used the standard insoles which were fine after a brief break in period. Tongue is padded like crazy and you never feel the laces coming through. I have a medium width foot and toe room was great vertically and horizontally. Grip is fantastic. 100% love these shoes!
Great shoes. The traction is amazing! My only complaint is no loop on the back to carry them.
The best shoes I've ever had. I hiked through 4 pair of the Raptors on my thru-hike AT in 2012. But shoes have some issues.



Bad.

First-original insoles don't work. I've replaced them with Superfeet Blue's to prevent feet bottom damage from small rocks.

Second – upper air mesh is fragile and doesn't hold for a long time. Started fall apart after 400-500 miles hike.



Good.

Combination with Darn Tough socks created great tandem. I never had blisters or even hot spots.


Narrow foot
Gender:

Male

Familiarity:

I've put it through the wringer
This is my second pair of Raptors. They are excellent trail shoes: light, comfortable, robust. They fit me well-enough with an orthotic, though not as well as the La Sportiva Sonic, which the company pitched as a shoe for the "low-volume foot." I ran through 3 pair of the Sonics over several years, and would still be using them if they were still available. My feet are hard to fit, and this shoe comes close enough, especially for $69.00.
Awesome shoes
Gender:

Male

Familiarity:

I've used it several times
This shoe is amazing. It is relatively light, very comfortable to be in all day. The lugs are great for trail running especially with some mud. I would highly recommend these shoes to anyone.
Best Trail Runner / Light Hiker
The La Sportiva Raptors are the best shoes I have ever owned. I just ordered my second pair after wearing my first pair continuously for the past two years. My search has been for shoes able to double as both great trail running shoes (light weight, grippy turns at speed, fast stoppers, don't destroy my toes on downhills) as well as great light hikers (carrying a 30 pound pack on long distance desert and mountain backpacking trips). My ideal shoes would also last awhile, which is why I have been wearing them as my daily wear city shoes (work, home, and play) to test their durability before making my final selection for hiking the Pacific Crest Trail. After trying out many specialized trail runners and hiking boots, the Raptors are the first pair to do everything while meeting or exceeding most of my expectations.

The shoes look bulky but feel light for their actual weight, and they required no real breaking in period. I pulled them out of the box and within a couple of hours went on a 5 mile, mostly off-trail run in the Sierra Nevada foothills (nothing but rock, sand, and sagebrush to maneuver through). I returned home with happy feet and an astonished grin on my face. No matter what I have done with them, I've never had a hot spot or blister.

With my flat feet and bad ankles from way too many sprains from sports and over-zealous adventures, I need shoes with serious support, which the Raptors have provided without breaking down. I wear custom orthotics, and in many shoes the depth of the inserts compromises the ankle support, but not in these Raptors even with their low profile design. After approximately 500 miles of wear, I still have all the support I need for running and backpacking, although the mesh is finally developing holes and the plastic toe bumper is separating – hence the need for a new pair.

Over the decades, my toes have taken a beating from all the miles of downhill running and backpacking – I've lost a lot of toenails along the way. The Raptors are the first pair of shoes / light hikers that have never once bruised or blistered my toes because the toe box has just the right amount of roominess even after my feet expand from a day of hard backpacking or running. La Sportiva's proprietary Impact Braking System (http://www.youtube.com/watch?v=SnOp-E99xy4) is the technology behind its astonishing capacity for non-skid turning, braking, and stopping on all surfaces, angles, and speeds.

The sticky rubber on the Raptors is the same quality as my climbing shoes, and I use the Raptors with confidence free soloing up to easy 5.2 routes. I have equal confidence on wet rock and loose sand.

The shoes provide great ventilation when worn with appropriate socks, keeping my feet perfectly dry and cushioned. They dry out quickly after creek crossings. The only downside of all that ventilation is that a small amount of desert dust does filter in through the mesh, but every shoe with comparable construction has this same issue.

The lacing system permits multiple methods for fine-tuning the fit and tightness, including the ability to center the shoe laterally on your foot so that it doesn't roll when you are off trail traversing steep hillside slopes and boulders. At first I had a problem with the tongue slipping to the side, but then I figured out a different zigzag lacing system at the top that keeps the tongue centered.

My average shoe size is 11.5, but depending upon the manufacturer it can be anything from 10 to 13. My Raptors are 12.5 (46.5 European).

Now that I have ordered my second pair, the only question is whether I should order another couple of pairs at the same time just in case La Sportiva decides to "upgrade" the Raptors in a way that isn't actually an improvement for my foot and the ways I use them.
Good Shoe, Interesting Fit
I gave these a shot about a month ago and while I found that the grip was pretty good even in the wetter conditions and the stride felt pretty natural, the fit wasn't what I was used to. I had to size up by at least a 1/2 size and if I were to have a thicker insole, then sizing up by a full size would've been the way to go. Once that was settled, they worked pretty well.
I got turned on to these shoes when my racing team was supported by Sportiva. These are great shoes for rugged mountain terrain. The lugs on the bottom are great for gripping on slippery rocks, logs, etc. The only downside is the shoes don't drain as good as other models but it is not terrible. I have worn these shoes in the Massanutten 100 and the Grindstone 100 and they held up great both times. If you know those races, then you know that shoes can literally get shredded by the rocks. On tough rugged courses, these shoes are always at least a part of my plan during the race.
I'm looking for a trail running shoe or...
I'm looking for a trail running shoe or very light hiker to use for a long-distance hiking trip I've got coming up. I'm looking at the Raptors and maybe the Wildcats, but I have a wide foot. Anyone know how these two shoes fit width-wise? Any recommendations for a different wide shoe of similar type?
I like the Vasque line they work well for wide feet and while they are not my favorite for running they are great for hiking.
How is the sizing on these shoes? I seem...
How is the sizing on these shoes? I seem to remember always having to size down a little bit for sportiva climbing shoes. I wear a 10.5(m) any suggestions? Thanks!!!
Hey tdl5448838,

The sizing for most La Sportiva trail running shoes is closer to true to size and maybe even runs a bit small. I had to size up 1/2 size on this to 11.5, but I am in between an 11 and a 11.5. I hope this helps.
Best Wilderness Shoe Ever
I have organized, and run in, 25 back-country Ultra's in the Sawtooth Mountains of Idaho, anywhere from 26-65 miles. For years and years I have bitched and moaned about every "trail" shoe out there, spouting about how I would make a shoe if I had a company, about how they need this and that, all the while duct taping my current shoes back together in a field of talus. Well, last year I discovered the Raptor, and my dreams have come true. They grip like a climbing shoe, brake in loose dirt, lace up tight and pull your lateral foot into the center of the shoe so it doesn't roll off the edge when you are side-hilling through boulders for two miles. They are durable, have protection in all the right places, the uppers are soft and the position seems neutral to me. The flat laces lock together well, the tongues stay put, and the contoured heels have not broken down. In fact, I have purchased three additional pairs and placed them into storage, just in case Sportiva wants to screw with the formula. I can not say enough good things about this shoe. Next month I am trading out my current pair for another from the stash, just in time for the 25th year of the Ultra this July. Only downside I have - is that I'm not sponsored.
What is there to say about these shoes? They have excellent grip and are very light. The toe guard is wonderful if you're running/hiking on rocky terrain. The only thing to watch our for with these shoes is the soft rubber lugs. Sharp edges on rocks may damage them, but thats the price you pay for the excellent sticky rubber. Over all this shoe is a trail eating beast.