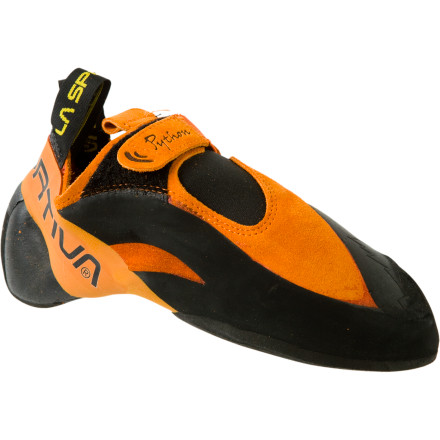 Detail Images

Videos

Community Images
Description
Bring your Pythons to the comp.
The La Sportiva Python Climbing Shoe with Vibram XS Grip2 sole was engineered to excel in competitions, in the gym, and at the crag. Sticky rubber over the toes and full rubber coverage on the outside of the heel let you step up your footwork a notch for seriously steep routes.
Asymmetrical heel design for a performance fit with maximum rubber coverage
Elastic hook and loop closure strap helps lower-volume feet get a snug fit in the slipper design
Vibram XS Grip2 for serious edging performance, smearing performance, and durability
0.8mm LaspoFlex at the midsole uses a super-lightweight, super-thin synthetic laminate for stiffness and edge-hold
Ample toe rand coverage for scums and hooks
Unlined for sensitivity on technical smears and high-tension moves
Don't expect these shoes to last you over one season. The rubber is really thin, allowing the shoe to almost suction to your foot. The heel is fantastic and you can really feel out all those little foot holds, super important when climbing granite.
The downside to this, my left toe blew out after one week. This may have been because I downsized a half size smaller than usual. The shoe was still climbable and functioned at 95%. A few months later both toes blew out.
I clip off of foot chips
Familiarity:

I've put it through the wringer

Fit:

True to size
These shoes are amazing I've used them for sport,bouldering,slab they excel at everything this shoe wrecks on over hanging routes!! If you like heel hooks get this shoe you'll feel a ton of power when you pull with heel, I'm a USM12 in street shoe I have some what of a narrower foot with a high arch and long toes I got a USM10 in these although I feel I could have done USM9.5 they stretch a fairly good amount, as far as foot chips go I trust the toe a lot on them like I said il clip off it the toe hook and edging power are also incredible il be buying another pair soon.
My go-to climbing shoe
Familiarity:

I've put it through the wringer
These are my go-to climbing shoe for most applications. I have used them on everything from steep bouldering to longer multipitch. But they excel most as a gym shoe. The rubber is much softer than the other Sportiva shoes I have worn, which I prefer, as it encourages deliberate footwork. They also heel hook well, though I prefer the stiffness of the Solutions for hard toe-hooking. The biggest drawback of these are the lack of durability, since the rubber is so thin. But as far as trade-offs go, I think I gain more from the sensative rubber and affordable price point than I lose in lack of durability. I highly recommend!
Great shoe for crushing
Familiarity:

I've put it through the wringer

Fit:

Runs large
Performance: It performs quite well on overhanging and vertical terrain. On slab it suffers a bit but it's manageable if you have somewhat decent feet. I wouldn't try to smear your way to the top though. Tiny edges are easy to put your weight on, pockets are easy to step in, heel hooks are comfortable and toe hooks are secure. The thin rubber is incredibly sensitive and sticky.
Feel: I like how they are only somewhat aggressive, you can walk around in them without too much pain. If you sweat in them you will stain your feet and nails orange.
Fit: I wear a size 9 street shoe and I bought a 7 in these. After a couple weeks of climbing 4 times a week they were fully broken in. I only have to take them off a couple times a session due to the pain. The pull tabs make them easy to put on. The single elastic strap is low-profile and helps dial in a perfect fit.
Durability: After two months of consistent climbing I saw wear in the toes, at the tip and the knuckle. I guess that's what to be expected with the thin rubber. The rest of the shoes have held up very well.
Use: I mostly use these for training indoors or competitions. I use a stiffer shoe for outdoors but these were fine for sport climbing and bouldering on overhanging climbs.
Value: They are slightly cheaper than solutions but they probably don't last as long, due to the thin rubber. I would recommend these to people looking for indoor training shoes.
Solid all around shoe
Familiarity:

I've put it through the wringer

Fit:

True to size
Climbing shoes have been hit or miss for me for a long time. I could always find one that worked for one style of climbing, but could never get them to work for something else. Then came along the Pythons. Personally, these are some of the best all around climbing shoes I've used! While not the most die hard climber, keeps me occupied till the snow returns, the La Sportiva Pythons let me do a bit of everything from bouldering with my roommate ro doing some trad climbing with a crew of friends in Yosemite.



My first real experience putting the Pythons through the wringer was the Nutcracker in Yosemite. The climb had a variety of terrain from crack climbing and killer layback to a bit of friction climbing and everything in between. For multipitch climbing there could be slightly more comfortable shoes out there, but even after 9 hours on the Nutcrack (party climb conditions: 7 people, 5 pitch, trad - not recommended), my feet only wanted to kill me once I realized I forgot my approach shoes at the bottom. Hiking down another 1.5 hours in climbing shoes will finally get to you.
Great Shoe
Familiarity:

I've put it through the wringer

Fit:

Runs large
This shoe is great and really soft especially compared to the Solution.
I found that the break in period for these is really short, and that the shoe itself runs larger than my other sportiva shoes.
I would size a half size smaller if I could do it again
Cobra Replacement?
Familiarity:

I've put it through the wringer

Fit:

Runs large
I bought these as a replacement/upgrade for my Cobras to deal with the standard slipper issues (heal popping with aggresive hooking, rotating on small edges, ect.). Just for reference in sizing a 42 cobra is tight but stretches to a perfect fit for me. I bought a 42 in the python and after 2-3 gym sessions it was packed out almost beyond usefulness. I'd definitely downsize maybe 1/2-1 full size if I get another pair. I really like midfoot design (similar to Solutions), it really sucks you midfoot in place. Just like the miura lace-ups these really become a flat soled shoe quickly, rather than an agressively downturned shoe. Overall I'd probably buy them again smaller size.
Perfect Soft/Sensitive Shoe
Familiarity:

I've put it through the wringer
These are a step up from the Cobra's in performance due to a more refined shape..and are probably even softer than Cobra's. A great smearing shoe...not an edging shoe obviously. My favorite shoe for Maple Canyon by FAR! Get them tight for performance as they will defintiely stretch a lot.
MY GO TO ALL AROUND SHOE
Gender:

Male

Familiarity:

I've put it through the wringer

Fit:

True to size
The Python is by far my favorite shoe. It performs well on most types of rock and all angles from Steep (rifle) to slab (Potash) to everything in between (Boulder Canyon/Flatirons). They fit my foot absolutely perfectly (medium tow width to a more narrow heel. These shoes have a much narrower and more sensitive heel than the Solution and provide incredible feedback to your toes. In my opinion LaSportiva came up with the perfect all around shoe with the Python. I wear an 9.5 in street shoe and a 39.5 in the Pythons for a tight/aggressive but perfect fit; no heel slop and great feel in the toes as well as good edging. These break in pretty quickly being all natural leather.


The shoe got a hole in the left toe
Familiarity:

I've put it through the wringer

Fit:

True to size
I had these shoes for five week's, one week past the return deadline the left toe's rubber tore. Another person who climbs at my gym has the same problem with the same left shoe.
Amazing feel, great fit
Familiarity:

I've used it several times

Fit:

Runs large
I bought this as a slightly more aggressive shoe that stays on my foot over my pair of Cobra's, and a size smaller than them. The heel and toe rubber make this show awesome. The shoe first perfectly, and it's very sensitive. I wear an 8 in street shoe and about a 6-6 1/2 in La Sportiva.
"Trust your feet"
Familiarity:

I've used it several times

Fit:

True to size
We've all told it to climbing partners, and had it preached to us. If you're like me, trusting your feet doesn't come easy. Enter the La Sportiva Pythons. I just got these this past week, so I have to put them through wringer. But from my initial impressions, I am hooked. These shoes are ultra sensitive allowing you to feel the rock underneath your toes, inspiring confidence to send your project.

In terms of size, I'm a 10 1/2-11 in street shoe and went with the 41 1/2 (8 1/2) in these and am super happy with that decision.


Good for High Volume Fert
Familiarity:

I've used it once or twice and have initial impressions

Fit:

Runs large
I bought these as a gym replacement for my Testarossas. The Testarossa fit my foot like a glove. Slightly tight at the toe, but they break in after a few sessions. ThePythons have a flatter profile and are definitely more sensitive. Once I dialed in the size I realized that no matter what there as always going to be some dead space. At the end of the day my foot is too low-volume for this shoe and I ended up returning them. I wear a 38.5 in the Testarossas and settled on a 38 for the Pythons.
By far my favorite shoe... Smears great, fits like a glove, great rubber! What else can you ask for out of a climbing shoe.
Super Sensitive shoe
Familiarity:

I've put it through the wringer
I love this shoe. Its soft. Its super sensitive (you'll see what I mean). And its very versatile. The shoe itself isn't incredibly down turned. The shoe suctions to your feet and make for a pretty good fit. I would say great fit but the upper is baggy unless you have a fairly high volume foot. The shoes itself are awesome, you can feel every nib, jib, and lib under your foot. You are really able to toe down on steep over hanging stuff as the shoe is so soft it bends to accommodate a down turned position. The shoes are also soft enough to bend the other way and smear incredibly well. The Vibram XS Edge rubber is great. I've only tried vibram and trax rubber but I can tell you there is a pretty big difference between the two. Vibram is just stickier and feels way better on the rock and plastic. The tension strap makes a world of difference. The heel cup is great and feels wonderful. With the tension strap you can trust most heel hooks except for the most extreme ones. The toe rubber makes for excellent toe hooking especially since there arent any laces or straps to get in the way. As a slipper shoe down size considerably. I downsized 2 from my street shoe size ( American US) but I honestly should have gone down 2 1/2 to eliminate all the baggage in the upper.
I wear a 45.5 on the tarantulace. Was thinking of any bumping down to 44.5 because I want the pythons to be my performance snug pair. Any thoughts?
I wear a 36 in the tarantulace and I tried sizing down to a 35.5 in the pythons. I found the overall fit to be pretty snug but tight to the point I got a blister on both my big toes after 1 climbing session. Returning them for a 36, hopefully will work out, though most reviews I've read said to size down.



****update

I received the 36 in the mail, they felt too comfortable in comparison, afraid they will stretch too much after some breaking in. I stuck with the half size down.
Awesome Shoe
Familiarity:

I've put it through the wringer

Fit:

Runs large
Bought a pair of these to keep as my "nice shoes" for when I need that extra bit of grip or precision. So far, they've done amazingly well. They're incredibly sensitive, so using precise footwork is a breeze and they grip amazingly well. I wear a 45.5 normally, but I bought these in a 44 because I wanted a snug fit. I would say they run large, but not ridiculously so.
Great stuff
Familiarity:

I've put it through the wringer

Fit:

True to size
Climbing shoe reviews should always be taken with a grain of salt. The best shoe is what fits your feet best and performs for the type of climbing that you do.



Having said that, I'm really happy with the Pythons. Soft and sensitive. Mine have stretched with use and heel hooking and toe hooking still remain solid. smearing and smedging work well. Edging, meh. Initially used just for bouldering and it was great. After stretching out it becomes a more mellow all-around shoe that I can leave on comfortably for an hour or two.



They keep making them, I'll keep buying them.
I currently have an 41 in the solution and they absolutely kill my feet, what size should i go up or down to for a more comfortable ride?
Great climbing shoes
Familiarity:

I've used it several times

Fit:

Runs small
These shoes feel great and work better. There is a little bit of dead space under my heel, but the shoes are really flexible and allow you to get your feet exactly how you want them on the rock. I think they run a bit small, but most La Sportiva does. Oh, and they dye your feet orange. Great shoes so far, I look forward to breaking them in.