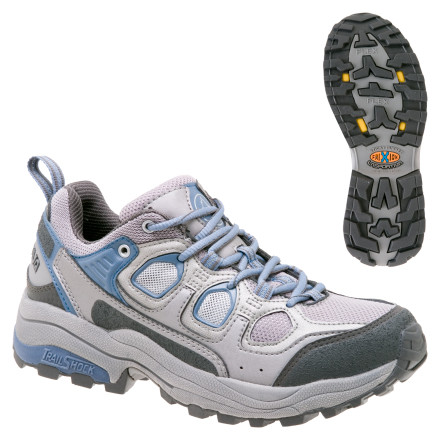 Detail Images
I wear a size 6 usa what size should i...
I wear a size 6 usa what size should i order?
Just below the options drop down (in the upper right) there is a link to a sizing chart from La Sportiva. It appears that women's size 6 = 37 euro.
Loved the fit and support of these shoes. *And* I wore them for a full 1000 AT miles. The tread was still in okay shape at that point, but the uppers had lost there support.
comfortable, but lacking in durability
I bought these shoes for mountain running & approach shoes. Although they are comfortable, the rubber on the toes started to wear off on the first climb and by the second one I had a hole in fabric above the toe. I've used Montrail Hardrocks for the same purpose with no issues.
I just had ACL surgery and needed a shoe that would be stable, not allowing my knee to flop around when hiking on uneven ground. These have been a lifesaver. They are so comfortable and light, yet I feel like nothing could send me on a tumble. Can't wait to run in them, hiking is a dream.
Excellent grip, padding and momentum
I have been extremely impressed with these shoes. I am just starting to run, having it be an intimidating task all of my life, and I am amazed at how these shoes push you forward. I was told that they have a forward camber under the toe of the foot that makes the shoe roll along. They were 100% right when they said this. These shoes are easier to run in than anything I have had before, this is the first time in my life I can say that I am still running consistently a month later. They also have great padding (for my bad knees) and stabilization.