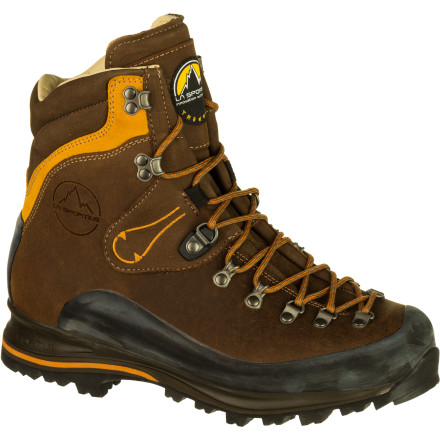 Detail Images

Videos

Community Images
Description
Tough support you can count on during long treks through difficult terrain.
Your ambitious backpacking trip itinerary might fall to pieces without durable, high-top footwear like the La Sportiva Pamir Backpacking Boot. Made with tough, weather-combating leather, this burly boot withstands frequent use and abuse and provides plenty of ankle support for tricky terrain.
A Vibram Sasslong rubber outsole grips wet, rocky, and unpredictable trail conditions
The Impact brake system in the heel supports your foot and improves control while descending steep trails with a heavy pack
For support, the seven millimeter Trangoflex insole structure allows flex and protects against buckling for an excellent feel on the trail
The PU lite and EVA foam midsole cushions your steps for long jaunts into the more mysterious regions of the map
Good after break in
Familiarity:

I've put it through the wringer

Fit:

True to size
It didnt feel right when i wore these boots in the store because the leather has not flexed at the right places yet. after about 2 weeks of wearing them around, they feel comfortable. The leather is pretty thick and feels durable. The leather lining feels great on the foot but it does not breathe very well. After a day of wearing, the toe box becomes moist because of the sweat not being able to escape. It doesnt bother me so much though. i just wipe it with tissue and then its dry. It gives pretty good support. the boots go pretty high up over the ankles (measured from the insole, the top of the tongue is 7.5in and the top of the rear is 6in. I feel that these have better support compared to my older Scarpa Barun GTX. They have crossed rivers and the outer leather wetted out well but water did not make it in the boot. The only thing I dont like about it is the piece of webbing for the 7th lace loop. I could see this part to be the first point of failure. the webbing is stiched to a fairly soft leather which started to show a small tear during the 2 week period of me breaking them in. What I did was reinforce it with seamgrip in hopes that this wont rip when I lace up (I should have used freesole, which is stronger.) Over all, good stiff boot. The boots also become much darker and has a bit of gloss when treated with Nikwax waterproofing wax but it seems to be more water resistant compared to the original finish.
I should've ordered 2 pairs!
Familiarity:

I've put it through the wringer

Fit:

Runs small
Good boot. Stiff sole, good for climbing poles. Order half size larger.
Not worth the money
Familiarity:

I've put it through the wringer
The soles are extra sticky. The leather provides a great barrier against the elements. I have walked through creeks and my feet remained dry. However, I have only owned these boots for 6 months before the lining started falling apart in both boots despite proper cleaning and care. If you want a boot for occasional use, this might be worth it. However, this boot is too expensive for someone who requires something durable that will last through the long, tough hikes.
These run small if you use the size chart. I normally wear a 10.5 in hiking boots and the 43.5 were too small for me. I had to go with the 44 which is between a 10.5 and 11 US. Use the link below and take a look at the horizontal size chart on la sportiva's website. It is more accurate than just going by the chart they give backcountry.



http://www.sportiva.com/about/technology/sizing-boots-shoes



I would also recommend upgrading the insoles for these boots. The insoles that are included really provided no support (to my feet at least). I would go with the SOLE Softec Ultra for added cushioning and arch support.
Not that durable
Familiarity:

I've put it through the wringer

Fit:

Runs small
I am a high scaler and install rock fall fences. I bought these boots for work. After a little over 3 months the tread on the toe was gone and the rubber around the boot was coming unglued. Also the stitching for the ankle support is coming undone. I tried to contact La Sportiva several times to see if that was under warranty or I could get them resoled. I have never heard anything back. These books are very comfortable and very good support. I am not impressed with their durability and really not impressed with their customer service. For the price I would not recommend these.
Giant Steppe Up
Gender:

Male

Familiarity:

I've put it through the wringer

Fit:

True to size
These boots are a giant ?steppe? up from anything else I have ever worn! Get it? Steppe! Sorry, I work in Mongolia so I ?plague? everyone with ?steppe? puns. Yeah I know - not funny.



Before I jump into my review, I want to quantify my usage. I am a graduate student working on my PhD in archaeology. I conduct my field research in the middle of nowhere Mongolia. Sadly, I do not get to carry a whip or a gun and I have never had to run from poisonous dart blowing natives. I do, however, direct a substantial survey project in the mountainous northern regions of Mongolia. As part of this project I hike several kilometers each and every day for several months each summer. Needless to say I have gone through my fair share of hiking boots and as such, I feel well qualified to talk to the greatness of the Pamir boot.



First, I should say that I have a high arch and a moderately narrow foot. With this in mind, the boot was a great fit right out of the box. More impressive was the fact that they needed relatively little break in time. While prepping for a two-month foray into the Mongolian wilderness I accidentally forgot to get boots until the last minute. As such, I pretty much got them in the mail, threw them on, and headed to the airport. Despite the lack of a proper break-in period, my feet felt great from the get go; eight to ten hours of straight hiking over variable terrain did not tax my feet during the first work week. Overall, ankle support and supportive foot bed are the main reasons my feet felt fine during the first real break in week and over the course of the entire project.



Water proofness of the boots is also a big thing for me. In the past, rainy nights would saturate the grass and result in wet feet despite bright sunny days. I did treat the leather a little before heading into the field with mink oil and when combined with a good set of gaiters, these boots rock - 307andbeyond.tumblr.com
Still going strong
Familiarity:

I've put it through the wringer

Fit:

True to size
I have had these boots for over 2 years now. While I have seriously cut back on regular use of these boots for day to day use (mainly in hopes of these lasting longer), they have held up better than the previous pairs of Glaciers and Makalus that I have owned. With previous boots I would wear out the tread or the lining before the leather was shot.



The construction has been extremely solid while being slightly lighter than the Glaciers and Makalus. Some folks may have concerns about the lacing system (specifically the nylon loop mid boot), but I have never had a complete failure in any of my La Sportiva boots over the years.



I have spent a fair amount of time in scree slopes and high tundra conditions. These boots have been spectacular. They provide exceptional stability and protection in rough terrain.



The calf skin lining is a nice change from the fabric lining that would typically get a hole in other LS models. The outsole also seems to be holding up very well.



My only issue (and it is very minor) is I would prefer the rand to continue the entire circumference of the boot rather than stopping short along the outside of the heel. This portion of the boot takes a noticeable beating, at least for me, and the rand would help protect it.
Can I use clip/newmatic crampons with this...
Can I use clip/newmatic crampons with this boot? I'm just not sure the rear shank is pronounced enough to accept the clip. I have been searching for a clear answer to my question, but I'm still not sure. Any help???

Thanks. (maybe someone could post a video of fixing the crampon???)
Best Answer
You'll want strap crampons, instead of clip in.
La Sportiva Pamir Backpacking Boot
Unanswered Question
which boot is tougher/more durable, the...
which boot is tougher/more durable, the Pamir or the Karakorum? They seem pretty similar apart from shank and lining. I work in the bush year round off trail and am extremely hard on boots. Spend a lot of time wet and in snow as well. thanks!
I'm just curious to know if this was written English as a second language or what since

"seven millimeter Trangoflex insole"

is absolutely meaningless... maybe it's what I'm looking for which is a lightweight boot as rock-fighting as my heavy Asolo steel shank mountaineering boots... so if anyone has an answer i am GrassRootsGuy at JoelBlackwell com

and I'd love to hear more...
solid
Gender:

Male

Familiarity:

I've put it through the wringer
I've been working trails for the last few years and have averaged about 1 season per boot. I put my boots through hell and have been known to wear them for months on end, literally. I bought these because they stopped distributing Kayland boots in the US.



A friend convinced me to ditch the gore-tex and go for a good, all leather boot and treat it with obenauf's. This is literally the first pair of boots I've had that lasted me more than one season! The inside is calfskin leather, making it easier to clean and condition. Also making it easier to not smell like something died in your boots.



The sole has held up exceptionally well, I might expect to go the better part of another season before either getting these resoled or getting a new pair. Other boots have run out of tread long before these.



If you have wider feet Asolo has a better fit, but La Sportivas shine for folks with narrow to medium width feet.



In the future I'd like to see the ankle area with tougher leather - I've seen other pairs of Pamir's blow out on the rear part of the ankle. My pair did fail after a couple of months by the cloth shoe lace thing - all the other ones are metal but the cloth one where your ankle pivots didn't hold up. I can still lace it up fine it just only fits well instead of very well now.



Truth be told I doubt very many people need to spend $300 on a pair of boots. If you've got the cash or you need a pair of boots built to last and are willing to maintain the leather well these will do you good. For the average user (maybe 3 -12 backpacking trips a year?), with proper care, I could see this boot lasting a decade easily.
Ok so obviously fit and comfort are the...
Ok so obviously fit and comfort are the most important things to look for in any boot, that being said I'm 5' 11" 175 lbs, looking for a boot that I can use for backpacking AND hiking. I say "and" like that because I don't want too much boot for simple hikes, for instance, if I were to wear my la sportiva nepals for a 10 mile, relatively flat hike it would be overkill and not the most comfortable option. Would these be nimble and flexible enough for day hikes? I'll take suggestions but I'm partial to la sportiva due to how they fit my feet. THANKS!
Best Answer
These are very close in weight in leather thickness to my La Sportiva Glaciers, which I wear daily at work as well as backpacking and steep dayhikes.

Considering the Glaciers have a steel half-shank and these don't, I think they'd be fine for your needs. You may find them just a tad much for light dayhikes on flat terrain. I have Salomon Quest 4D GTX for light, hot weather day-hiking.
La Sportiva vs Asolo vs Scarpa backpack boots
In the end it's what fits, right?

I ordered the top of the line backpack boots from these excellent manufacturers and spent an extensive amount of time trying them on with & w/o upgrade footbeds. I have an EE foot with sixth toe bone spur issues and fitting all technical footwear is a challenge.

The La Sportiva is really nicely made with a beautiful, form fitting foot wrap when you pull the laces. It has an impressive feature in a locking lace loop halfway up the boot that allows you to make the fore foot tight while having the upper art of the boot remain loose or vice-versa (basically the lock loop divides the boot into an upper and lower zones that can be tightened independently of one another).

The Asolo boot also has a very high quality comstruction. Though not as cushy as the La Sportiva, it has a tougher, more serious seeming design. On the lower lace loops there are little brass rollers that keep the laces from binding and give a really smooth, even tightening.

The Scarpa boot I ordered because of the high marks it gets for fitting wide feet. This boot is the most rugged and stiffest of the three. It looks like it would last through 10,000 miles of scree. Also really high marks for quality, well thought out construction.

All of these boots were about $300.

Deciding, I went with the Asolo because I thought that it had the anatomical shape that most closely matches my foot, and because it seemed like the most friendly boot to work with in terms of micro fitting with custom stretching and footbeds.

I have about 30 miles on them and am still tweaking them a little, but I can tell that this is the start of a long beautiful friendship.

Hope this helps ya. See you on the trail !
Anyone have any experience on the waterproof...
Anyone have any experience on the waterproof abilities of this boot? I generally stick wth GTX, but these boots are very enticing!
In the snow it is waterproof in a very havy rain water will get in...
I recently purchased the Pamir backpacking boots, these are the best boots I have ever had, they required no break-in time, soft as a glove and a really great fit, also give great support on long hikes
and they have a feel of a lighter boot.
I will recommend these to a friend, I have been backpacking for 30+ years.

Peter
I have a pair of glacier evo and love them...
I have a pair of glacier evo and love them for the wInter and they are just stiff like I like them. I'm looking for something not quite at stiff as the evo but still good 3 season hiking boot and am looking at these Pamir any suggestions on how stiff the the Pamir are for rocky steep trails?
I tried on a pair of 47 and 47.5 pamirs...
I tried on a pair of 47 and 47.5 pamirs and they both felt the same. Each pair had a bit of heel lift on steps and inclines. I am considering the Lowa Banff Pro and wanted to know whether anyone has compared the room in the heel box. As a point of comparison I tried on the Lowa banff a couple of years ago and remember the same type of heal lift. I think I have narrow heals, which hasn't been a problem in my Meindel's but they are done after 14 years and two resolings.
Ed, The Lowa and the Sportiva are both great boots, but for a narrower heel fit and good heel lock-down you may want to check out the Salewa Mtn Trainer or Alp Trainer. They run much closer to the Meindl fit.