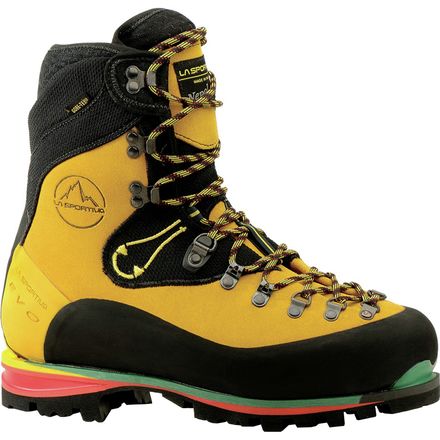 Detail Images

Videos

Community Images
Description
Traction and support for tough winter mountaineering.
When the mountains are a technical obstacle course of ice, snow, and frigid temperatures, the La Sportiva Nepal EVO GTX Mountaineering Boot will be your foot's best friend. La Sportiva combined a waterproof breathable Gore-Tex membrane, an insulated lining , and a durable leather upper to keep your feet warm and protected for many summits to come. The Vibram sole, featuring the Impact Brake System, provides tough traction on slippery inclines, while the 3D Flex ankle allows for maximum sole-to-surface contact on the steeps. An adjustable, removable tongue offers a comfortable, customizable fit for any foot shape.
Great boots
Gender:

Male

Familiarity:

I've used it several times

Fit:

True to size
Love these boots. I've used them for a few seasons of ice climbing and have no regrets from buying them. They're comfy, keep my piggies warm (down to 0 degrees at least) and dry, and seem to be built like a proverbial tank. I have no experience in the mountains but I'd highly recommend them for anything low altitude.
So a no-go on these boots for Denali? Was looking at the Baruntse and the Nepal. I know I would get better use out of the Nepals over the long haul for other thing such as ice climbing. Could I pull off using the Baruntse for basic ice climbing or would this be over kill? Thanks
Best Answer
I used the baruntses for Denali and they worked great. I wouldn't have wanted to go any lighter duty. I also used them for my first couple years of ice climbing since I couldn't afford a second pair and they worked fine. Once I got a lighter ice climbing specific pair of boots, the difference was noticeable and beneficial. But I still go to my baruntses for the really cold days
Hi Joseph,



These boots will not stretch. Feel free to contact me directly if you have any questions on sizing mountaineering boots.



Ben

brabinowitz@backcountry.com

801-746-7564
Great boot for the purpose
Familiarity:

I've used it several times
These are good boots for alpine mountaineering. They are not approach boots, they are extremely stiff, a full shank boot. I used them hiking Mt. Shasta, it works well in scree. Your foot has to get used to it.
I wear street shoes ranging in size from 10.5 to 11.5, the boot size I have is 46.
Is this boot compatible with non clip on crampons? I have a Grivel Pair which have the plastic arm at the front and like a sling type closure piece at the back with some metal rings? Thanks
Hey Jarrod,



Those boots will work with the strap-on crampons you are describing. I wouldn't recommend them for use where you will be kicking the front points into anything, but for general use they will work great with those boots. If you have any other questions please let me know.



Dan Gates

Expert Gearhead

801.746.7582

dgates@backcountry.com


Everyone you know has them
Familiarity:

I've put it through the wringer

Fit:

Runs small
I'm on my 7th year with the Evo Nepal and just resoled them. I can't say enough good things about these boots. They climb ice, rock, and snow like a champ and have always kept my feet warm and dry. I wear a size 48 and had to get a shoeman to stretch the footbox a bit to get the fit dialed in, but boy was it worth it. When I can't resole these anymore I will buy another pair. I use these for cold weather and now the new Trango Cube for warm weather. Make sure you size these larger than you need. I wear a size 13 and I am in a 48.
Unanswered Question
Sizing Q: I am a 42.5 in Asolo Sassalong and was told I would need a 43 in the Nepal Evo if I was going to kick into steep ice a lot as my toes would hit the front of the boot. I used a 42.5 in NZ last year when climbing on Fox Glacier and don't remember any issues. Can anyone confirm if I would need to 'size up' on these?
Sizing/fit question: I tried out a pair of these and they really tore my heels up during a short test run of moderate uphill walking. I wear a size 13 street shoe and had on a 47 in the Evo. I thought if I tried to size up it may alleviate the problem with the heels but the 47.5 and the 48 even seemed to aggravate the same hot spots just walking around the store. A guide suggested that it may just be due to the Evos being too narrow for my foot and recommended the Scarpa Mont Blanc as an alternative. Would that be a decent option or am I just missing the mark on sizing? I'm basically looking for a great boot for mountaineering (14ers, couloir routes etc) and ice climbing here in CO.
They are probably a bit too narrow. La Sportiva runs narrow, Scarpa runs a bit wider.



You can call or email me directly. 801-736-6398, or bporreca@backcountry.com
Totally awesome!
Familiarity:

I gave it as a gift but have feedback to share

Fit:

Runs small
Got these for my husband and I. They are soooooo fantastic. He usually wears a size 9 shoe and got the size 41. Here is what he had to say about the boot. "These boots are the be all and the end all of leather mountaineering boots!! they are super warm they fit well with thick and thin socks it the sole is ultra rigid the vibram sole is very grippy!! No complaints about this boot whatsoever!"
Hi, I'm out on the East coast and looking for a boot to handle full days in the ADK High Peaks and the White Mountains in winter. I would be moving the whole time, no camping. Based on reviews, these seem to fit the application well, but if you have a better boot in mind, please share. If these are the correct boot, I'm trying to decide on sizing. I currently wear a Garmont Momentum Snow GTX in the winter and love the fit at size 13 with thick trekking socks. Do I therefore go with a 47 or size up to a 47.5? Thanks!
I suggest a 47.5 for the thicker socks. I find that many of my customers also use wool or high-impact insoles. The 47.5 will allow a good fit with thicker socks in mind and you will not have to worry about a lack of circulation in your toes.
Great Boots
Familiarity:

I've put it through the wringer

Fit:

True to size
Love these boots. Used them on Italy's Gran Paradiso and Grivola as well as the Mont Blanc and Dent de Geant in Chamonix. Not too warm, not too cold, great for summer Alpine climbs. Easily accepts crampons, put a superfeet green insert in, and the boots performed wonderfully. An all around classic, well designed boot.
Does this boot a half size small and what size for men's US 12?
They do come in half sizes. I am a street shoe size 12 and wear a 46.5 (bordering on getting a 47). I would recommend buying both the 46.5 and 47 and returning the one you don't like. With these boots you want to leave a little extra room in the toe to account for your feet swelling and preventing your toes from slamming into the front all day when you walk downhill.
I work on the powerlines and have the La Sportiva Makalus. I am looking for a warmer boot for the winter months that resembles the Makalus. Do these Nepals have a steel shank? How warm are these boots?
They do not have a steel shank as these are made for mountaineering and that would add unwanted weight. These are the go to boot for most mountaineering and ice climbing in the lower 48 so you will be warm. I personally have them and they are a great boot.

From the product description:

"HDPE plastic midsoles provide mountaineering stiffness and stay strong in extreme cold while eliminating the weight and chill of a steel shank"
The Test Of Time
Familiarity:

I've put it through the wringer

Fit:

True to size
So, these boots have been with me a while now. A fantastic summer mountaineering boot by all accounts. Bomb proof, they made it through a year in Patagonia getting thrashed!



In the cooler months I ran two pairs of socks, but if you plan on doing that go a size up. Ive lost more than one toe nail running these tight. In winter your feet will get cold, and if you synch them down too tight you will cut off your circ, this leads to a bad time.



Once you dial in these suckers though you'll never look back.



Excellent for climbing, have had a couple different types of crampons and never had a problem with fit with these boots.



All in all a perfect boot to add to the arsenal. In fact all you'd ever need is these and a pair of the Koflach Arctis.
I have mixed opinions about these boots.



They got my ass to the top of Rainier so I have to give them credit there. One of the other guys had them and so did our main guide Brent Okita. Brent told us that if it would have been any colder he wouldn't have let us climb in our leather boots.



I had issues with blisters on my heels though I know that the heel pocket is tighter than the Scarpas I had owned. The other guy that was in our group hated his. He was pretty much ready to give his away. I asked where he bought them and he told me REI. I told him to return them once he got back home. Tell them they didn't work for you.



I have really fucked up feet so I don't know what to think about any boot. I had pre taped my heels before setting off up the mountain and I was dealing with blisters throughout our week long seminar. During our pre gear check our other guide went on a complete tirade about La Sportiva and their customer service when his Spantics fell apart. He was firm in his opinion that La Sportiva can go suck their own ass and he point blank told us he pissed in his boots when he sent them back the last time. He did concede that the Evo's were a good boot but that the customer service is the worst out there of any company and they don't deserve anyone's loyalty in buying a product from them.



So is it a good boot? It seems to be a decent boot for summer mountaineering that certainly has its limitations when the temperatures drop.



I hope to never have issues with my La Sportiva boots. Pissing in my boots would be the least of their problems with what might show up on their doorstep from me.



I can't say they are great boots.. I can't say they are horrible boots.. They are Boots.



My feet are so swollen right now that I look like I have pregnant woman feet with blisters to top off the baboon butt foot sundae I have going on.
The best boots so far
Familiarity:

I've used it several times
The best boots so far, I used in a mountain of 6385 m altitude WITHOUT ANY problem. Very comfortable, not cold feet, in mixed terrain are very good, almost like a cat feet.



Excellent for ice climbing, I used with the Black Diamond Cyborg Clip Crampons also in mixed terrain.




Really really good
Familiarity:

I've put it through the wringer
AmaZing boots for alpine climbing. Warm in the winter time even at 0 f with a thick sock. One draw back , the shoe laces seem to work them selfs loose on mine which could be very bad if you are burning trail and get snow in them. I guess that's where gators come into play though.
I wear a 43.5 in the Ganda Guide. Anybody...
I wear a 43.5 in the Ganda Guide. Anybody out there have an idea about how the sizing for these two models match up?
Best Answer
Hey!

you are going to find that these have a classic la sportiva fit similar to the Ganda Guide, narrow throughout the toebox. There will be a few big differences in sizing consideration. You will want to account for the type of socks you will wear and also how cold the temps will be. Generally I would go up a half size at least to allow for a thicker sock/sock liner and allow room for your toes in cold temps. If you are only going to be in moderate temps you could probably size the same 43.5. If you are interested in trying a few sizes out, I can help you get an order set up!
Also how do you determine if your foot is wide or narrow A simple measurement??
Can't say for the Ganda Guides but I have the karakorams, wildcat, anakonda, spantik, electrons. I wear them all in a 43.5

The mythos climbing shoe is the only la sportiva footwear that I had to size down..
They need to fit
Familiarity:

I've put it through the wringer

Fit:

True to size
If the boots fit your feet, they are hands down an amazing boot. they stick to everything, are super adjustable, fit my crampons wonderfully, and flex well when approaching and down climbing.



One issue that i have is my right foot is smaller than my right resulting in some heavy blistering on the smaller foot from heel lift. The tread wears pretty fast, so limit the time you spend walking the streets of Chamonix.



Do yourself a favor and get these the same size as your street shoes, and add a quality insole. I do no recommend "sizing up" to accommodate thicker socks for added warmth - this will lead to heel lift and reduced circulation in your feet from tying the laces super tight.



These boots have basically zero insulation and at 4800 meters, my toes were ice. if you are climbing in 0 C or above, these will be perfect.



I recommend trying these on in the store and spending no less than 15 minutes walking around in them. I wear a 43 in asolo boots and ordered a 43.5 (too large) returned for a 43 with no issues in heel lift or toe jam as long as the boot is laced properly.