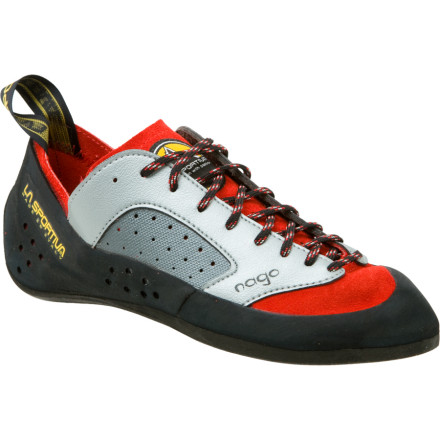 Detail Images

Videos

Community Images
Description
An incredibly comfortable lace-up shoe for all-around climbing.
Instead of bending your foot in half while you climb for a few hours, put on the vented, comfortable La Sportiva Nago Vibram XS Edge Climbing Shoe. The low-curved, comfortable Nago works well for beginner and intermediate climbers whether you're on sport routes, faces, cracks, or in the gym.
Unlined leather upper will stretch about a half size
1.1mm LaspoFlex at the midsole uses a super-lightweight, super-thin synthetic laminate for stiffness and increased edging performance
Vibram XS Edge keeps you stuck to the tinniest holds, won't creep when you're smearing, and is resistant to deformation on super-sharp edges
Perforated midfoot and Dry-Best lining in the tongue and arch wick moisture
Solid choice
Familiarity:

I've used it several times

Fit:

Runs large
Maybe not the most pro shoe around, but for mid grade sport it's a solid inexpensive shoe. I don't really ever try to boulder in them unless it's slab.
Good beginner shoe
Familiarity:

I've put it through the wringer

Fit:

Runs large
For a beginning climber, these shoes are a solid investment. I'm glad I tried them out at my gym's gear shop, because I ended up having to size down 2.5 sizes. After a while, the leather uppers got stretched out unevenly, due to the pull from the shoelaces. I met someone who owned them in red and their feet were stained bright red from the dye - it was pretty funny, to be honest. Eventually, I traded the Nagos out for more aggressive, grippier shoes. Overall, not a bad buy for the price.
Good first pair of shoes! My advice: don't be afraid of pain, they will stretch! I sized down one full size from my street shoe and wished I had got mine a 1/2 or a full size smaller! I actually accidentally put a friends pair on at our local crag the weekend that was smaller than mine and wish I could have kept them!
Awesome all-around first shoe!
Gender:

Female

Familiarity:

I've put it through the wringer
I've been climbing in my Nagos about 4x a week for almost 6 months, and I am a very satisfied customer. I do mostly indoor bouldering and top-roping, but I've taken these shoes outdoors and they are just as great on real rock.



They are definitely a beginner/intermediate shoe, but since I'm a relatively new climber, I don't feel like my climbing is limited. I know I'll be seeking a more aggressive shoe when I progress to crimpier problems and more heel hooks, but I'll hang onto my Nagos as warmup/practice shoes until they fall apart. Besides, the shoe isn't what makes the climber, right?



In the beginning, I thought the rubber was a little slippery on smaller footholds and slopey surfaces, but I'm more inclined to blame that on my own foot technique than the Nagos. As I've improved, it's become less and less of an issue.



I can't say enough about how comfortable these shoes are. It was a real struggle for me to find shoes that didn't cause me excruciating pain from the get-go. These fit like a second skin but don't hurt like hell. The laces allow me to customize the fit, which is great since I have very high arches. I'm usually at the gym for upwards of 2 hours and I can walk around and belay in these without feeling like I need to take them off. I often have issues with shoes pressing on the top of my big toe nail and causing a lot of pain, but this is not a problem in the Nagos (BIG thumbs up). If you have angular feet, leather uppers are your friend.



Size-wise, I'm a street women's 11, and I found size 41 (women's 9.5) to be perfect. There has been some minor stretching, but it hasn't compromised the overall fit. After 6 months of regular climbing, they're showing very little wear.



I've heard that the red Nagos dye your feet. I own them in green and I've had no color transfer at all.



They're sleek, nice-looking shoes too (if you care about that sort of thing). You don't look like you're wearing neon signs on your feet when you're in them.



Last but not least, these shoes have upheld La Sportiva's no-stink reputation, even after I took them off, stuffed them in my gym bag, and left them zipped up in there for 2 days (oops).



Thumbs up, LS. I'm a fan.
Is the show numbers for -- La Sportiva Nago Vibram XS Edge Climbing Shoe -- in European numbers? So a 44 would be a 10.5 in USA? please advise! thanks


Hi there,

Yes it is Euro sizing. A 44.0 in La Sportiva will be in between a mens 10.5 and 11. More or less a 10.75! A US 10.5 will be a 43.5 in this shoe
The Nago's and Tarantula's seem to be pretty similar. Is there any major advantage of one over the other? How to they compare for edging?
Best Answer
Hey Howie,



You're right, these shoes *are* very similar. The main difference between the two is the rubber that they use. The Nagos use Vibram XS Edge, while the Tarantulas use La Sportiva FriXion.



XS Edge is a harder rubber that is better for edgind, while Frixion is a stickier rubber better for smearing. If you are looking for edging performance then, between these shoes, I'd go with the Nagos.



Hit me up with any questions,

Ben



1-800-409-4502 ext. 4767
The Beginner Shoe.
Gender:

Female

Familiarity:

I've put it through the wringer

Fit:

True to size
This shoe is SUPER comfortable and will perform great for any beginner. When I was new to climbing, it was the first shoe that let me focus on the climbing, and not the pain in my feet. I have suggested these to all my beginning friends with much success. They lasted me a very long time. The grip of the rubber expired long before the stitching or anything else. I advise sizing just a half-size down from your street shoes, if you're a beginner or doing long multi -pitches.
Super comfortable.
Familiarity:

I've put it through the wringer

Fit:

True to size
This shoe may not be the highest performing shoe on the market but they might be the most comfortable. I can actually hang out in these shoes all day. Unlike other shoes that I've had that I take off any chance I get. Be prepared to have red feet after each time wearing them though cause the red die stains your feet when you start to sweat even just a little bit.
Most Comfortable Climbing Shoes
Gender:

Female

Familiarity:

I've put it through the wringer

Fit:

True to size
First, like everyone has said, not an aggressive climbing shoe. It does do well with your typical sport climbs and bouldering. Heel hooks were a little more of a challenge I found in these shoes, but they will do for a great beginner/secondary shoe.

Next, they are seriously THE most comfortable climbing shoes. I usually take my shoes off belaying between climbs, and these I just leave on. The lacing system is great and keeps them snug to your foot, I did find they stretched out, as most climbing shoes end up doing, but they are still so comfortable. I wear a size 7.5 in normal shoe sizing, and I only down'd my size to a 7 in these. Could have gone smaller though.

The best part: They are La Sportiva... so they don't stink. :)
My first climbing shoe
Familiarity:

I've used it once or twice and have initial impressions
I bought these as my first pair of climbing shoes to use at a local indoor gym. My first impression was that they were too tight, but after only a few days they fit better and imagine that they will continue this trend (I got them about a full size small).



They are not very aggressive, but being a beginner I doubt I'll be doing any heal or toe hooks anytime soon. On the wall they are comfortable and sticky. They feel well built and I imagine that I they will last long enough to be used as a 'training' shoe one day.



They will for sure turn your feet red and aren't the easiest things to get off.



All in all, these feel like a good beginner shoe that stretches about a size.
Very nice for long days
Familiarity:

I've put it through the wringer

Fit:

Runs small
They are not an aggressive shoe, and their lace up closure allows a very nice wrap for your feet. These two things combine make them an incredibly pleasant shoe to wear on long multi-pitch climbs. I originally purchased them so I could comfortably climb sport routes with a giant heel blister caused by too much time in 5.10 Anasazi VCS's (I have super bony heels) and have not given them up since. They have a sole that is the nicest in this price range (the next cheapest Vibram XS Grip shoe is $90, and most are in the $120 range), so they grip better than you'd expect $79 shoes to. They boulder fairly well for being such a non-aggressive shoe, but shine on multi-pitch climbs or mellower single pitches where an aggressive shoe is not fully necessary. They are fairly durable as well, the toes are what ended up going out first on my original pair...

I wear a size 11.5 street shoe and ended up in 10.5's for these (44's; Note that I also do not wear street shoes true to size, I like em a little loose, I'd say they run maybe a half size small from street shoes.) For sizing I'd say they run 'small', by that I mean a half size small down. For the first 10 or so days in them expect your feet to obtain the hue of Wingate sandstone...
These shoes are O.K
Familiarity:

I've put it through the wringer

Fit:

True to size
I'm currently using these shoes and I think they do the job but aren't the greatest for my foot. I'm 5'9" and I wear a 41.5 because I'm typically a 9.5 US womens shoes. I must have a small heel because even when I tried a smaller size and tied the laces, I was still able to slip my heel out of the shoe. That's why I prefer the La Sportiva Mythos. I've had them in the past and I love how the laces wrap around the heel for added tightness. I figured I would just try these out to see how they compare. What is a little embarrassing is that since my heel slips around, they make fart noises while I'm climbing! A little potty humor isn't bad at the crag but it does get annoying after a while. Plus I don't think the toe gives me as much precision as I would like. I have an arch in my foot and this shoe doesn't really help that much, they hurt when i come down from a really technical slab climb. They really aren't that good for all day use- in my opinion.
Good Starter Shoe
Familiarity:

I've put it through the wringer

Fit:

Runs large
These shoes are very comfortable, and make a great beginner shoe. Be aware that they do run a bit large, and will stretch quite a bit over time. The sole on mine is coming off a bit around the edges after about two months of use, but they are great for lower level climbs and starting off. Taking off a star because they are beginning to loosen up to the point that they don't fit well anymore, and the sole is beginning to come off in the toe area.
Good starter shoe/all day shoe
Familiarity:

I've used it several times

Fit:

Runs large
Pros:

--Reasonably priced

--Lace-up, for fine-tuning fit

--Comfy for all day/walking around wear

--Solid fit to my narrow feet (see below)



Cons

--Doesn't stick as well as the description would have you believe; I start slipping off of things in the 5.10c/d range at my gym



First, I wear a 14B (US) / 48 (Euro) in everything from hiking boots to dress shoes. Except for these; in La Sportiva's world I'm apparently a 12.5/46. In other brands of climbing shoe I'm a 13 or 14, but La Sportiva seems to have a slightly different idea of what constitutes a shoe size. They did stretch a bit; they were a little too tight at first, but after the first month of use they stretched out to just about perfect. I'm glad I didn't go a size up, because they would now almost certainly be too big.



That said, these are a great starter shoe, or a great shoe if you plan to climb all day and don't want to have to take your shoes on and off. But around the time I start needing to stick to the teeny little holds the setters in my gym like to use on 5.10c/d routes and beyond, my feet start slipping off, no matter how good my footwork technique is that day. I'm in the market for a more aggressive pair of shoes, and La Sportiva will certainly be on my radar, as these fit my feet well.



Bottom line: if you have skinny feet, and need an all-day shoe or are looking for your first pair of climbing shoes, give these a try.
not as well built as the mythos but only half the price. A good starter shoe than can used on slabs for smearing and it isn't half bad a crack climbs (believe it or not) If you looking for your first shoe but want to buy something a little nicer than evolv or mad rock - this is the way to go.
Starter shoe
Familiarity:

I gave it as a gift but have feedback to share

Fit:

Runs large
I bought these for my ex-boyfriend, he loves them. They're a great starter shoe and the first pair he's ever owned. Originally we were going to go with the mythos because those are the sort of shoe you'll use forever but we settled on these, he's got super long toes and these gave him a little more space and didn't pinch as much. He wears a 12 1/2 street shoe and went with the 44.5 (11's) for these. If you have normal feet, you could probably go down another 1/2 size, but his toes were too long.

Stoked on the shoes, they're perfect for someone who's new to climbing and wants a comfortable shoe that's the quality of la sportiva. I'd definitely recommend them to others.
I'm new to climbing and bought these as my first pair of shoes. I originally wanted the Mythos but we didn't have my size. I feel like these are a great (cheaper) alternative to the Mythos. You lose the lacing around your heel and add in a bit of synthetic material. However, the addition of synthetics on top makes the shoe a bit more abrasion resistant and will allow me to not destroy them so quickly with my poor climbing technique. All in all, I'm very happy with these shoes even with my lack of comparison. They are great for most anyone, but especially beginner to intermediates.