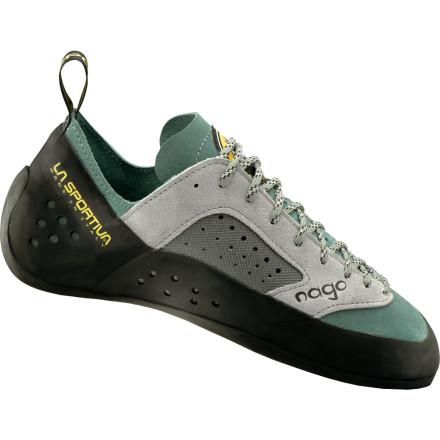 Description
An all-around mountain must-have for aspiring climbers and veterans focused on comfort.
The La Sportiva Women's Nago Climbing Shoe takes comfort into account without sacrificing performance. Beginners and advanced climbers alike can appreciate the Nago's dedication to all-day comfort, so whether you're just getting started or projecting a long sport route, your feet won't hate you at the end of the day. Some of the Nago's extreme comfort is derived from a combination leather and synthetic leather upper, which allows for natural ventilation. A Vibram XS Grip2 sole acts like glue on the rock, helping you adhere your way to vertical freedom.
A good beginner shoe...
Gender:

Female

Familiarity:

I've put it through the wringer
...but I feel like I've outgrown it fast. They seem decent outdoors, and the XS rubber feels really sticky to me on granite--I love smearing with these outdoors. However, they really have been hampering me from hitting tiny edges in the gym, and I find myself slipping off footholds far too often with these.



They've been very durable and comfortable beginner shoes, but after a few months of climbing (basically once I hit 5.10b indoors) I feel like I've outgrown them.



I wish I had gotten half a size smaller, they definitely stretched over the months I've been wearing them, which is another issue with performance.



Overall I'd definitely buy them again as a first shoe and I'll still use them outdoors, but I'm looking for something a little stickier (like Stealth C4 rubber) for the gym.
I am a new climber and have borrowed shoes before now. I feel more confident in these shoes and have increased my skill level. They are comfortable for climbing shoes with the laces going down far on the toe so you can adjust as needed (I am 52 years old and don't enjoy pain and don't want to ruin my feet). I mostly climb in the gym but occasionally outside. I probably won't ever need a very agressive shoe so these work great for me. Currently climbing 5-10a.
These seem to get generally good reviews, which I don't understand because they don't work at all for me. The main problem is that you can't really grow with this shoe. I purchased it as a beginner and outgrew it within two months. It doesn't edge very well and the rubber isn't sticky at all. I found it passable for gym climbing (where you have defined footholds) but on outdoor rock where you're smearing on tiny edges or textured rock faces it really sucks. One positive thing is that it is very comfortable though. I replaced this with the La Sportiva Mythos for multi-pitch climbing and 5.10's Anasazi LV for sport climbing and I like both of them MUCH better. If I could do it over again, I would've just bought the Mythos (also a good beginner's shoe) in the first place!
For climbing shoes, these are super comfortable!(Keep in mind, climbing shoes are supposed to feel like they can only be worn for about 10 minutes at a time, because they're supposed to fit so tight)...and having said that, these are very comfortable for climbing shoes. These ones also fit very true to size. I love the sole on these, they give fantastic grip and the perfect amount of support. I also like the heel support on these, they cup my heel great! A fantastic climbing shoe...the one down side would be lack of tackiness, the sole of the shoe isn't very sticky after a while...other than that, love the shoe!!!