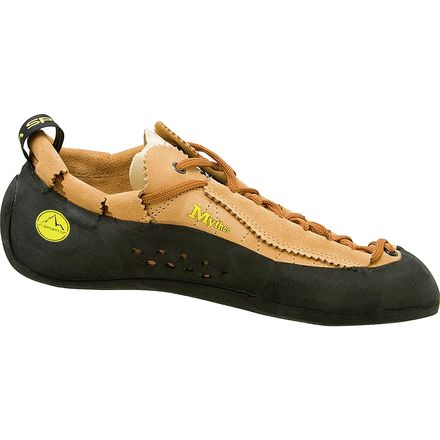 Detail Images

Videos

Community Images
Description
Because crack climbing doesn't have to hurt.
Crack climbers everywhere have come to trust the La Sportiva Mythos Vibram XS Edge Climbing Shoes to provide the performance they need for hard moves and the comfort to hang in there pitch after pitch. The unlined leather uppers form to your feet so you're still comfortable after 15 pitches of Valley classics.
Unlined leather uppers form to your feet
Laces wrap around the back to lock your heels in place
Vibram XS Edge keeps you stuck to the tinniest holds, won't creep when you're smearing, and is resistant to deformation on super-sharp edges
Low-profile toes for better performance in thin cracks
Full-length 1.1mm LaspoFlex uses a super-lightweight, super-thin synthetic laminate for torsional rigidity
Perforated Vibram rubber rand allows for a bit of stretch when your feet swell
Solid Trad Shoe
Familiarity:

I've used it several times

Fit:

Runs large
Good comfy shoe. Climbs cracks well, and excels when the cracks get thin.

Not quite as comfy as the TC Pros, and not great for edging.

I usually wear 42 in La Sportiva shoes, and the 41's are a "comfort fit" for me post-stretching in these. LS shoes are hand made though, so keep in mind that there will be some variation even between shoes of the same type and size.
Good shoes!
Gender:

Male

Familiarity:

I've put it through the wringer
I personally have worn these shoes a ton, they are decent shoes! My only complaint is that they don't grip the best. When you really need the grip i almost feel like it is a hit or a miss. Sometimes they grip other times I feel like they are a little slippery. Overall I like them! They are comfortable and fit very well! I have climbed 4 hours straight on them without taking them off. Very comfortable and the best shoes in the fit category.
Best shoe for it's role
Familiarity:

I've put it through the wringer

Fit:

True to size
I scored my mythos used, and they streached just shy of two sizes. I love these shoes and use them for more applications than I should. After nearly a year of climbing 3-4 times a week (outdoor on basalt/granite) and indors it's time for a resole.
Great allround shoe
Familiarity:

I've used it several times

Fit:

True to size
The shoe runs true to it's size. I have very long and narrow feet so that it is very difficult for me to buy climbing shoes (I have 48 in street shoes). I have tried a lot different brants and types of shoes and this pair fits perfect, even for me. The leather is very smooth and adapts well after several times of use. The Xedge vibram rubber gives you a great hold on the rock. However it will take 3 to 4 sessions to really brake in the sole and have shoes stick to the wall nicely. It is overall a great climbing shoe, but especially for people with very long feet, who will have issues finding a right size shoe of any other brant.
Great Shoe
Familiarity:

I've put it through the wringer

Fit:

True to size
This shoe is so comfortable, yes i said it, comfortable!It is a wonderful shoe, and does great face and crack climbing! This definitely is a do it all shoe! and all around i absolutely love it! If you're climbing really hard difficult routes however, i would go with a more aggressive shoe than this. But for long, relatively easy multi pitch climbs, cracks or slabs, this shoe can't be beat!
CRACK Shoes (Great for low volume feet)
Familiarity:

I've put it through the wringer

Fit:

True to size
The title says it all. These perform in cracks. If you use them for anything else (besides maybe slab or if you are a beginner on low grades) you will probably be disappointed. I have Scarpa Vapors as my all-arounders/steep shoes and these are my crack killers. Great shoe if you are a beginner because you barely notice them and aren't having to trust dime edges, but otherwise these are a specific hand to fingers size crack shoe. They run "true to size" BUT buy them on the small side (full grain leather!). I wear a size 10 street shoe and stick with the 39.5's. Great shoe for a low-volume/saber foot that swims in Moccasyms or Anasazis.
Good Shoes bad rubber 2
Familiarity:

I've put it through the wringer

Fit:

True to size
Completely agree with the review before. These shoes are amazing in terms of fit, comfort, shape, and lace up system, but fall way short in terms of grip (or lack thereof) provided. They are just not confidence inspiring. I find myself constantly slipping unless I have the most bomber of foot placement. Going to get these resoled with better rubber. Unless you are ok with getting these resoled with better rubber I would not recommend these.
Good for crack, sort of
Familiarity:

I've put it through the wringer

Fit:

Runs large
I got these especially for jamming, and as far as fit and performance they do great. The lacing system works really well at securing the shoe to your foot, but with the downside that the laces constantly break if you are sending a lot of cracks, just get worn and torn and break, and it is a royal pain in the butt to change the laces out. I started replacing the laces with really small accessory cord and get about 3x the life out them.



I use them a lot on really slabby stuff as well, where there is a bunch of smearing involved. They do pretty good at it, but I having trying a pair of Five Tens out and honestly feel that I get better smearing out them than I do with my Mythos.



I have not been very happy with how they handle with edges or cobble or really anything besides cracks or smears, they constantly slip. Very disappointing since they were recommended as a great multi pitch shoe. Which they are comfortable, and you can easily wear them all day, but not fun when you constantly feel like you will lose a foot at a critical spot.



My wife has a pair of the women's, and feels pretty much the same, and has the same complaints, would not recommend them simply because I think there are much better shoes out there.
Love them
Familiarity:

I've put it through the wringer

Fit:

True to size
Slightly large heel box. Meh for edging. But I love them
very comfy for a climbing shoe
Familiarity:

I've put it through the wringer

Fit:

True to size
this shoe is super comfy for a climbing shoe, I can climb for the whole day with minimal discomfort, although they are not the greatest performance shoe out there, they get the job done.
Good shoe, bad rubber
Familiarity:

I've put it through the wringer

Fit:

True to size
What can I say? I am Bias as hell when it comes to climbing shoes. fiveten makes the best rubber hands down. I got a pair of these for longer climbs to try something new, I had been using a larger pair of Moccasyms for my mulit-pitch/alpine shoe. I had a lot of friends that swore by these, so I thought they must be good. I took them out to the desert to break them in on some slab, and then Castleton tower. I slipped a few times on easy slab, and wrote it off to the rubber being so new, or me being sloppy. then even on the non-calcite covered pitches of castleton I was slipping all over the place. I chalked it up to new shoes and tried to wear them more to get used to them. they broke in and felt ok, they edged well, but any time I needed to smear or had a tiny tiny edge they slipped. I never felt confident in them. I even took them out to the San Rafael Swell to try them on some courser sand stone and see if they would redeem them selves.... they did not. I was so scared of falling on one tower because my feet did not feel solid at all.



I bought the Anasazi guides, and these shoes will either get sold, or gather dust.
Comfortable All Around Use
Familiarity:

I've put it through the wringer
This was my first shoe so I am not taking things too aggressive with them by any means. They definitely are comfortable all day and you can wear them while belaying. I do feel some extra space in the toe every now and again, probably by a second pair a bit more aggressive and smaller for some more technical climbs. I am size 9.5-10 and a 41.5 was the size for me. Stretched a bunch toe still touches the end of the shoe but, sometimes when my heel goes all the way back I can feel that extra space.
Great for specific styles.
Familiarity:

I've put it through the wringer

Fit:

True to size
I take the Mythos out on super long multipitches as well as easy cracks and some slabs. I think they're super comfortable mostly, both in the crack and out. As far as edging or face climbing is concerned, these would be my last choice. The rubber is too soft.
Are these as good for indoor climbing as...
Are these as good for indoor climbing as a more aggressive/pointed shoe would be?
Best Answer
No, apart from being supremely comfortable, these shoes don't have any reason for being in a climbing gym. They do well on slab and crack primarily.
Superior to the Nagos
Familiarity:

I've used it once or twice and have initial impressions
These are very similar to the Sportiva Nagos, and the fit is almost identical. For reference, I wear a 14B in street shoes and wear a 45 in these, and in most other Sportiva shoes.



The Good:

--Very comfy fit, great for all-day wear

--Despite being comfy, they still edge very nicely.

--The lacing comes around the back, so it snugs the shoe around your heel; VERY helpful for people like me with long, skinny feet. These are the only shoes I've seen like this so far.



The Bad:

--Nothing that I can think of so far



So far I'm a fan of these. They are a bit more expensive, but I think they're worth it. As they are all leather, they will stretch at least a full size. Get 'em and be happy!
Great for the ladies as well!
Familiarity:

I've put it through the wringer

Fit:

Runs large
I'm a 5'9" lady and these are my favorite climbing shoe. The only difference that I've noticed between these and the womens mythos version is that the mens mythos have a wider toe area. Since that is the only difference I like the mens better since I wear a 9.5 US womens shoe which is a 41.5. Plus I really like the terra color. Oh! And for me- these shoes NEVER STINK. I think it's the great quality of the leather but even after years of use, they still smell like genuine leather, it's unbelievable and I'm not even kidding. The only reason I say it runs large, is because I'm a lady and women typically have a more narrow foot. So if you're a woman with a wide foot I would really suggest trying these!
Great shoes
Familiarity:

I've put it through the wringer

Fit:

True to size
I've been using the Mythos since last spring and I love them. I was coming off the 5.10 Coyotes, for reference, which I found ran small in comparison to the Mythos. When I bought the Mythos, I was looking for a pair of shoes which I could keep on my feet for more than just one pitch up and down, as that was how these shoes were advertised to me. I first tried on the 41.0, as I was told these shoes stretch considerably, and given I wear an 8.5 equivalent in ski boots. I found I could barely get the 41.0 on my feet, which are a little wider than average and have a number of bone spurs from skiing. I decided to jump to the 42.5, which equates to a 9.5, and which is my exact shoe size. They fit great from the start. I was able to keep them for a few hours in the gym and for multi-pitch routes outside. I've found they have stretched some since last spring, although not to the point where I would necessarily reconsider my initial sizing.



I've mostly climbed trad routes with these shoes, and then in the gym. I really like how they smear. The rubber is great for slab, for jamming into cracks, etc. They're not really touted as a great edging shoe. For precise moves like that, you might want to consider something different. For what I'm climbing, though, which is generally 5.9-5.10 on top rope on trad routes, they have been working great for me.
Very Comfortable, Rubber is so-so
This shoes is super comfortable and will stretch A LOT. The lacing allows the shoe to hug your foot really well. I'm not thrilled with the XS edge rubber, it was a bit slippery to start, although it did improve somewhat after the shoes were broken in and the rubber was roughened a bit. Also keep in mind that these are not aggressive at all, no downturned toe. I personally like the fact that I can keep these on during the whole climbing day at the expense of having slightly less stable footholds on the harder routes.