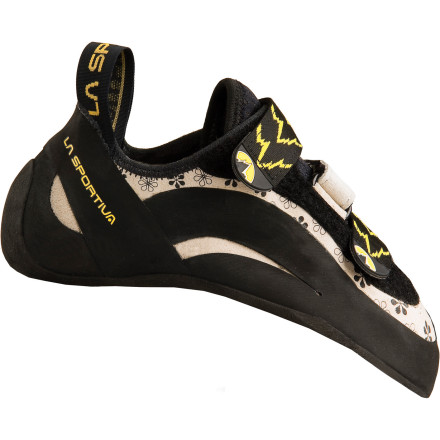 Detail Images

Videos

Community Images
Description
Miura is synonymous with hard climbing.
From freeing hard aid lines to sending cutting-edge boulder problems, the La Sportiva Women's Miura VS Vibram XS Grip2 Climbing Shoe has been there, done that, and will gladly do it all over again. The aggressive shape and sticky Vibram rubber combine with the Slingshot rand and Powerhinge system to produce a shoe that crushes super steep routes and technical face climbs with equal aplomb. Even better, you can crank down the triple hook-and-loop straps when it's time to get serious and quickly pop the shoes off after your burn.

Durable leather uppers with a Dentex lining provide comfort and a snug fit (lined leather shoes can stretch up to a half size depending on how tight you fit them)
Women-specific last shape is deigned to better fit narrow foot profiles
Triple hook-and-loop straps lock your foot into the shoe and provide easy on and off between burns
Vibram XS Grip2 sticky rubber provides secure traction on a wide range of rock types, angles, and plastic
High asymmetrical curvature and an aggressive downturned profile allow the Miura VS to excel on steep terrain and toe into precision pockets
Slingshot rand and Powerhinge system provide the edging power required for dime edges and technical face climbs
LaspoFlex midsole with P3 Power Platform Technology helps the shoe retain its aggressive shape even after a long winter in the bouldering gym
Love at first climb.
Familiarity:

I've put it through the wringer

Fit:

True to size
My Miuras are my first aggressive shoes, and I'm in love.

I'm not gonna lie - straight out of the box, they hurt. But, after a handful of climbs, I could feel them stretching slightly to accommodate my feet. I can't stand around and belay comfortably in them, but I can do a few boulder problems before feeling like I need to take them off. The 3 velcro tabs make that super easy, thankfully, and they also do a great job of allowing me to customize the fit. I have extremely high arches and angular feet, and I feel like these shoes hug my feet perfectly.

These shoes are so sticky, it almost feels like cheating. The shoe doesn't make the climber, but these have definitely helped me hone in on my footwork and toe placements - arguably my biggest weakness. The asymmetrical toe is almost magic on teeny footholds. The real test was Little Cottonwood Canyon in Utah, known for crappy, virtually nonexistent footholds. These shoes were perfect for that outing, great for smearing on slab, and grabbing onto footholds that were so tiny I could barely see them.

The Miuras are fantastic in the gym and on real rock alike. Because I'm more confident about my foot placements, I feel like my climbing has been kicked up a notch since I've owned these. No question, they earn their "all-round" reputation.

If I could make one suggestion to LS, it would be to make all 3 tabs out of leather. The top and bottom are made of some synthetic material, and it begins to fray with use much quicker than the leather tab in the middle. The problem seems to be more aesthetic than structural, but it's still a bummer when your relatively new shoes start to look busted up.

I'm confident that I've found my "forever" shoes. I'll definitely get mine re-soled when the time comes so I can use them for years.
bought these for a friend here is what she had to say: These are really great for technical footing, the structured arch and toe with aggressive extended point on the front end allows for extremely confident footing on the most subtle of footholds. Great for bouldering in particular. Do note, buy at least a size smaller than your normal shoe size but do not go too small - mine fit like a glove seamless to my feet when first purchased but after a hot summer the rubber has shrunk a bit and they are now too small, bearable but painful over an hour.
Awesome shoes for low-volume feet
Gender:

Male

Familiarity:

I've put it through the wringer

Fit:

True to size
I decided to upgrade to a more aggressive climbing shoe from my Five Ten Anasazi Verde shoes and initially thought I would get the Five Ten Blackwings. Well the Blackwings were extremely uncomfortable for me, actually painful to climb in, and the sales guy insisted I still needed a size smaller, so I ditched that idea. Tried on the Men's Miura VS and they were great, but there was a little extra space under my arch and near my heel. The store did not have the women's shoes in a size that would fit me in stock though. The shape of the toe box really just fits my foot great, and so I took a chance and ordered the women's Miura VS in a size 42 (I wear Men's US 11 in Five Ten) to see if they would fit my skinny feet better. When they arrived they fit like a really tight glove! I've been using them for about 9 months now climbing 3 times a week and I absolutely love them. Edging is great, heel-hooking is great, and the precision is just really great! I'm sold on these.
Extraordinary performance & construction
Gender:

Female

Familiarity:

I've put it through the wringer

Fit:

True to size
Sizing reference: (Female) Street shoe size = 7-7.5. My first pair of Miura VSs were a 38; I now wear a 37.5.



Use: The Miura VS will tackle easy grades, but I would especially recommend this shoe for technical routes and overhangs (both sport climbing & bouldering). If you're a beginner and/or generally climb the lower grades, it is best to go with a less aggressive shoe; generally, one that has a more symmetrical toe box and a flatter profile. With that said, if you're looking to tackle very small edges and wild overhangs that involve precision, bicycling, toe hooks, heel hooks, etc., this shoe may just be your proverbial "glass slipper" for climbing, indoors & out.



PROS: The velcro closure & heel loops make this shoe very easy to slip on & take off between attempts. In order to keep the integrity of the downturn and thus preserve the overall longevity of the shoe, it is best to take them off instead of walking around in them, & to avoid belaying & walking around the crag in them. Though these shoes can be slightly painful at first , taking between a few days and about a month to break in, my feet have come to love them. Because I've been climbing for almost 5 years now, I decided to go a half-size smaller on my second pair. I keep them off my feet for long periods, but they've tremendously helped me break into the 5.12/V7 range. They are also less intrusive on my achilles tendon than their "Katana" model, & are a DREAM for smearing.



CONS (ish): Personally, the flowers don't cut it, but that shouldn't keep you from investing in a killer shoe (and it's the last thing on your mind when climbing). GUYS, if you have a narrow foot, give them a try, and draw some goats or skull & cross bones over the flowers. Finally, consider the re-sole process if you're hesitant about the $$$.



Lastly, the asymmetrical toe box does crunch my "Morton's" toe on each foot, but my alien-like toes aren't La Sportiva's fault. Talk to a medical pro if you're worried about foot issues.
kick up your footwork
Familiarity:

I've put it through the wringer

Fit:

True to size
if you're looking to upgrade, these shoes are worth a try (I wouldn't recommend them for a beginner). When I switched, I was instantly more confident on harder grades and noticed a significant change in my climbing. This toe will stick to just about anything. These are ideal for bouldering and single pitch.



Sizing is tricky and such an individual thing that its impossible to give advice on what to choose-- I can comment on how they fit over time. I talked to a lot of other climbers about the stretch of their miuras because I've had La Sportiva's stretch on me before. Some guys told me theirs had stretched, but I haven't experienced much stretch with mine. There was a break in period (painful, but worth it!), but no stretching, they have remained snug!



One and only complaint: the flower design, my pet peeve is when companies make women's outdoor gear girly. Luckily, its not as noticeable once they get a little dirty!!
aggressively wonderful
Gender:

Female

Familiarity:

I've put it through the wringer

Fit:

True to size
I purchased these the fall of 2013 and talk about a noticeable upgrade from my Evolv Elektras. After 2 1/2 years,I was ready to change up shoes since my climbing level was increasing and these are now my favorite pair of climbing shoes. I had tried some other aggressive Evolvss but they did not fit my feet right. I just ordered my 2nd pair of Muiras for the outdoor season :) And I love the velcro! These are great shoes for bouldering & sport climbs (including overhangs)
Aggressive, stiff and precise
Familiarity:

I've put it through the wringer

Fit:

True to size
The Straps:

- I am a HUGE fan of velcro. I like the easy on and off ability.

- The velcro of the ladies Muira feel extra strong and supportive on my foot.



The Rubber:

- Sticky rubber you can trust. Say, you're climbing in Leavenworth and all you've got to work with is a tiny crystal of a foothold - no big deal. All you gotta do is take that fantastic Muira edge, stick it on that crystal and push down real hard. That toe isn't going anywhere ;)



The Edge:

- My little scenario above pretty much says it all. GREAT edges.



The Heel:

- The heel cup is too big for my heel so I deal with a "squishy heel"

- Note, this has NOT hindered my ability to throw in a good heel hook (I really like heel hooks).



Extras:

- I personally found that my Muira's did not stretch. They pretty much stay true to size, though they did mold to my foot upon break them in

- Yes, breaking them in hurt. On that note, they are a stiff shoe, they are neither "bendy" nor soft

- I experienced a bit of discomfort in my achilles while breaking them in.



Overall, a great shoe for bouldering especially when you need precision.


i like them too!
Familiarity:

I gave it as a gift but have feedback to share
My girlfriend has these and loves the strap system and the partial inner sock, combined, it makes you one with your shoe. i got to climb some routes in them too and personally loved the feel you have in them. solid shoe with great shape, grip, fit, and feel.
Thank you La Sportiva!
Familiarity:

I've put it through the wringer

Fit:

Runs small
These shoes are awesome! They're fairly stiff to begin with, but they mold to your feet once they're broken in so they fit like a glove. Awesome for minuscule toes and will smear anything!



I've found La Sportiva's sizing to be a little strange, though once you find your size you won't be disappointed! I wear a 34.5 in these, a 36 in my aggressive Scarpas, and a 5-6 street shoe. Get them tight, they'll stretch out at least a half size.
Confidence Booster!
Familiarity:

I've put it through the wringer

Fit:

True to size
This shoe not only edges well and toes anything, it fits perfectly and gives shape to my foot for optimum control. The Vibram rubber is super grippy-sticky so I don't have to second guess on schmeering and tough slab problems. I'm hooked for life!!!
Onto my second pair...
Familiarity:

I've put it through the wringer

Fit:

True to size
Love these shoes - they edge the crap out of anything I want and really shine on vertical-to-overhanging routes. The three straps really help to get the fit really dialed in - although after a good deal of thrashing (6mo-1yr depending on frequency of use), the toe box can get a little bit squidgy.



Forefoot is fairly generous - I have small, high volume, high-arched feet and La Sportiva seems to be the only thing that actually fits (which is funny, because every other bit of technical footwear that I own is Scarpa). The heel can rub a little bit, but hell, I yank them off between climbs and can tune out the sensation while sending. Heel fit is snug, which is what you want when heel-hooking (I actually slipped out of my first pair once, which sucked).



I have a size 5 foot, wear sz 21.5 ski boots and the 35's fit like a dream. My first pair of 35.5s broke in to the degree of sloppy, so I downsized. The few week break in period was totally worth it. I will definitely be getting this pair resoled instead of outright replacing them when the time comes!
Worth the Wait
Familiarity:

I've used it several times

Fit:

True to size
I climbed out my "beginner's shoes" until they were slippery and stepped up into the Miura's. I wanted to replace my zero performance shoes with an all around great climbing shoe and the Miura's are definitely it. The down turned toe feels a little awkward at first, but after you get a few climbs in they feel amazing. These truly are awesome shoes, super comfortable, extremely snug, and awesome performance ( straight out the box they will literally stick to anything). Im really excited to break into some new territory in these shoes.


Great Shoes. Love em.
Familiarity:

I've put it through the wringer

Fit:

True to size
This was my first pair of aggressive climbing shoes, and I'll totally get another pair once these ones wear out. The rubber stays stucky for a long time, but I've noticed the toe start to peel a little bit (though it hasn't affected my climbing, so it doesn't bother me too much). I usually wear a size 10 street shoe, but my Miurias are a size 9. I like my shoes tight, and I have narrow feet-- and these shoes are perfect for that! The velcro is just as tough as the rubber on the sole, and allows me to keep them nice and snug on my feet. 3 straps might seem like a bit of overkill, but it's truly perfect. It is pretty hard to walk around in these shoes after I get off the wall, so I just take them of, and they're so easy to put back on! But seriously, they feel great on the wall, and I can honestly say that they help my climbing immensely.
, ☃bcs_badge_alumni_label☃
Goldie Locks would be proud
Familiarity:

I've put it through the wringer

Fit:

True to size
Sometime you just don't need a Solution-like downturn. Sometimes you need something more sensitive and aggressive than a lace up. The Miura VS is what Goldie Locks meant by: this is just right! The Miura VS is an ideal amalgamation of what La Sportiva is great at: narrow and secure heel cup, custom Velcro cinching, quick and fairly pain-free break-in period, and just enough toe edge to be powerful on any route. I am a rock solid 37 in La Sportiva climbing shoes. My street shoes run a standard 7 and I feel that a 37 is tight enough to be effective but not too tight that I am not cursing out loud when I put the shoes on. Rock on and climb hard!
La Sportiva Miura VS Vibram XS Grip2