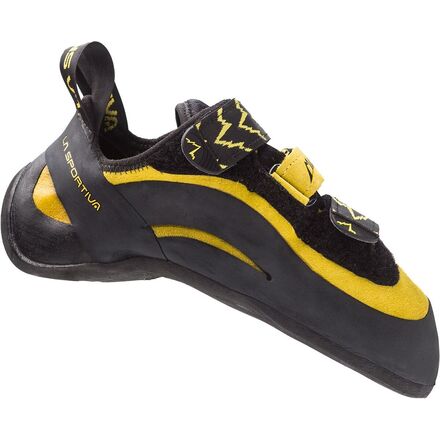 Detail Images

Videos

Community Images
Description
You won't be the first or last climber to swear by the Miura VS.
The La Sportiva Miura VS Vibram XS Edge Climbing Shoe has been helping climbers send and winning awards left and right since its creation. A combination of a Slingshot rand and Powerhinge System allows plenty of flex for smearing while maintaining lateral support for better edging performance.
High asymmetrical curvature for precision footwork
Slingshot rand maintains lateral support without making this shoe too stiff
Powerhinge technology combines with the slingshot rand to make sure that, when you're weighted on an edge, the back half of the shoe stretches while the toes stay in place for grip
Vibram XS Edge is resistant to deformation on super-sharp edges and won't creep when you're smearing
Muira VS is a great climbing shoe
Familiarity:

I've used it several times
It took a little while to break in the Muira VS for me, but now that they are broken in, they are sweet. I'm coming from years of climbing in the Sportiva Mythos, and the transition took a little getting used to. But now that I've figured out how to place my foot on holds differently than how I used to with the Mythos, I feel way more connected to the rock with my feet than ever before. The arch of the sole gives the shoes a lot of power on overhung routes. The rubber is very sticky too. I'm very pleased with the shoes thus far.
Incredible shoes.
Familiarity:

I've put it through the wringer

Fit:

Runs large
There is no better climbing shoe I suppose. Miura VS does all, and does is great. Moreover it's very durable and can be resoled many times, and resoled is even better than the new one.

Street shoes 41, Miura VS 37,5.


I've never worn a La Sportiva climbing shoe. I'd like to buy the Miura VS. Normally wear an 8 1/2 to 9 D. recommendation?
Hi Don,

My foot is a size 12 (45.5) and I wear a 42.5 in these shoes. Yes my foot is curled, but the shoe isn't extremely painful either. I've found that these, and other LS shoes, run large as opposed to true to size.

I'd start with a 38.5 (+/- a half size depending on how tight you want the shoes) and see how that works for ya.

Ben
brabinowitz@backcountry.com
801-746-7564
Edging Machines
Familiarity:

I've put it through the wringer

Fit:

True to size
I bought these only because I had forgotten my climbing shoes on a trip in Colorado. I had never climbed in such a stiff and asymmetrical climbing shoe. I really didn't like them at first because they lacked the sensitivity that I was accustomed to in shoes with softer rubber, and they were pretty uncomfortable compared to my other shoes. Fast-forward 6 months and these are now my go-to shoes for technical face climbing. The XS Edge rubber holds firm on the tiniest edges where the softer rubber of my other shoes rolls off. They didn't stretch much but conformed to the shape of my foot after a month or two of heavy climbing and now are actually pretty comfortable for such a downturned and asymmetrical shoe. And the heel cup fits my foot better than any shoe I've tried. They're due for a resole and I love them so much I'm considering buying a 2nd pair while they're getting new rubber. I wear a 9.5-10.0 US street shoe and bought these in a 41.5.
Great Aggressive Shoes
Familiarity:

I've put it through the wringer

Fit:

Runs small
Love these shoes! Picked these up and haven't put them down! These are great for the gym or some sport climbing. Not recommended for long multi-pitch climbs though. They aren't the best for crack either due to the larger front end. But I do have a buddy who got a pair over sized and and he has brought them up a couple longer multi-pitch crack routes and loves them. I did also develop a good sized callous on my big toe which I affectionately call the "Miura Bump." But who gets into climbing because they like nice feet? Anyways, these things grip and edge very well and are the standard for good aggressive shoes. I will go back to these for years to come!
Coming back for more.
Familiarity:

I've used it once or twice and have initial impressions

Fit:

True to size
I initially bough these shoes as a gift, but I ended up buying another pair for myself. These shoes are a great transition shoe and really pushes you during your climbs. I love the fit, but of course, I'm still getting used to the aggressiveness of the shoe. it's been an awesome experience so far!
I bought 2 pairs there so great
Familiarity:

I've put it through the wringer

Fit:

Runs small
Excellent shoe. The edging is amazing with these. They take some time to break in but once you do they really aren't bad. I love the VS, so convient. I haven't had any real issues... they may wear down kind of quick... About to get a resole on first pair after a few months (I climb 3-4x a week)
Awesome shoe
Familiarity:

I've put it through the wringer

Fit:

Runs small
I love them. About to buy a second pair.
I wear size 10.5 street shoes. Tried a 45, but returned them and Got these in 46. They fit great and are not too uncomfortable (I'm willing to sacrifice some performance with a bigger size, though they still fit snug).
Workhorse
Familiarity:

I've put it through the wringer

Fit:

True to size
These shoes are amazing. After two years of constant use in the gym and on real rock, they're still going strong with only minimal signs of wear.

The aggressive toe, the easy on-off, and the great fit all make this a shoe I'll continue to come back to.
The Best
Familiarity:

I've put it through the wringer

Fit:

True to size
The best climbing shoe I've ever worn. Perfect edging and perfect amount of down turn. Also super comfy for an aggressive shoe. Buy them and enjoy!
La Sportiva Miura VS + awesome service
Gender:

Male

Familiarity:

I've put it through the wringer

Fit:

Runs small

Size Purchased:

39 (Miura Men's; street size 8]
Relatively new at rock climbing (since Jan'13) & just started scratching the 5.12s outdoors, I'd buy my outdoor stuff at reputable retailers (e.g. REI)! Of the last 5 pairs, 4 are from Backcountry!

Hands down, the La Sportiva Miura VS beats the crap out of the Evolv VTR or the 5.10 Moccasym for crimpy stuff over 5.11a! I wear a Men's street 8 (41.5 Euro) but got a 39 Miura. After 2-3 weeks of 'real' pain & serious wringers at Red Wing's Barn Bluff, it's so comfy; I'm confident that the Miura will take me well into the 5.13/14s (hopefully, sometime in 2016)!

With Backcountry's price matching, Google's purchase insurance, and awesome return policies, who could beat that?

P.S. One caveat, had Backcountry confirmed that they'd price match multiple (I.e. 2+) pairs of the Miura; I'd have bought more than one! :)
Awesome super solid shoe!
Familiarity:

I've put it through the wringer

Fit:

True to size
Bought this shoe as an all around shoe(except crack) and it has served the purpose. I have flat feet and the heel of the miura was a great fit. Anywhere from overhanging boulder problems to technical face problems these shoes excelled.
Love it!
Familiarity:

I've put it through the wringer

Fit:

True to size
I have used them intensively in gym and outside. I got them 1.5 size down from my street shoes. Need like a month to break in, but after that... it's awesome! They are a bit more aggressive, not like all-day feel good shoes. I always take them of when I belay.
Awesome
Familiarity:

I've put it through the wringer

Fit:

True to size
These are my favorite shoe. They fit perfectly for a nice stiff sole. They come off and on quickly for all that gym gyming and has good friction for grip.
Let's call it 4.8 Stars
Familiarity:

I've put it through the wringer

Fit:

True to size
I love these shoes. Right out of the box these things edge like a dream and they break in to have amazing feel. They fit well, but this is perhaps where I deduct .2 stars. I have incredibly flat feet and its tough for me to find high-end climbing shoes that fit my heel as a result. Though the miuras do well, heel hooks tend to pull the shoes off my feet (which is surprising because they are very tight).

After 6 months of heavy use on tiny foot jibs, I'm starting to see some wear . Still as useful as day 1 though.
Great pair of shoes for people who have been climbing for a bit and are looking for something more aggressive. Good control, great for heel hooks!
Liked them a lot... until
Familiarity:

I've put it through the wringer
I have somewhat narrow feet, and tend to tighten the straps quite a lot. These shoes were great until the top strap broke (while on the rock!). I climb a few times a week, and they lasted 1.5 years... all in all... they're OK.
favorite
Familiarity:

I've put it through the wringer

Fit:

True to size
41 for my everything shoe, 40.5 for an aggressive bouldering fit. they are fantastic and your heel will stick to anything you can throw it at. i have wide forefoot and it fits like a glove. understand it's an aggressive climbing shoe and will be tight. it goes to 11
Hi, I tried these on in store and the fit was godly, but I'm partial to laces, so I am tempted to go with the Miura XS lace-ups instead. However I've read that the VS are more downturned. Is this a big difference? I currently do mostly bouldering and slab with a pair of pretty flat 5.10s that I like (and need resoling, hence the new pair). Looking for something more downturned this time around, but not as downturned as solutions. Thanks!
Best Answer
My personal opinion is that the Miuras are the perfect intermediate between a flat pair of shoes (I had some 5.10 Anasazi's) and Solutions. The downturn is good, but manageable - making a noticeable difference on overhung boulder problems, but also ensuring you can still crush it on slab. Personally, I prefer my flatter shoes when I'm getting on slab, but mine (like yours) have holes, so it's not an option anymore :'(

I would definitely recommend the Miuras if you're looking for something with a little more downturn.
The Miura VS are definitely more downturned! Totally different shoe, for totally different sends!