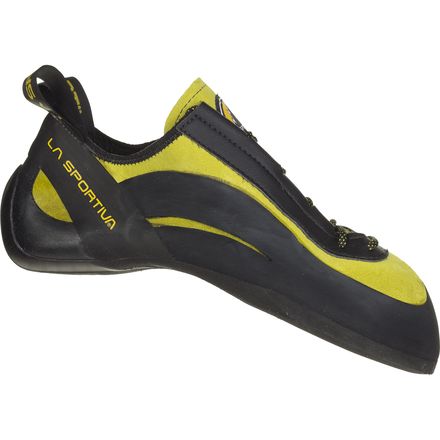 Detail Images

Community Images
Description
Get a climbing shoe that's as aggressive as you are.
Climbers everywhere have come to trust the La Sportiva Miura Vibram XS Edge Climbing Shoe for the hardest, most technical pitches out there. The super-aggressive shape ensures precision footwork when the beta demands it, and a synthetic lining keeps this shoe from stretching and outgrowing your feet.
Vibram XS Edge rubber provides crazy grip for technical edging, is resistant to deformation on razor-sharp edges, and won't creep when you're smearing
Full-length lances for a precision fit
Synthetic lining eliminates stretch
Aggressive shape for hard sport pitches or slotting stoppers
1.1mm LaspoFlex at the forefoot uses a super-lightweight, super-thin synthetic laminate for torsional rigidity
I don't boulder, however I got talked into it one day and spent the afternoon hanging out on some Wasatch classics. Stoked to have the Miura with me that day.
Perfect all around climbing shoe
Familiarity:

I've put it through the wringer

Fit:

True to size

Size Purchased:

6.5 (U.S.)
Having trouble finding a shoe that you can where all day yet still retain the aggressiveness of a highly technical rock boot? Look no further. These things are comfortable (even with my toes squished up against the front of the shoe), and they edge like a dream. However, I give them 4 stars for 1 reason. While this shoe is advertised as being perfect for the most aggressive pitches out there, when it comes to toe hooks or anything overhung, this shoe is beat out by its velcro counterpart (VCS) by a long shot. Now, is this shoe much more comfortable? Yes. Will it fulfill the role that 90% of us need it to? Absolutely. But, for those in that last 10%, you might want to look elsewhere for those specialty applications.
Is the sizing the same between the La Sportiva Miura and the Miura VS?
Best Answer
Hey pal, both are great shoes, but the sizing/fit between Miura - Miura VS are VERY individual.

La Sportive created a whole new shoe when making the VS, they write "We pulled key design elements from the Miura and incorporated them into this three strap hook and loop closure system.. A P3 plateform.. The one-piece leather upper has a synthetic lining.. And is unlined under the foot.."

I would recommend trying out multiple sizes, one friend bought his at a gear shop, sized too small, and really paid for it later.



The majorty of my friends wearing Miuras own the Lace-Ups. From what I'm and told and read, the VS countine to stay downturned (P3 plateform), keeping the initial aggro feel they both have.

Hard bouldering and overhanging maddness seem to be the VS speciallity, while the Lace-Ups Slingshot Rand and Powerhinge technology combined with a more broken in and sensitive feel allow for supreme micro edging and crack climbing.
bomb.com
Familiarity:

I've put it through the wringer

Fit:

True to size
I usually order Katana's but wanted something slightly more agressive and a lace up for crack climbing.
These fit like a glove! I got the same size as I do in Katana's. When i tried these on when I first started climbing I thought they were awful but after a few years my foot is ready for these so I placed the order.
Have used for trad crack climbing, foot jam like a pro in these.
I put fit as "true to size" as they are true to La Sportiva sizing for rock shoes.
My go-to shoe for bouldering & sporting
Familiarity:

I've put it through the wringer

Fit:

True to size
I've had about 6 pairs of Miuras and I keep coming back to them for everything except really steep climbing. This is the kind of shoe that I'd buy a ton of if they stopped making them.
Forever attached to this shoe.
Familiarity:

I've put it through the wringer
These shoes are single-handedly the greatest pair of rock shoes for technical climbing I've ever put my foot in. Man, I just can't say enough about them. I have a major issue with most non-lined shoes stretching and losing all edging power once your feet sweat as the shoe shoe starts to roll around on your foot. With the Muira's that never happens. They are so precise and never lose shape. I use these shoes on the plethora of technical face and slab climbs in the Adirondacks, they stem corners well, rock finger cracks and hold well on gently overhanging rock. Great shoe for the technical climbs at the gunks as you can edge the faces and then have the power to pull roofs at the top. I've bouldered a lot with them in the daks and a bit in Colorado and have no complaints, at a certain angle it's best to just pull out the steep shoes though. Not super comfy on long slabs or handcracks though, think lumpy ridge. Other than that they rock a large spectrum of climbing styles



I just got my current pair resoled in the fall and the three weeks I didn't have them was pretty brutal. After so many hot September days trying to edge in your beater Moccasyms you really start to miss the muiras. After getting them back from the resole they climbed just like new again, (thanks to plattsburgh shoe hospital) The shoe is really just a must for those who love technical climbing (gunks, daks, eldo, etc.) Don't pass them by, it's worth every penny.
A great pair of next level shoes
Familiarity:

I've used it several times

Fit:

True to size
I have been climbing for about 2 years and have gotten by with cheaper shoes because getting really aggressive shoes wouldn't have helped but I thought it was time to upgrade.



The Miura has been great! I wanted a somewhat aggressive shoes because I really like to climb crimpy and slabby stuff and I needed something that could edge well and this shoes lives up to it! The toe box is nice and snug around my toes and theres no movement of my foot in the shoe at all. The heel fits fine too, I don't use my heel too much but it think it would be up for the challenge if I needed too. I really like lace up climbing shoes because I can tighten them down nice and snug. The laces worry me a little because they seem like they could break if I tighten them too hard but I haven't had a problem yet(fingers crossed).



The sole! Its a Vibram so it has to be good. It is really good at standing on small stuff and using the smallest feet possible. They are sticky on almost any rock and seem like they will last a while too. I have noticed that compared to other climbing shoes I cant feel the holds as well with my feet and that can sometimes lead me to not set my feet perfect but I think its just a new shoe type for me and I am getting better with them.



I am usually a 10.5 US street shoe(i'm not sure what that is in European) and I got this in a 41 EU and they fit PERFECT.



I think they will be a durable shoe and I expect them to last me a long time. So far I have good impressions. Do recommend.
Perfect all-arounder
Familiarity:

I've put it through the wringer

Fit:

True to size
These honeybees are my all-around favorite shoe. From all-day multi-pitch sufferfests, to projecting that steep sport route that will get that girl to go home with you when you send, this might be the pinnacle of rock shoe innovation. I will continue buying these SOBs until they stop making them. I sent my best redpoint in a pair of Miura Laces.



Comfort is very, very good once broken in. The lacing system is FAST and easy to adjust for a fine-tuned fit. The leather that makes up the bulk of the shoe is a great way to resist odors.



Extremely sensitive for tiny edges, and grips exceptionally well on the smallest, slipperiest, greasiest limestone and granite.



A very good bouldering all-a-rounder, but lacks the aggresive downturn of the miuras and the rubberized toe common to more modern bouldering shoes.



The Vibram XS rubber is the stickiest stuff I know of, but wears very quickly. If I could change one thing about this shoe, it would be putting a more durable, less sticky rubber on it like Stealth C4 because I'm too weak for steep climbing and I'm also poor and can't afford a new pair every three months.



Does well jamming cracks, and isn't terribly painful, but the tc-pro or mythos are the kings of crack.



Overall, this is the perfect shoe, if you don't mind the missing toe rubber and the Vibram XS rubber. Get a full size smaller if pain arouses you, and a half-size if you're a wimp.


Sport/Gym Machine
Familiarity:

I've put it through the wringer

Fit:

True to size
I sized these shoes down pretty agressively, and got the smallest shoe I could squeeze my foot into. They stretched somewhere between .5-1 size for me, they are synthetic lined so don't stretch as much. These shoes edge amazingly well, and are really STIFF...so for climbers that are just getting serious and venturing into the 5.11+ range, and haven't built up as much foot strength as the climbers that have been doing it for years...these are perfect. The stiffness of the sole lets you edge and stand on tiny foot holds. The slightly downturned shoe is great for vertical and some overhanging stuff (won't be as good as aggressively downturned shoes like the testarossa or the solution, but still pretty darn awesome). They've done really well for me sport climbing outside, gym climbing and bouldering. I didn't like them as much friction climbing on slab, but that has prob more to do with how i sized them. Overall this is hands down one of the best all around shoes out there, if it fits your foot, and you are looking for a workhorse that does a great job with 90% of the climbing you do...this is it. This is not the shoe the specializes in any one thing like overhangs or slab friction routes. Overall...I love it. CHeck out the review below, I found it useful.



http://www.outdoorgearlab.com/Climbing-Shoe-Reviews/La-Sportiva-Miura
Where can I buy new laces? I've had mine...
Where can I buy new laces? I've had mine for less than 4 months (ordered from BC on 4/20/14) and I love them but the laces are beginning to wear through. I want to make sure I have a back set of laces for when the day comes that they just rip. Anyone know where I can get some?
Best Answer
Hey Antonio,



La Sportiva sells replacement laces for many of their shoes, you can purchase them via the link below.



http://www.sportiva.com/products/footwear/accessories/shoelaces
If the shoes fits... wear it!
Familiarity:

I've put it through the wringer

Fit:

True to size
I love these shoes. If they fit your feet, you can't go wrong. I've got a narrow heel and wide forefoot, and they fit like a glove.



Great for bouldering, steep walls, and anything else you throw at 'em.



Rubber holds up well, and the last has truly lasted may years of abuse.



Pricy but durable.
all depends on how you size 'em
Familiarity:

I've put it through the wringer

Fit:

Runs large
first off, I have F***ing long toes! Think Sasquatch with gollum toes, and you start to get the picture. These things edge and toe in like crazy, if you size them tight, but are good trad/crack shoes if you get them loose. IMO, you best off getting them tight, because the mythos are way better if you want a comfy shoe because they are designed with a flat, narrow toe profile they fit much more precisely in the toe box without scrunching your toes. I get them really tight, almost to the point were they are downturned, but not quite so they are prefect for thin, techy face climbing. My hiking/running shoe size is 14, and i started off with these in a 45, but used them for a month and they stretched too much for hard face climbing (their intended use in my case) but they were very comfortable and climbed thin cracks very well, but were still painfully for hands. I ended up returning them(with backcountry's amazing return policy) and getting a size 44, which was living hell to break in and are still pretty uncomfortable, but are prefect for 5.12+ single pitch face/slab edging. It was a pretty drastic downsize, but think it works mostly because of how how long my toes are and therefore how much they bend, maybe? anyways, they stretch a lot and are edging machines. work well on overhung terrain, but something with a more downturned toe would probably do the job better. great shoe for vert, and I highly recommend them.
It's like cheating...
Familiarity:

I've put it through the wringer

Fit:

Runs small
I have been climbing for a couple years now and as a guilty pleasure I have always climbed in my first pair of beginner La Sportiva Tarantulace shoes... they were just so comfortable I couldn't put myself through the torture of breaking in a new pair.



After resoling them for a 5th time, I finally decided to try a more advanced shoe and was deciding between these and the 5.10 Anasazi. Both shoes are very well made, but the Miuras just fit my foot like a slipper. Climbing shoes are very subjective, but I found the 5.10?s to have a wider toe box, which caused them to shift slightly when I was edging. They run small... I am a 9/9.5 street and 42's fit perfectly when broken in.



I initially wet them out and then climbed in them as long as possible for my first two weekends using them and they broke in quickly. Took me about 5 pitches to stretch them half a size. That said, they climb really aggressive and edge like a dream. These shoes let me comfortably stand on dime edges that I would have had to previously hold complete body tension to even get a few seconds on. It honestly felt like cheating the first time I climbed in them - lol.



The area I climb in is majority face and all polished quartz, so I cannot attest to their performance on slab, but I did not have any trouble with them on the cracks I came across so all in all I am very happy with them. I hate to admit it, but I think my climbing has gone up at least half a grade from using these shoes. That said, they are not as comfortable as my old shoes so for long moderate trad lines I will go to back to my old pair.



Overall... I would highly recommend them.


Good
Familiarity:

I've used it several times

Fit:

Runs small
Got them pretty snug and gave them a good test at Red Rocks, NV. Sticks well to edges and smears great. Not sure I would want to be in these all day, but we did do 10 pitches and they were relatively comfy.
A Great All-Around Shoe
Familiarity:

I've used it several times

Fit:

Runs small
I'm relatively new to climbing, but these are some of the best all-around shoes you can get. They have a nice snug fit that is perfect for the gym climbing that I mainly do. I've used them for a few hours at a time and they maintain that relatively comfortable snug fit. They are versatile yet technical enough for some of the trickier bouldering problems. If you can only have one pair of shoes this is the pair to have.
The only shoe you need.
Familiarity:

I've put it through the wringer

Fit:

True to size
I've been been climbing in Miuras for about 10 years now. In my opinion there's no shoe that can beat these in terms of versatility. Sized correctly they're comfy enough for long routes while maintaining the precision for tough sport climbs and boulders. Though it lacks the burly heel of the solution, I've found it still hooks great.



My feet fit Sportiva's really well (wide toes, narrow heel) and I've cycled through a few pairs of Miura VS, Katanas, Testarossas, and Speedsters but I keep coming back to these guys. With decent foot work the rubber will last you a long time and even sized for comfort they are sensitive and precise.