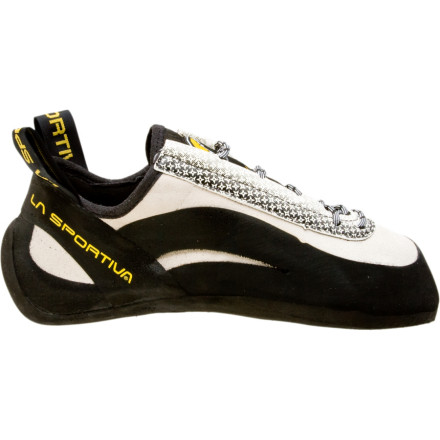 Detail Images
Unanswered Question
Just received these in the mail today! I wear an 8/8.5 (sneakers) street shoe and got em in a 37.5. They're super snug, with my toes a bit crunched, but the rest of the foot fits well .Debating going up to a 38. Just how much will they stretch?
The first pair I received were somehow 2 different sizes (even though the tag said they were the same size) so I reordered them again and the next pair has been treating me well. These shoes are stick and precise, great for advanced climbers.
go a half size up from the mythos? not for me.
I saw many people below saying they go with a bigger size in the miura than in the mythos. I think that they are not sizing this shoe properly.
The mythos is designed for your toes to be flat, much like a normal shoe, whereas the miura is designed for your toes to be curled / scrunched (which is what makes it stronger at edging). Accordingly, you're going to want to go much smaller in the miura than the size you would wear in the mythos. Otherwise there's really no point in getting the miura -- your feet won't fill up the shoe properly, it won't function as designed.
For my feet, and for my climbing purposes (sport, gym), a 39 in the mythos and a 37.5 in the miura seems to be appropriate. I found that as I tried progressively smaller sizes, it didn't really get any less comfortable, though each time I could feel my foot filling the shoe more fully. For me, in the store, the 37.5 was very difficult to put on, and was a bit painful when I walked in it. My foot also cramped up a bit. But, after a few weeks of climbing 3 days a week, it has stretched a bit and I think it is absolutely the right size. Now it is comfortable enough for a few pitches. I believe in the future it will become still more comfortable. I On the basis of that, if you're looking to use this for sport or gym, I recommend shooting for a sizing experience similar to the one I describe (if, that is, you're sizing the miura). Of course, your mileage may vary.
But remember, if you don't want to scrunch your toes up, you should probably just get a different shoe, or stick with the mythos.
Hope that may help you shoe buyers/sizers in some way.
Unanswered Question
Sizing Miura and Katana? I wear an 8.5...
Sizing Miura and Katana?

I wear an 8.5 wms street shoe and am wondering what size to get. I had the w katana and downsized to a 37.5 (6.5) which worked really well, but were always painful. Do the sizes in both shoes run the same? I want to get a half size bigger in the miuras so they're a touch more comfortable, but fear they'll be really sloppy bc they're more down-turned (different more agressive last).
Suggestions?
Hey- I'm a 7.5(38) when it comes to heels...
Hey- I'm a 7.5(38) when it comes to heels or shoes worn without socks, but my running shoes are usually 9(40). Any suggestions on what size I should get? I mainly boulder so I'm looking for some aggressiveness and don't mind some pain.

I should probably mention my feet are really narrow and long, but based on reviews it sounds like this shoe might be a good fit for that..
It sounds like you like your running shoes a bit big with room for thick socks. I would say you are probably close to 7.5. One thing to remember is that the Muira is made with a leather upper so it WILL stretch. About a half a size is all though, not the 1 1/2 or 2 sizes some of these women are reporting. So here is what you do if you want a good fitting shoe; Go to the store and try them on! There isn't a shoe on earth that will fit everyone the same. Find one that feels like it fits, subtract a 1/2 size and order them from BC. But if for some unforeseen reason you can't do that, like you live in West Africa or something, a 7 is probably your best bet. One perk of ordering from BC is unconditional returns. So when you get them and work them in a bit. If they aren't fitting exactly the way you want, you can always send them back no questions asked.
I wear a size 10 in a regular shoe. What...
I wear a size 10 in a regular shoe. What size would I need in these?
I wear a size 9 women's shoe. I like my climbing shoes to fit tight. Miura's run large compared to Five Ten shoes...I wear a size 37.5 in the Miura's, and for reference, a size 38.5 in Five Ten's new women's Anasazi's. Hope this helps!
I wear a size 9 in a regular shoe, so I usually go a half size smaller in a climbing shoe. I was told before to go really small & my feet ached after every climb--those were about 1 1/2 sizes smaller. Keep it between 1/2 - 1 size smaller & make sure to try it in the store or gym first to make sure your feet are not shifting in the shoe.
I love these shoes!!!!! They DO stretch, but not as much as others told me, so get them small, but not too small. They have unparalleled fit, and I love how well they toe in. I doubt I will be able to wear other shoes after these.
My street shoe size is an 8.5. What would...
My street shoe size is an 8.5. What would be the best size for me with the Miura climbing shoe?
I've found La Sportiva's sizing chat to be pretty accurate, so that would be a 40.0 for woman's 8.5. Your best bet is to get into a climbing store and put a pair on first though. You want your climbing shoes to fit perfectly. Also, don't be afraid if they're a bit small at first. You want them to stretch slightly so that they fit your foot exactly to give you the best performance.
Thanks Daniel. The only problem is that the closest climbing store with a lot of shoe variety is about an hour and a half away, and it's hard for me to find that kind of time right now.
Sarah, I also wear an 8.5 street shoe and just got back from REI trying on the Miura's. Although they were out of the 38, the 37.5 seems like it's the right choice. Extremely snug but not cutting off circulation or anything.. ;]

Anyways, I'm ordering the 37.5, 38's would probably work as well if you're wanting them a little looser.
I wear a 35.5 in sportiva mythos~ 35.5 in the miura was waaaay too small
I´ve been using my Miuras for a month. No disapointments at all. They are just great. It sticks in some imaginary holds that I wouldn´t think. It hurts a little bit in the first uses, but worth the pain. Now they are much softer, and already raised my climbing level.
Comfortable performance shoe
I love these shoes. I had the 5.10 Coyotes but needed an upgrade in the toe. With the Miuras, I can finally stick those tiny footholds with full confidence! They fit my feet perfectly and the lining is soft. I wear a 7-7.5 street shoe and got these in a 37. My feet are slightly wide in the forefoot and narrow in the heel. They are stiff and uncomfortable out of the box but after breaking them in in 2 climbing sessions, they are now perfect. They did stretch a bit, less than half a size. I thought the laces would be annoying but nope! I'd definitely buy these again.
I wanna know what is the right size for...
I wanna know what is the right size for me.I wears on men's miura 36.5 now.Men's and women's are the same size?
As long as you're talking about euro sizing it refers to the same size in mens and womens.
I tried them both on. The women's shoe is a bit more narrow than the men's (and has an amazing neoprene cushion in the back). These factors could lead to a half size bigger than what you're in in the men's shoe. I'd try it on somewhere first if you can. Otherwise i'd just order the same size
I tried them both on. The women's shoe is a bit more narrow than the men's (and has an amazing neoprene cushion in the back). These factors could lead to a half size bigger than what you're in in the men's shoe. I'd try it on somewhere first if you can. Otherwise i'd just order the same size
I bought a pair of women's miuras tonight. Men's 38.0 felt too big, and REI only had women's in 37.5 (i'm a dude), so that's what I ended up getting. The women's 37.5 actually felt more comfortable in the toe box than the men's 38.0, which surprised me. My foot is not particularly narrow. I'm a little worried that the neoprene might not provide as good a hold on the old ankle, though. The leather must get comfortable after a while, no? Typical italian machismo thinking, isn't it, that women need padding in the heel while men don't....
Dime-edging, heel-hooking, performance women's shoe.
These shoes kick ass. They are a true women's performance shoe, narrow in the heel with lock-down lacing. If you don't get them too small, they can actually be comfortable for more than one pitch, too!

I wear my Mythos in sizes 38.5 and 39, but I've found these are best in a 39.5 for me. I wear a size 10 street shoe.
Had them for about a year and they are still holding up pretty well! I wear a size 8:5-9 shoe and got these in 6. I was in pain for about a month. But, after the break-in, I can't rave enough about them. They are wonderful and last a long time. My girlfriend also wears the same exact shoe - she is on her 2nd pair!! Gym or real rock; these shoes rock :)
, ☃bcs_badge_alumni_label☃
great shoes
bought these for my husband and he cannot stop raving about how great they are. they are great for crack climbing and edge really nicely.
This shoe improved my climbing as soon as I put it on. Great edging, and the rubber is a lot stickier than the other shoes I've tried. A little uncomfortable at first, but they broke in nicely (still a little tight during cold winter bouldering in WV). The only problem is that the sizing is kind of off. Definitely go down at least a size and a half. I wear a 37 in street shoes, but my Miura's are a 35.5.
I tried on both the mens and womens and the womens fit a lot better if you have a narrow foot. These shoes instantly increased my climbing capabilities in the gym. I have yet to take them outside, but I am sure they will do fine. The shoe seems to stick to the smallest worst foot hold with ease. A little pricey but well worth it
Considering leaving my husband....
For my new Miura's :) Out of the box, they edged, smeared, and basically upped my grade instantly. I powered through imaginary footholds and the Miuras held every one. Be sure to go about 1.5 sizes down from your Euro street size when ordering. Haven't tried them on cracks yet, but, pretty sure they'll go anywhere I want to go, and with style bonus points. Not comfy enough to go for a walk in the park, and might need to be broken in a bit before going on a long trad climb, but if you want to go kick butt on a sport route right away, give 'er.
I usually wear a Ladies 6.5 in street shoes, and I had to get a 35 in these. The fit my foot really well.
I wear a size 6 womens, bought a size 4. I have been wearing them for about 3 weeks now and they have stretched to become the perfect bouldering/sport climbing shoe.