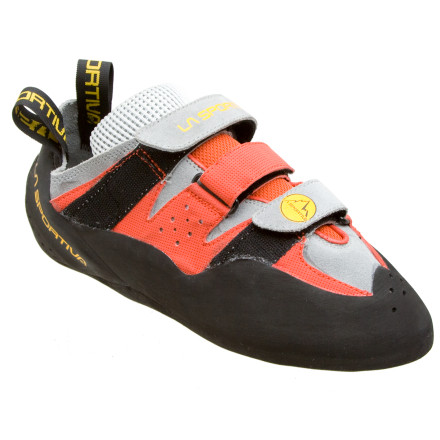 Detail Images

Community Images
The La Sportiva Mantis Climbing Shoe's well-padded tongue provides all-day comfort while the unlined leather upper conforms to your foot for a precision fit. As with all of La Sportiva's shoes, the Mantis comes with ultra-sticky FriXion rubber to keep you glued to the most horrendous holds. Whether you're chalking up for ten feet of powerful bouldering or 100 feet of overhanging limestone, the Mantis Climbing Shoe's four-strap design locks your foot in place to give you every opportunity to send.
If you are a beginner I would highly recommend these shoes to you. If you have very narrow feet, like me, I would highly suggest you get these in the lace version. Get these as small and painfully tight as you can possibly stand them, they WILL stretch, and if you climb regularly, as you get better as a climber, you will probably "grow" out of these real quick.

I got these as my first climbing shoe and after climbing about 3-5 times a week for about 3 months these shoes could know longer match my abilities as a climber and it was time to move on to a more aggressive shoe. When I do put these shoes back on they feel HUGE and I wish I would have gotten them a lot smaller, even though they felt "tight" to me when I first got them.
This is a great shoe for beginner to intermediate climbers. Comfort fit with padded tounge. I use them for my guiding service. They are pretty darn durable too. If you like lace ups instead, check out the La Sportiva Scorpion, it's pretty much the same shoe.
As my first shoe I'd say it's one of the best "value for money" choices out there... they have a very nice build and fit, besides a fast on-and-off system. The only issue I found was with size... they are very tight and in my case the ideal size was the same as my running shoes (9.5 for both) for a daily use indoor. I tried 8.5 (impossible) and 9 (fits, but for daily use it gets annoying).
Got this shoe at my local gym a month after i started in october. it was on sale for 60 and i had a $20 giftcard that i won. i would say 40 it a reasonable price for these shoes. 5.11s are my project routes now and i climb 5.10s pretty solid. these shoes are coming to the end of their use for me. the edges are not sharp enough to catch small footholds that i encounter. i am a size 12 street shoe and i bought a 10.5, it has streched to be too big for my feet. i have to tighten the straps to their limits to keep the shoe on during a heel hook and there is always a small pocket of air under my arch.
The description really does this shoe well. Very padded tounge, but not too padded that it is bulky. Comparing these to a pair of Sportiva Mantis would be like comparing very comfy wool sock to a thin pair of cycling socks. They aren't too aggressive, so don't expect much in the overhang department, however they have a wicked heel cup that keeps you locked in. The rubber around the heel is also quite great for heel hooks. I typically wear 45 boots, 44 1/2 street/running, 44 cycling shoe and 41-41 1/2 in most climbing shoes, which proves that you can't really base your climbing shoe size on your street shoe. Best bet is order several, and then try em on, send back the uncomfortable ones.
I personally haven't put the shoes on but I gave them to my boyfriend as a christmas present. He mostly boulders and was pleasantly surprised when he opened the box. He says the shoes fit comfortably for climbing shoes and is very impressed with them. I definitely think I got what i paid for.
I'm new to climbing... What would be a...
I'm new to climbing... What would be a decently priced shoe for a beginner. I do alot of gym climbing, not so much bouldering, and looking to do outdoor climbing?
Best Answer
Hey Dakota, I first want to preface this by saying that there will be a wide array of opinions on this subject. This answer is simply my recommendation and opinion, shoe choice is highly personal.

For a beginner shoe, you want something with a thicker sole which will last longer. Beginnners tend to wear through shoes quickly. You also want something with a neutral curvature (as oppose to a downturned toe), which will be more comfortable. I'd also recommend sizing down a half size at the very most.

I also am of the opinion that a leather lace up shoe will give you a better fit. Leather stretches and breaks in much more than synthetic, and a lace up (although slower to get on and off for gym climbing) gives you a much more comfortable and customizable fit.

The cheapest neutral, leather, lace up shoe with a thick sole is the Mad Rock Phoenix. http://www.backcountry.com/mad-rock-phoenix-climbing-shoe-mens The 5.10 Coyotes are similar http://www.backcountry.com/five-ten-coyote-lace-up-climbing-shoe

Hope that helps.
I agree completely with Simon on this one.

As a beginner, your footwork may struggle, resulting in premature wear. Like Simon says (HA!) you'll want to steer clear of an agressive (downturned shoe) as not only are they less comfortable, but you won't really notice the benefits of the agressive, more expensive shoe as a beginner.

The benefit of velcro is the ability to take it off really quickly, and to adjust quickly.

Simon had answered your question really well, I just wanted to get my $.02 in!
I ordered a half size down, they hurt the first couple of sessions but now they've sort of formed perfectly to my feet. I really enjoy climbing with these beautiful shoes :D
This is a good comfortable shoe IF you get the right size. I saw a lot of reviews on this shoe before buying it and didn't listen to their complaints on its size. This shoe does seem to run smaller than a couple other shoes i've worn, like the Evolve Defy's, which i wear a 9 in. But the 9's for the Mantis REALLY cramped my foot for the first week of wearing them. They have stretched out a little and I am no longer in pain when I wear them, but i would suggest a 1/2 size up from your regular climbing shoe size. Every shoe is different however, so whatever shoe you get, take the time to find them in a store to try them on first.

They smear pretty well. This is my first climbing shoe so I don't have too much experience with shoes but the seem to do pretty well and the heel of the shoe really locks your foot into the shoe. And with the three straps, you get a nice tight fit. I would suggest this shoe to someone who is looking for a comfortable first shoe but not for an advanced climber who's looking to send a v6 or v7.

other than my sizing issue, GREAT SHOE :)
Aside from the fact that I think I ordered these a little too small, I took these babies outside for their first run, and Wow... I felt like I had to be cheating or something. I knew my old shoes were in really bad shape, but I guess I had just gotten used to it and forgot what it was like to wear a decent pair. My review of these shoes may be a little over the top (like I should disclaim, "Results not typical", except that I've never owned any LaSportivas before, so how would I know?), but whatever. You can take into account what you want.This shoe is SUPER sticky. It just made things way too easy. We'll see how they continue to hold up as I wear them in!
These are my first and only pair of climbing shoes. (I didn't have an option at the time of purchase) My foot is really about a size 8, but because of my high arches and wider toes, I typically wear an 8.5 street shoe. I tried on several sizes of this shoe and the laced version. I found that the 8.5+ (41.5) velcro fit best. It pinched my toes at first, but I didn't want extra room in them. As others have said, the first few days in them were a little painful but now that they have broken in I barely notice them. I just undo the velcro while top rope belaying rather than doing the on/off routine I watch some people do with their shoes. When its warm out, the rubber of the soles is nice and grippy but that dissipates in cool weather. All in all I am content in my purchase, and if I had other experiences to compare these to I might even give them a 5.
This was my third purchase of climbing shoes, and I'd thought to go for something a bit more comfy. That's all I got. These shoes suck! I climb both indoors and outdoors depending on the season, and 3 months after using them, boom! I blew a hole under my big toe. Besides that, they grew a full size after use and my foot pops off small holds continously. Maybe if you are just getting into the sport they could be good for you or looking for a shoe you can wear all day.
Don't get me wrong, if you're just getting into climbing, this shoe will do you good. I find that after owning 3 other pairs of shoes, these get the lowest grade. The rubber is wearing pretty low after only 3 months of climbing (mostly sport). I never used them in the gym in hope of maintaining the rubber but that didnt work. The toe box is too rounded, it cuts down on the sensitivity of your toes so you cant feel holds well. They stretch anywhere from a half to a whole size. Mine killed my feet when i bought them but are fine now. Again: great beginner shoe because you wont know the difference, but definitely not for more advanced climbers
La Sportiva Mantis - Luv 'em
After learning how to climb with the La Sportiva Cliff shoe, the standard rental shoe in climbing gyms. i decided to upgrade my shoe. After trying on countless pairs of shoes i found the La Sportiva Mantis. Yes, they are a bit uncomfortable at first but break in quickly, maybe a few hours of wearing them. I have much better feel on smaller foot holds even though they come with a velcro fit system they seem to have molded to my feet even better than my old pair of Cliff shoes. I'm a 5.10 climber and working to get to 5.11's . I think this is the perfect shoe to get me there. Now, the rest is up to me. I highly recommend this shoe, it has all day wearing comfort and i don't have to take them off to belay!
These are my first pair of climbing shoes and so far I have loved them! They do take a bit to break in, but after that they're comfortable enough that I don't have to take them off in between climbing and belaying. They stick to the wall great and stand up really well. Great shoe!
For the first few climbs, they felt like someone was practicing Jiu Jitsu on my feet. Now that they have had time to break-in, they are amazing! I haven't found a surface or crack they won't grab.
As other reviewers have said these are pretty stiff but on a gym wall that is nice for some good edging. The first time I wore them I was pretty disappointed because the edges were just peeling off on every route and they weren't sticky. I have been in them 2-3 times a week now for a month and they are much more sticky and the edges have stopped peeling. They are a huge upgrade from rental shoes, and for a decent price. I have also used them sport climbing and they have worked out pretty well. I usually wear a 10.5 and I ordered a 43 which was a little uncomfortable initially but they are stretching out and virtually no pain is occurring, making me wish I would have ordered another have a size down for better feel. They are very comfortable also and fit my foot well. They get me up sport 5.11's.