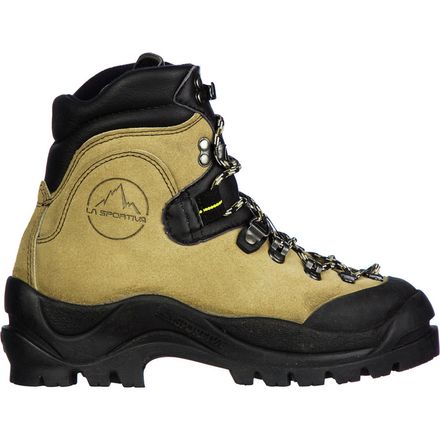 Detail Images

Videos
The La Sportiva Makalu Mountaineering Boots are among the most-popular footwear in the mountains, and now a women's-specific fit brings their versatility and performance to you. Durable leather material and tough Vibram soles handle years and years of abuse. Full crampon compatibility makes the La Sportiva Makalu Mountaineering Boots an excellent pick for glacier travel and single-day alpine trips. Grab yourself a pair and head for the mountains.
La Sportiva Makalu Mountaineering Boot
I need to buy some boots for wildland fire...
I need to buy some boots for wildland fire fighting. I would prefer to get a dual purpose fire/hiking boot. Does anyone know how tall the ankle is on this boot? I need to have an 8" tall boot to qualify for fire use. Thanks!
I have fought fire in these and they work great. The ankle is tall enough in these as well as in the Glaciers. Personally I found the Glacier model to be more comfortable both in for fire and while working trails.
Does anyone know what accounts for the...
Does anyone know what accounts for the price difference between these boots and the Glacier mountaineering boot? They look pretty similar to me!
Also, has anyone treeplanted in these?
tree planting...cant help you there......But a makalu will take full-auto crampons and will be a great deal stiffer.....a glacier will take semi-auto cramons and be less stiff
stylin boots that does the job - strong,takes a bit to break in but after that they perform really well
Does anyone know if this boot has a full...
Does anyone know if this boot has a full shank?

Thanks.
Hi there, this has a full steel shank and will accept an automatic crampon...
I just got a pair of these (brand new) at...
I just got a pair of these (brand new) at a garage sale for 20$, such a steal!! I'm just wondering if these are appropriate for non-winter conditions? ie New Zealand tramping in the summer and fall with a hefty pack?

Thanks
New Zealand tramping in the summer? As in the "Great Walks"? Do yourself and the environment a favor and wear trail runners -- ie Salomon Wings :) This is a great boot but not appropriate for the typical NZ summer tramps. It weighs in at about 4 lbs/pair (Remember the old adage that one lb on the foot = FIVE lbs on the back.) and it is gore-tex lined! "Support" comes from the your skeleton and musculature! Sneakers are fine for the classic NZ tramps. Enjoy!
While I think that most people would prefer something a bit more supportive and durable than trail-runners while trekking with a heavy pack through varied terrain, a boot intended for mountaineering that weighs in at over 4 lb./pair is almost certainly going to be much more than you need or want for your intended use. I'd recommend a solid traditional backpacking boot like the Asolo TPS 520, or perhaps something more light-weight and comfortable like the Asolo Stynger, depending on the ruggedness of the terrain and your desired service time (the TPS will typically last longer than the Stynger due to its more hardy materials). However, since your boots are top-quality and an utter steal for $20, it'd be a shame not to at least give them a shot during some practice runs under conditions similar to those you'll be experiencing on your trip. If you find them too rigid, hot, and heavy - this is quite likely to happen - you can always get something lighter, eh?

In response to the last reviewer's comment on the environmental impact of wearing heavy boots on trails: Though it seems counterintuitive, studies have demonstrated that boots with rugged heavy-lugged outsoles do not cause any more trail damage than flat-bottomed shoes. At least so I've read.

Cheers!
Unanswered Question
Are these compatible with step-in...
Are these compatible with step-in crampons?
Do these boots have a wide or narrow toe...
Do these boots have a wide or narrow toe box?
Best Answer
Since this is a Women's specific boot it is going to have more narrow toe box and tighter fitting heel than a unisex boot. However compared to other brands, such as Scarpa and their W's boots this will be slightly wider in the toe.
How tall are these boots?
How tall are these boots?
Best Answer
6 inches to the top of the boot.
Great boot for playing in the outdoors
I've used these boots for ice climbing and winter mountaineering adventures for two years now. Being leather boots, they took a while to break in, but they have turned into slippers. The heel is narrow and quite snug, but I do have to resort to some lacing techniques to prevent heel lift. The boot has a great lockdown feature to allow your laces to be tigher around the ankle without cutting off circulation on your foot.

I have not tried these in temps below 0F, and I have had some problems with my feet getting cold/frostbite, but I blame that more on my insoles than the boots themselves. I've replaced the cheap felt insoles with a pair of superfeet hot pinks - and I haven't had an isssue since. Plus, you can score these on clearance for pretty low prices. As a boot for ice climbing or for general mountaineering - why pay more for something when this gets the job done?
I've had these boots for over two years, I work in them, play in them and love them. Great support if you have a narrow to mid width foot. They are a heavy boot but well worth it.
What is the difference between a hiking...
What is the difference between a hiking and a mountaineering boot?No glacier but trails in alps are more usual fare.
Best Answer
Mountaineering boots are usually a bit stiffer having a 3/4 or full length shank, and are also crampon compatabile in some way. Generally speaking mountaineering boots are a wee bit burlier than hiking boots, and hence a little bit heavier. A good compromise would be a La Sportiva Trango S.
Is there a 44 in the womens boot
Is there a 44 in the womens boot
Best Answer
Hello,Unfortunately none of the La Sportiva women's mountaineering boots are made in size 44. Recently I was looking for a boot about this size for someone else and couldn't find anything. You will have to buy the men's version and modify it a little bit. Hope that helps.Mahalo, Sumo
I got these boots and went snowshoeing with them, they seemed tight at first, so you have to be careful with the sizing. But after wearing them, I was really happy with them, your ankle is well guarded and it is quality, so i expect to use them for a very long time.